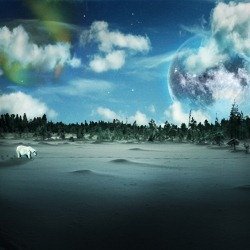 In this tutorial we will make a winter fantasy scene. Our aim is a dreamy, soft atmosphere and a balanced composition. I will be sharing with you some advanced channel masking techniques, selection tips and a quick peek into advanced blending. I hope you will enjoy this tutorial as much as I enjoyed making it.
---
Preview of Final Results
---
Surreal Arctic Scene Photoshop Tutorial
---
Resources
---
Step 1
Open the image "Sunset in Finland" and resize it to: 2000 X 1333 pixels. This step is optional but for the needs of illustrating a tutorial this size will be sufficient.
---
Step 2
We will remove the sky by using a channel mask. Go to channels palette and make a copy of the red channel. You can do that by right clicking and selecting "Duplicate channel". With only the red channel copy selected go to Image > Apply Image. Use "vivid light" blending mode at 100% opacity.
---
Step 3
Select the lower part of the red channel copy like shown in the image below. Press D to set default background and foreground colors then press ctrl+Backspace to fill the selection with black.
---
Step 4
Select the upper part of the red channel copy and press alt+Backspace to fill the selection with white.
---
Step 5
Press ctr+D to deselect. Choose a round brush with the following setting :
Size: 200 px
Hardness: 0%
Change the brush mode to overlay by pressing alt+Shift+O and be sure you have selected white as foreground color. Brush a couple of times gently to remove the grays and try to keep the black of the trees intact.
---
Step 6
Press ctrl+I to revert the channel. Your red channel copy should look like the image below. This will be our selection mask. In a selection mask white reveals and black conceals.
---
Step 7
Ctrl + click red channel copy to load channel as a selection, pres ctrl+2 to select the RGB composite image. Now press ctrl+J to make a new layer from the selection. Voila, you made a tricky selection using channel masks. Now you can turn off visibility of the background layer. Name the new layer foreground.
---
Step 8
Make a new fill layer by going to Layer > New Fill Layer > Solid Color. Use this color to fill the layer: #434952. Right click the fill layer and choose "Create clipping mask". Change the layer mode to color. This will remove the orange color cast from our image.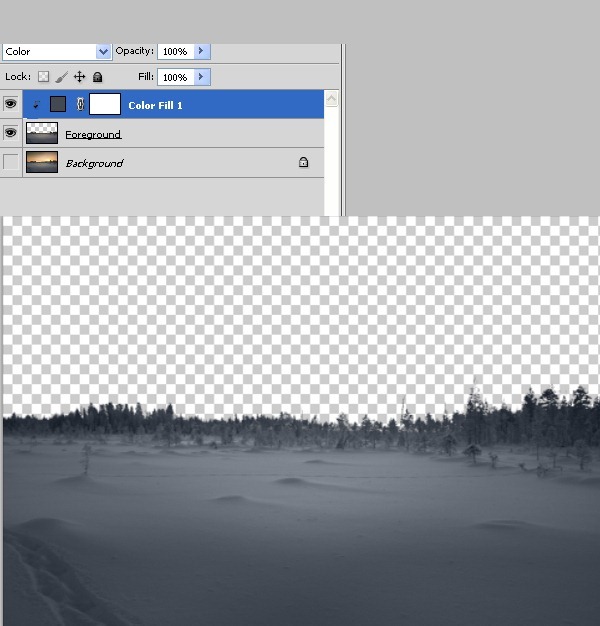 ---
Step 9
Now we will add some cold color to our foreground. Add a photo filter adjustment layer by going to Layer > New adjustment layer > Photo Filter. See that this adjustment layer it's clipping our foreground layer and it sits above our previous adjustment layer. Use following settings:
Color: #bfd500
Density: 93%
Preserve Luminosity: checked
Change the blending mode to "Color dodge" and lower the fill to 40%.
---
Step 10
Press D to choose default colors then press G to choose the gradient tool. Be sure that in the gradient option bar it's selected "Foreground to Background". Holding the Shift key drag the gradient like shown in the image below.
---