Learn how to create this fantastic drawing by Hatice Bayramoglu. You will learn the process she uses to create drawings in Photoshop.
---
Preview of Final Results
---
---
Paint a Surreal Scene Photoshop Tutorial
---
Step 1 – Sketch the tree
I have a lot of sketches. Here, I decided to use the tree that was a part of an older sketch. You may sketch a tree of your own and scan it into the computer or use the sketch below.
---
Step 2 – Create a new image
Create a new image (Ctrl+N or File > New) with the settings shown below.
Width: 640px
Height: 948px
Resolution: 72
---
Step 3 – Create layers
Name your sketch layer "sketch" or any other name you desire. Create another layer for the animal you wish to add to the drawing and name it "squirrel_sketch" or whichever animal you are drawing. Select the "squirrel_sketch" layer and sketch a squirrel.
---
Step 4 – Choose a colour palette
For this painting, I chose an earthy palette. You may load these colours into the Swatches palette in Photoshop or choose your own colours.
---
Step 5 – Choose a brush
Select the Brush Tool and then right click on the canvas.
When the Brush Setting window appears, set your brush to the settings below.
Master Diameter: 19px
Hardness: 100%
Now add more settings by opening the Brush Presets (F5 or Window > Brushes)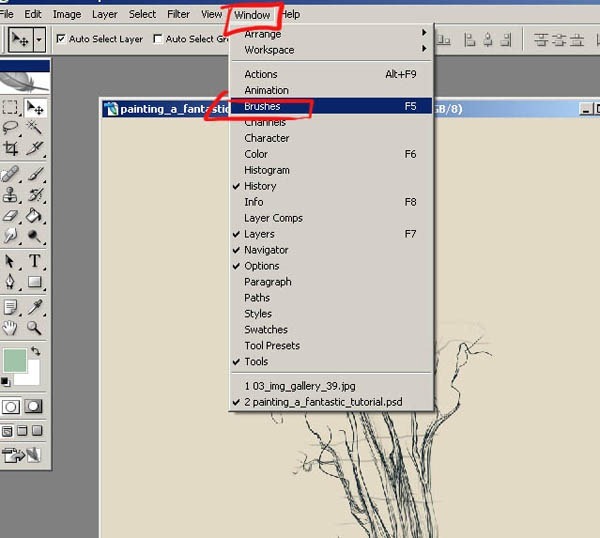 This will open a new window with extra options on the left.
From the left panel, check "Other Dynamics"
Make sure both controls are set to "Pen Pressure."
Set Opacity Jitter to 6% and Flow Jitter to 5%.
Test your brush to see how well you can control it.
---