If you shoot photos of any home or property, then you'll need these Photoshop actions by SparkleStock. These actions are specifically designed for real estate photographers and they let you easily enhance white walls, make cloudy skies look blue, and much more. There's also an action that corrects distortions from fix wide angle lens using the "Volume Deformation" technique found in expensive 3rd party software.
Action Features
Here are some of the things you can do with these Photoshop actions. The Lite version is a free download with a limited set of actions and the Pro version is a paid download with additional actions.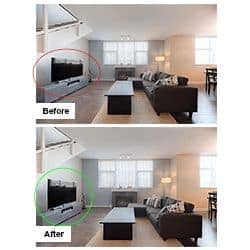 Fix Wide Angle Lens Distortions with Volume Deformation
A lot of times, you need to use a wide-angle lens to fit everything into your photo. Sadly, these lenses also create distortions that can make objects around the edge look too wide/long (ex. the TV in the image). With the Volume Deformation action, you can fix these issues. In the lite version, you can apply one level of volume deformation. The Pro version will let you apply up to five levels.
Improve White Walls, Appliances, Etc.
Varying interior lighting can cause unpleasant color casts on walls and other white/gray/black objects. Use the "Improve White Walls" action to easily and quickly restore the whiteness in white walls. In the Pro version, you can use the "Neutralize Colors" action to further improve the look of stainless steel appliances, cement countertops, and any other neutral-color objects.
Restore Blue Skies and Enhance Foliage
Sunny days with clear blue skies are amazing times to photograph the exterior of homes. For cloudy days, you can use the "Blue Skies" action. In addition to restoring overexposed or cloudy skies, the action can be used to deepen blue skies similar to what a polarizing filter does. There's also an "Enhance Foliage" action in the Pro version to easily improve the colors of grass, trees, and other green/red foliage.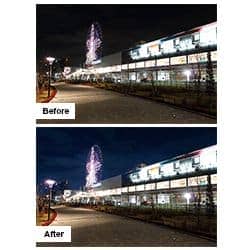 Create Twilight from Night Photos
Turn any night photo into twilight photos! After playing the "Twilight" action, simply paint over your sky then adjust the layer opacity to fine tune the settings. This action can also be used to improve the colors of any twilight photo.
Increase Edge Contrast
Low quality lens and in-camera HDR shots can create flat looking photos. With the "Increase Edge Contrast" action, you can restore the contrast around the edge for a sharper look.
Improve Dynamic Range
Use the "Boost DR" action to restore details in the shadows and highlights. The Pro version gives you an additional three actions including an "Auto DRI" action that analyzes your photo and automatically picks the best and safest dynamic range setting to use.
Before and After Examples
Here are some before and after photos retouched with the Real Estate Photo Retoucher.
Download Real Estate Photo Retoucher
Free Download
Volume Deformation (1 Level)
Improve White Walls
Blue Skies
Increase Edge Contrast
Boost Dynamic Range
Pro Version
Volume Deformation (5 Levels)
Improve White Walls
Neutralize Colors
Blue Skies
Enhance Foliage
Twilight
Increase Edge Contrast
Auto Dynamic Range Increase
Boost Dynamic Range
Boost Shadows
Restore Highlights