Watermarking is a common method for enhancing copyright protection. By adding a watermark to your photos, most users won't be able to steal your photo. But did you know that watermarks can be undone? In this article, you'll learn how watermarks are removed and how to protect your images by adding watermarks that are difficult to remove.
Please be advised that we do not condone removing watermarks for the purpose of stealing or duplicating works by others. We will not reveal any advance watermark removal techniques.
Watermarking Mistakes
Adding a watermark will stop some from illegally using the image, but there are still many left who will take the time to remove the watermarks. Watermarking over a plain or simple background is unsafe against those with strong intentions to illegally use the image. Here's why:
Watermark Over a Plain Background

Watermark Over a Simple Background
Watermarks Can be Undone
Anyone with a strong background with advance image editors like Photoshop can remove watermarks. If they can duplicate your watermark, they can remove the watermark from your photo. We won't show you how to remove the watermarks, but we'll show you how safe different types of watermarks are and then we'll show you how to prevent advance watermark removals. For someone to remove the watermark techniques shown next requires that the user be able to accurately duplicate the watermark.
50% Opacity Watermark
50% Opacity + Color Watermark
50% Opacity + Color + Overlay Watermark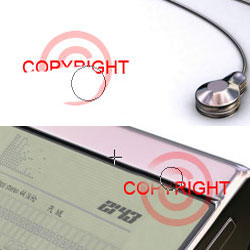 50% Opacity + Emboss