Do similar ways for the other foreground tomb.
Background Tombs
Next select the main background tomb to be active on it. Create a new layer with a clipping mask above this layer. Take a very soft round brush set to 10% opacity. On this layer paint soft white color to give the tomb some highlight. Give this layer some Gaussian blur. Go to filter > blur > Gaussian blur. Set the value to about 1-2 pixels. Give the farther background tomb 1-2 pixels Gaussian blur as well.
Skeletons
Then, proceed to give the skeleton layer some adjustments. Make sure to be active on this layer. Give it hue/saturation adjustment layer with a clipping mask. Duplicate the hue/saturation layer one time. Set the main layer to normal at 100% opacity and the duplicate to soft light at 100% opacity.
With similar step in adding highlight on the background tomb, do the same way to add some highlight on the skeletons where needed.
The Ground and Adding More Graveyards.
I decided to make the ground less visible so I reduce the opacity of the ground layer to about 60% opacity and do some more transparent masking on it. Here is the result I created for the ground now indicated by blue arrows. Finally, I decided to add distant graveyards on the left and right side of the scene pointed by red arrows.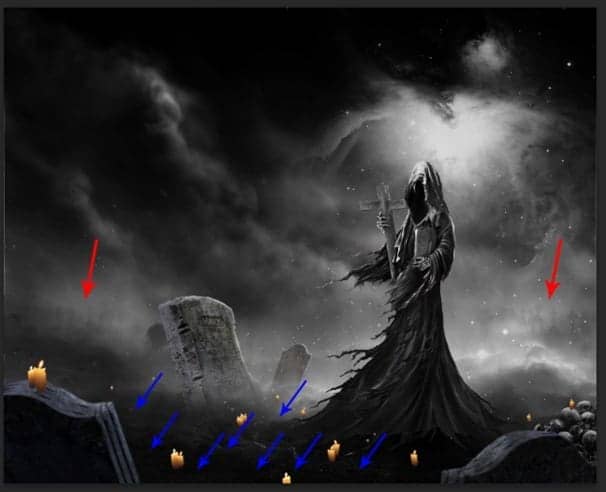 The Figure
Finally we will do some adjustment for the figure. Go and be active on the figure layer again. Create a new layer with a clipping mask above the layer. On this new layer we will paint some highlight and shadow for the figure. To do this, take a very soft round brush set to 10-15% opacity. Paint soft black and white color to areas on the figure to give it the shadow and highlight. The pointing black arrows indicate where we should paint some shadow while the white ones show us where the highlight should be painted.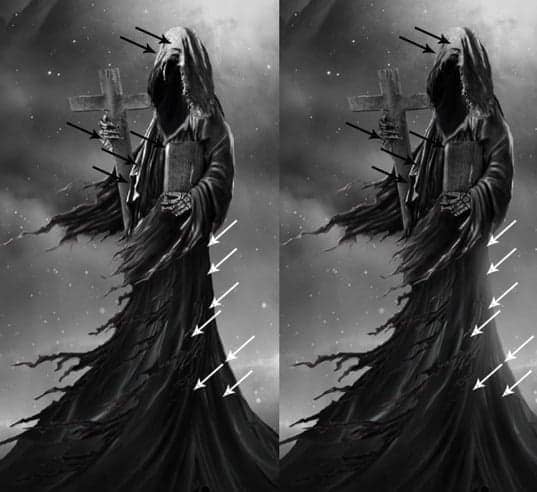 Next, create another new layer with a clipping mask filled with black. Set this new layer to color dodge. Take a very soft round brush and paint some soft blue color on the figure. Here is the normal and color dodge blending of this layer will look for our inspiration where we should paint the color.