In this Photoshop tutorial, Jenny Le will show you how to create a surreal portal photo manipulation with a leaking light effect. You will learn how to combine stock images and apply retouching, masking, and blending techniques to create this powerful scene.
Preview of Final Results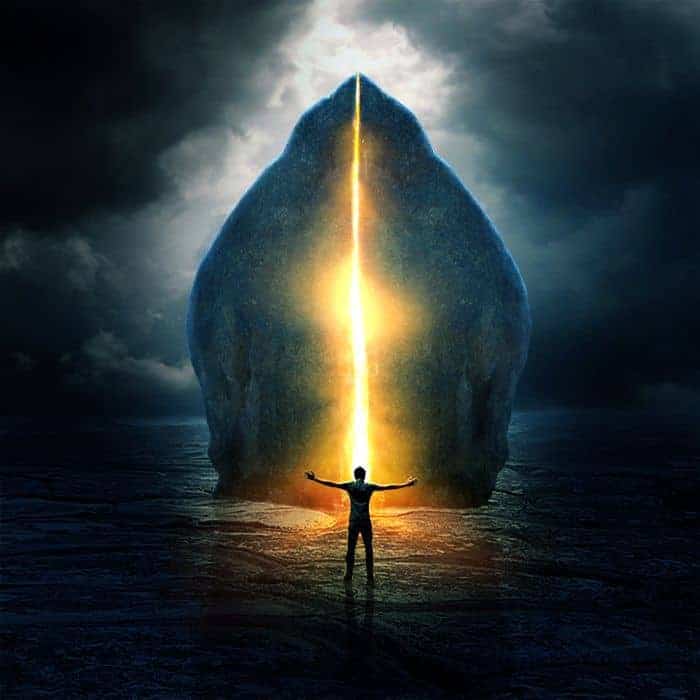 Resources
Step 1
Create a new document and fill it with any color you like. I use white color and the size of 1000x1000 px. Open background stock. Use Move Tool (V) to drag it into our document. I only use a part of this background that is near the sky but you're free to choose the one for your liking.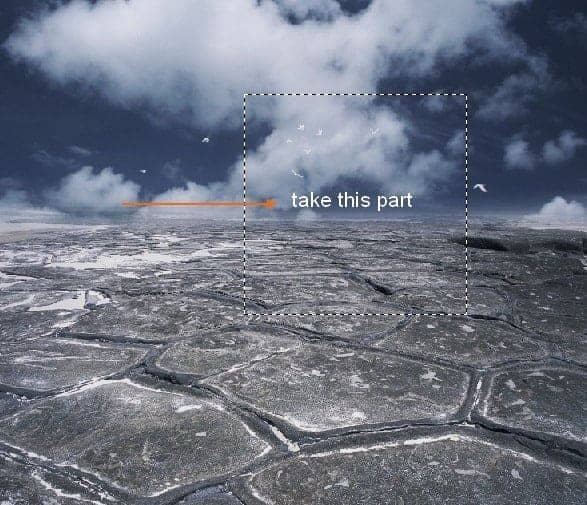 Here is result after dragging: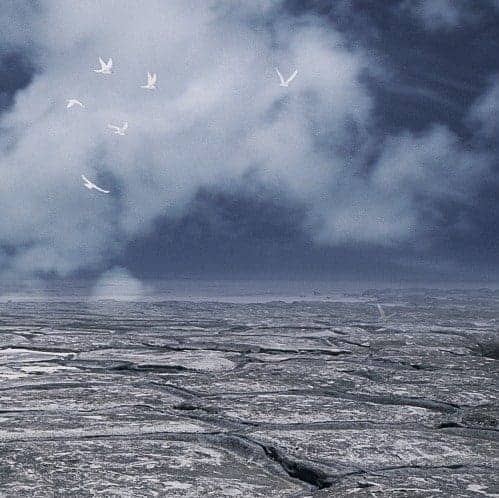 Name this layer as "land" or whatever you want.
Step 2
There is a part of sky on the left edge I want to edit as I don't think it looks very realistic. On land layer, I use Lasso Tool ( press L to active this tool) to make a selection on the right edge of background then right click this selection, choose feather as 0.5: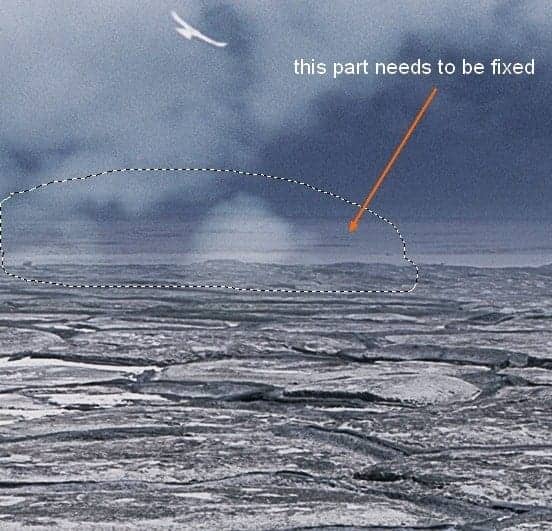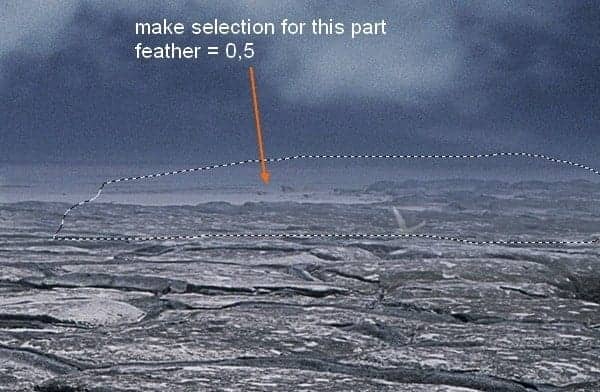 Right click this selection, choose Layer via Copy and we have a copied part into a new layer. Move it to the left to hide the part which needs to be fixed then choose Edit-Transform-Flip Horizontal :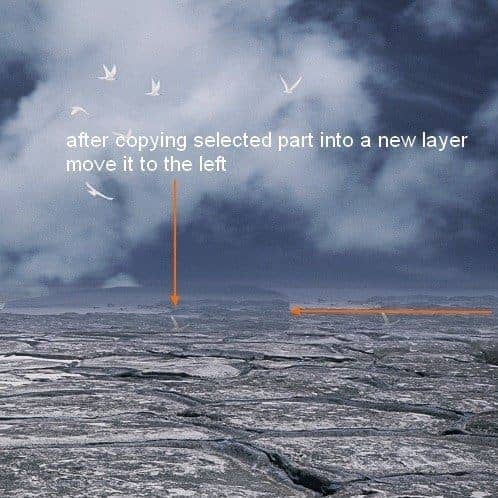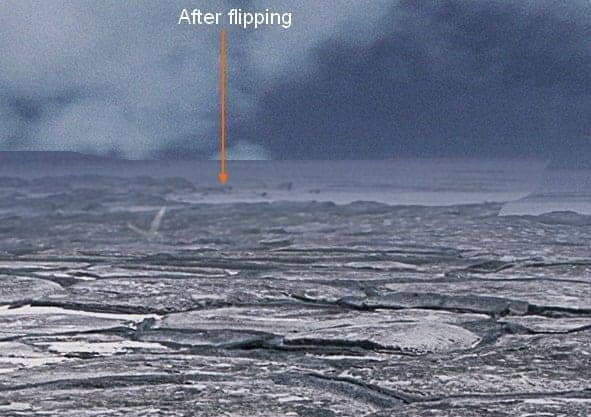 Click the button of Add layer mask at the bottom of Layer Pallete then use soft black brush to blend copied part with background: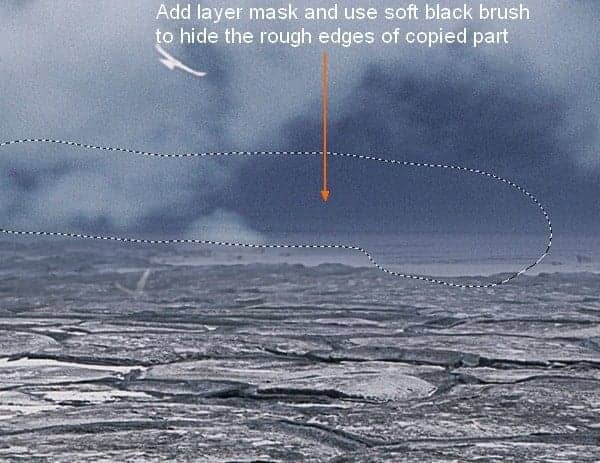 Step 3
Press Cmd/Ctrl+Shift+N to make a new layer. To remove the birds on background, I use Clone Tool. Hit S to choose this tool with settings below and make sure that Sample All Layers is checked on property bar: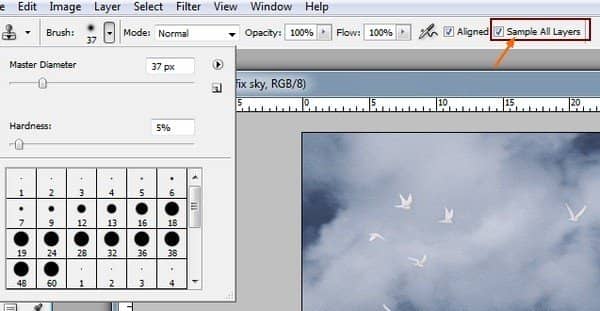 Hold the Alt key to click on the source then spot over the birds. If you're not familiar with this tool you may practice it with many good tutorials over the web. Here is my result: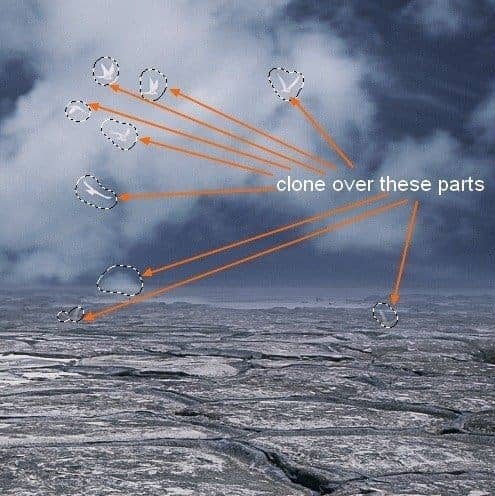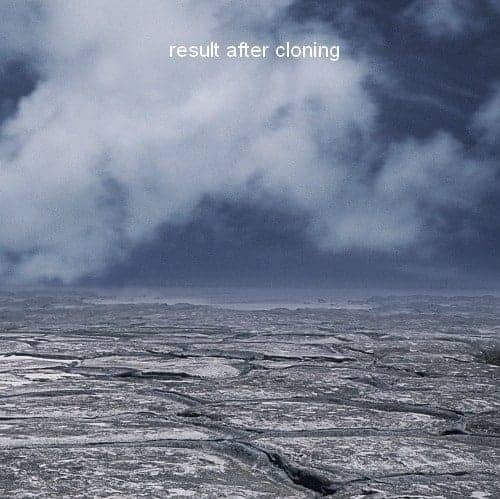 Step 4
Open sky stock. You can use your own image but better choose a dark one with good contrast so it will save your time. Use Move Tool to drag it into our canvas to replace the sky of background. You can transform and resize it to fit the size of your picture ( press Cmd/Ctrl+T to distort it). Here is the part I've chosen after scaling. You can see that I place the bright part of this sky in the middle top to make the light shining from behind for the portal ( we'll see in next steps).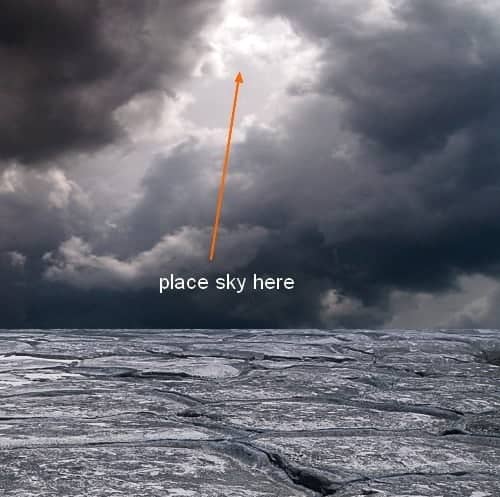 Add layer mask to clear the bottom of sky. Then name this layer as "sky".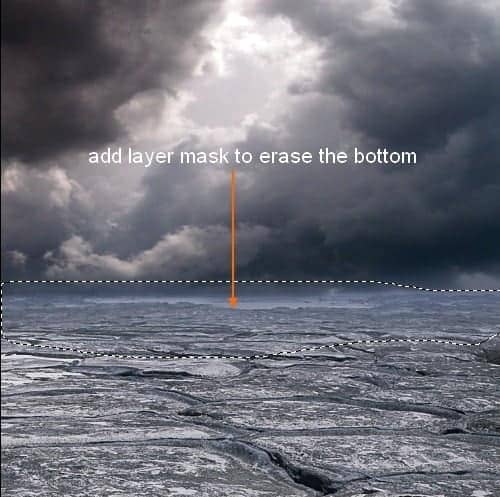 Step 5
I notice that there are some noise on sky part. To fix it, I duplicate sky layer ( press Cmd/Ctrl+J), go to Filter-Noise-Dust & Scratches: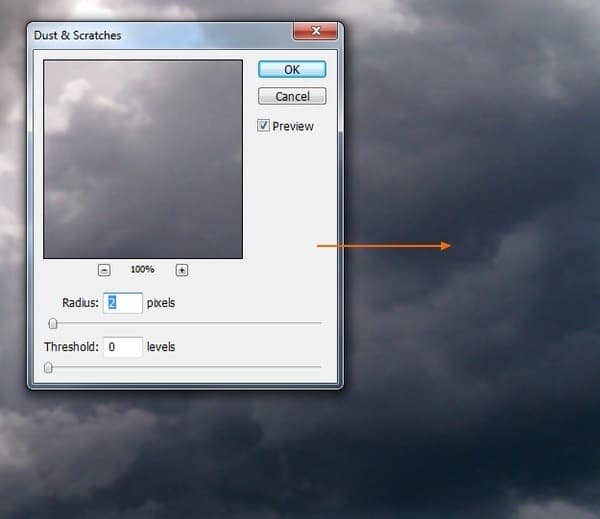 Then use soft black brush on layer mask to clear the any parts you don't want to be blurred: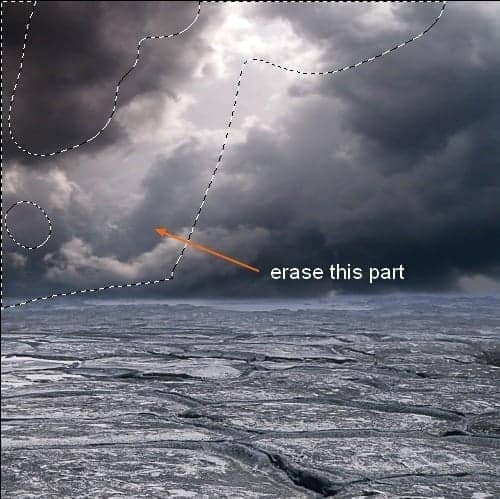 Step 6
Now we'll use a cliff from a stock image to make the portal. Open cliff stock. You can use your own image if you can't download this image from Photoxpress. Extract it with the method you like ( I use Polygonal Lasso Tool as it's very easy in this case):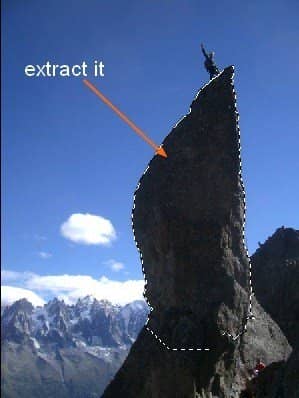 Move it into our picture and place it in the center, remember to scale it as needed: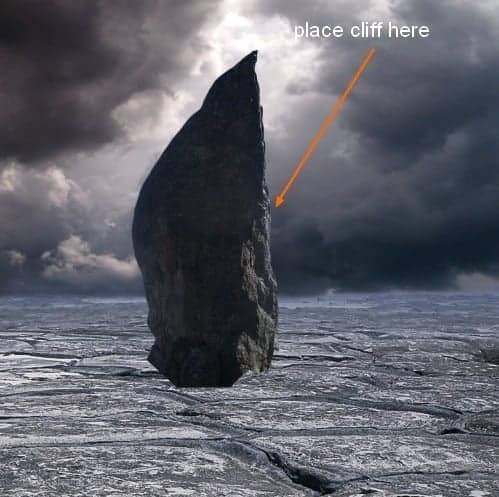 Duplicate this cliff and apply Flip Horizontal then move it to the right, position it as shown below: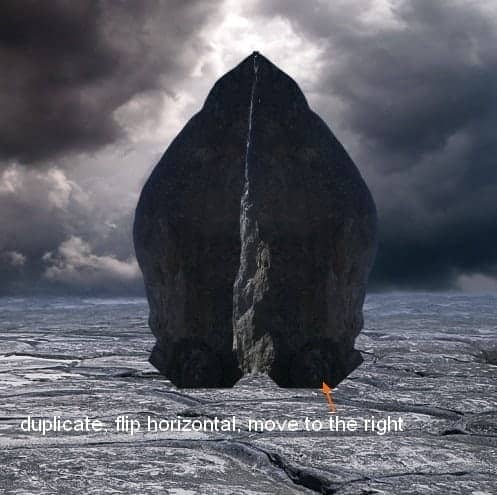 Add layer mask for these cliff layers and use black brush with big hardness ( 70-80%) ( don't use soft brush as it will leave very soft and unatural look for our picture) to clear some parts of bottom, the top, center. You can see how I applied this brush for each cliff layer ( now I name them as "portal part 1" and "portal part 2" - you can get them as portal doors):