Matias Molero is a 26 year old character artist and graphic designer living in the province of Mendoza, Argentina. He's always been especially drawn to digital art, photo manipulation, exploring the magical world of illustration and 3D modeling. He characters development as an illustrator and conceptual artist. Let us get to know Matias more in this interview.
How would you label yourself? What exactly do you do?
Hi, thanks for the interview. It's an honor for me to be part of it. It's hard to label me myself, because I like to try different styles. You could say I'm a product that attempts to express their feelings through different media, like art or design. Nowadays, I'm working as junior 3D modeler. This allows me to grow as a professional, and to transmit in a future, experiences and memories that marked my life.
What is your style and how did you get it?
I don't even consider having a style yet, I just do jobs that are related to deep feelings,, either from the horror or the supernatural. Commonly this is visible; other times, disfiguring.
What was your creative process in creating your The Nurse of Silent Hill project?
I always liked SH nurses for their appearance and their psychological meaning. Most of the creative process of "The Nurse of Silent Hill" was sculpted with Zbrush. It was my first 3d work, and I was learning to use the program, so I started creating Zspheres, and begin to sculpt slowly, working with default brushes (Standard, Move, Clay, and others). Finally after hours of work, I could finish the high poly model, but I lacked of UV knowledge, so I've painted and rendered in Zbrush. After I've done it, I imported the render into Photoshop, and I worked the final composition.
Most of your works are in horror theme. What's with this theme that you like? And why?
I think we always tend to express our phobias, because that scares us, is something that we fear and that in some way should be channeled. I like horror because of that. It's a terrible thing that comes from within us, we create it . All this is within us, that according to the impact that the experience generate on the unconscious, are associated with time to shape those emotions.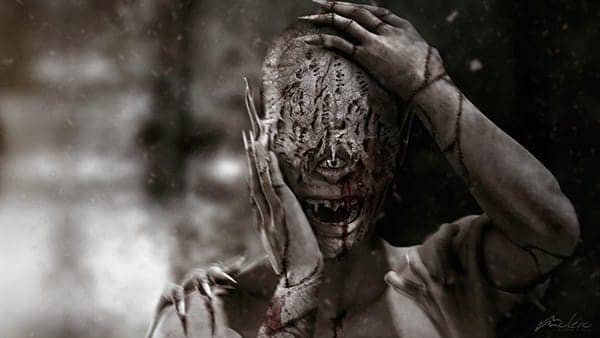 What life experiences have helped your get to where you are today?
As so many people, my life was complicated, especially my childhood. There were experiences, moments that marked my life forever with images I can never erase from my memory.