Step 9: Tint the light
With the top layer selected, choose Enhance > Adjust Color > Adjust Hue/Saturation. Inside the Hue/Saturation tool, checkmark the Colorize option near the bottom right. Then, adjust the hue and saturation setting to tint the ray of light. For an warm tint, use the settings from the image below.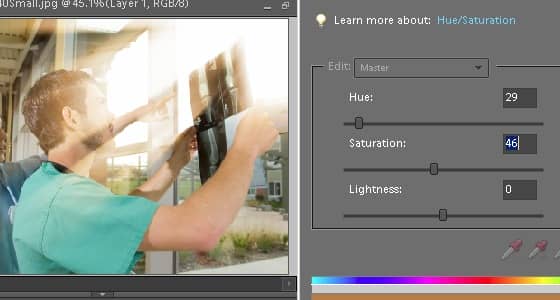 Step 10: Adjust the brightness and contrast
Select the Background layer then choose Layer > New Adjustment Layer > Brightness/Contrast. This will create a new Brightness/Contrast adjustment layer positioned above the Background layer so that it is only affecting the Background layer and not the ray of light. Adjust the settings to get the results that you like. Below are three example settings you can use.
Step 11: Selectively erase areas in the light
Sometimes the ray of light can get in the way of important areas such as the face. If you want to erase the ray of light from any area, select the top layer then select the brush tool with a black foreground color and paint over the areas.
Final Results