In this tutorial, I'll show you how to create a haunted house scene using photo manipulation techniques. You'll work with blending, masking, coloring to create a dark and eerie atmosphere.
What you'll be creating
We'll start this tutorial by setting up a field scene from three images. Then we'll add the house, crow, and birds and blend them using adjustment layers, masking, and brush. Later we'll adjust color, contrast, and the dark atmosphere. We'll finish it up with adding a red light effect to the window. You should use Photoshop CS3 or newer to follow this tutorial.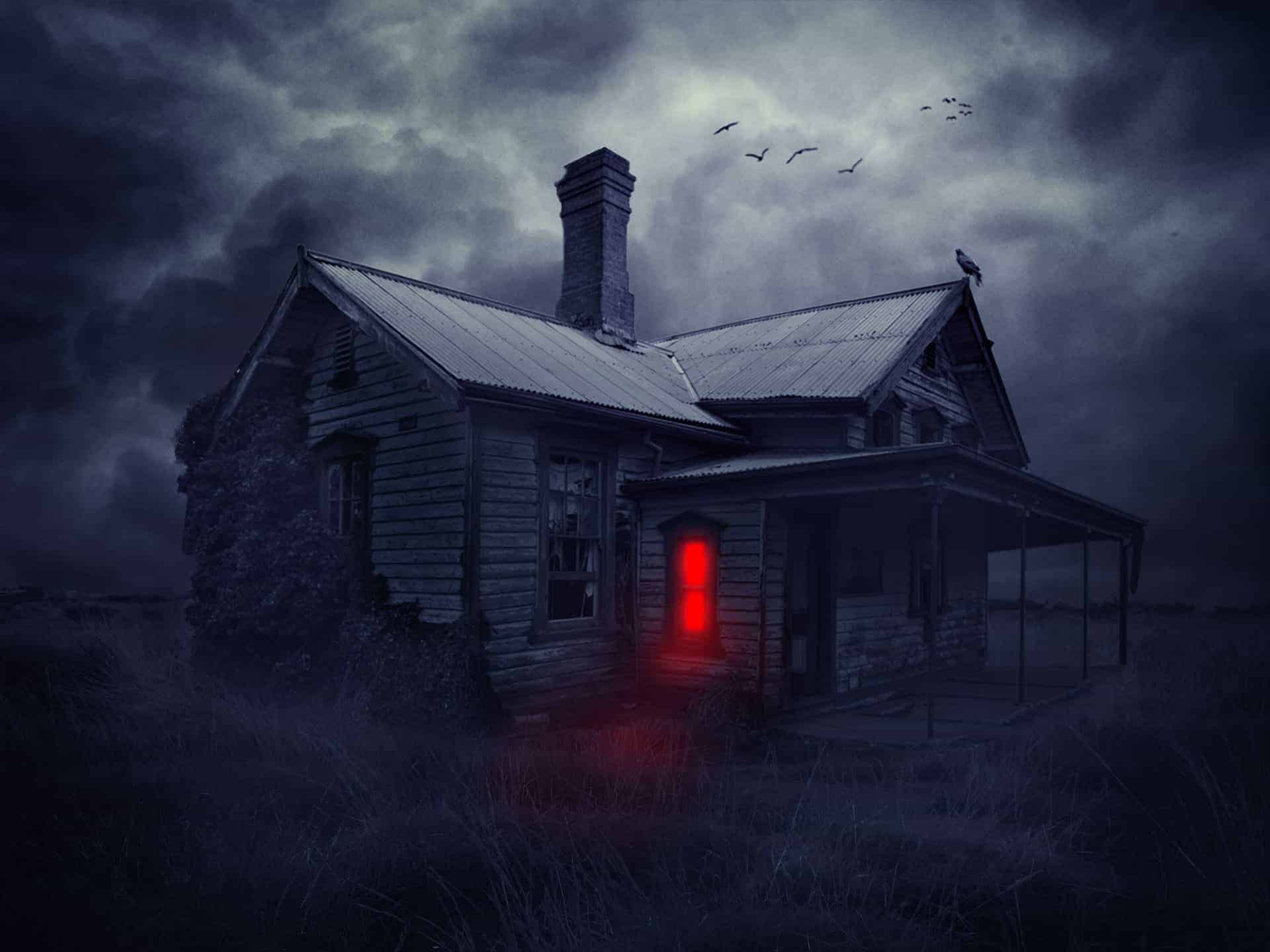 Tutorial Resources
Step 1
Create a new document in Photoshop with the given settings: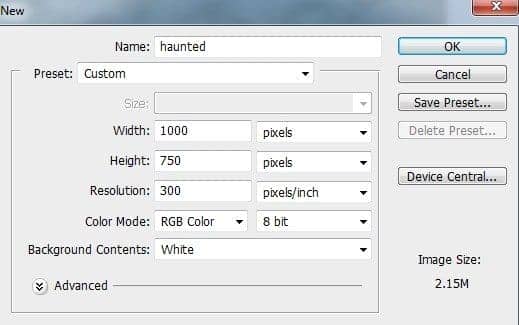 Step 2
Open the sky 1 image. Use the Move Tool (V) to drag it into our white canvas:
Step 3
Place the sky 2 onto the sky 1 as shown below: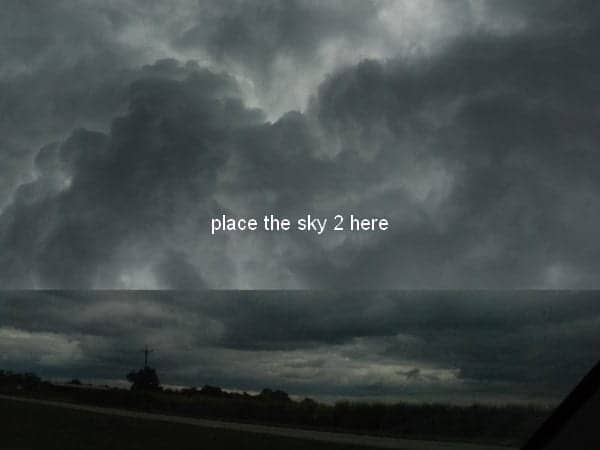 Change this layer mode to Soft Light 100%: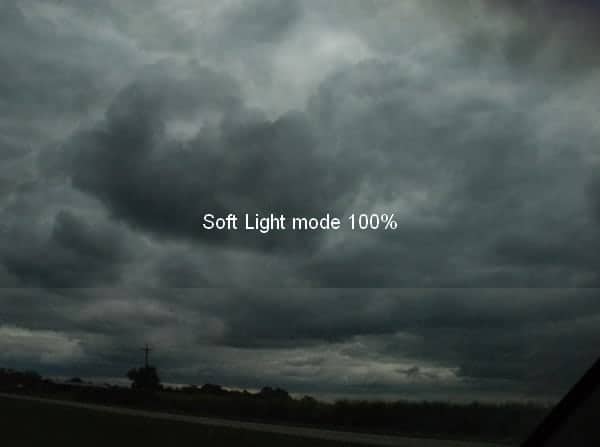 Step 4
Click the second button at the bottom of the Layers Panel to add a mask to this layer. Use a basic, soft brush with black color to erase the hard edges of the sky 2 and blend it with the sky 1: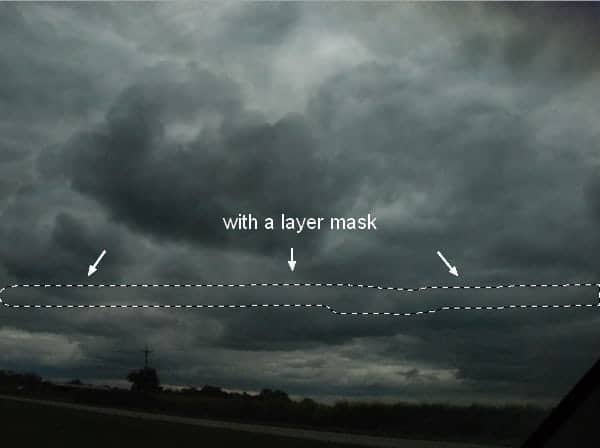 Step 5
I used an adjustment layer with Clipping Mask to brighten the sky 2. Go to Layer > New Adjustment Layer > Curves:
On this layer mask, use a soft black brush with the opacity varied from 10 to 60% to paint on some areas of the sky. The aim is to reduce the lightness and create a better contrast for the sky: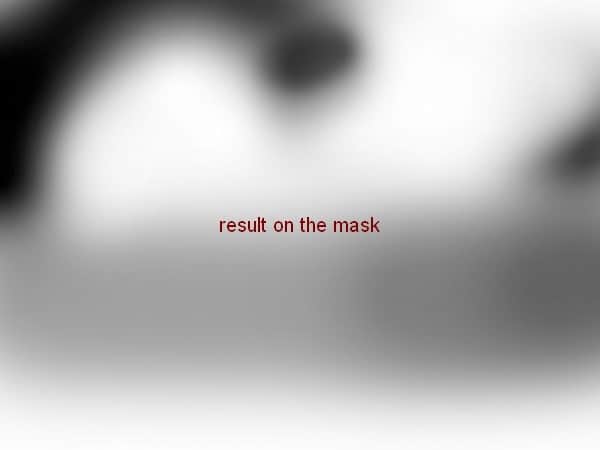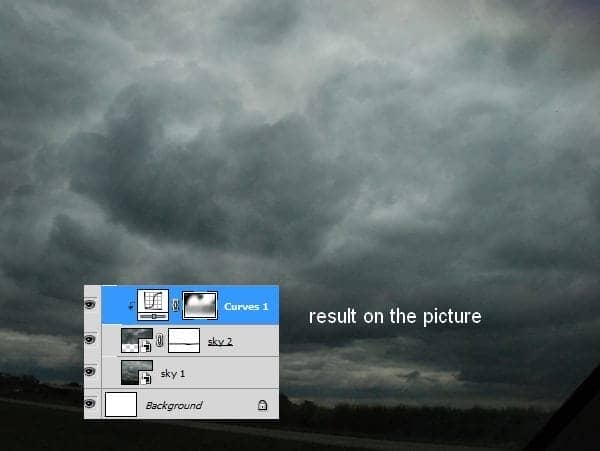 Step 6
Open the landscape image. To delete the cars in this photo, make a new layer and activate the Clone Tool (S). Use this tool to remove the indicated details:
Step 7
Press Cmd/Ctrl+Option/Alt+Shift+E to merge the background and clone layer into a new one. Move this merged layer into our main canvas, use Cmd/Ctrl+T to transform it as shown below: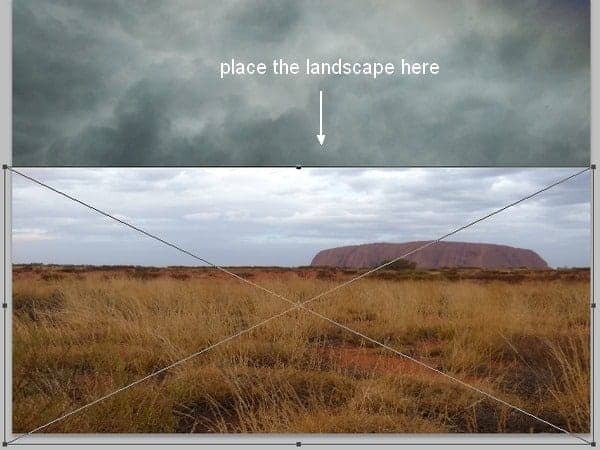 Use the Magic Wand Tool to mask off the sky and rock part in this image: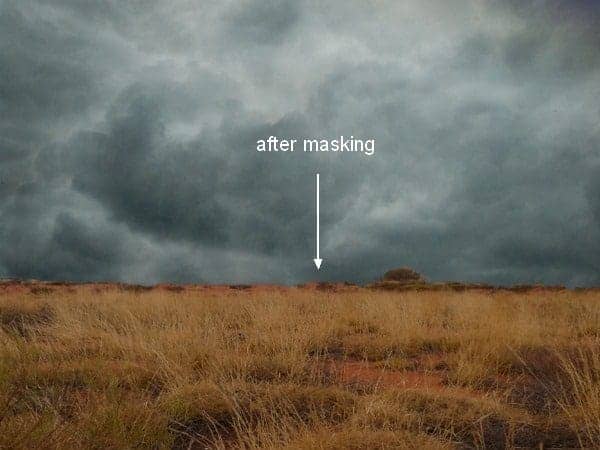 Step 8
I used Curves (Clipping Mask) to darken the landscape: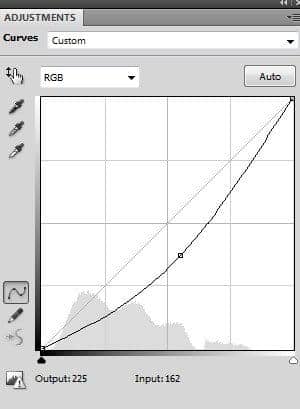 On this layer mask use a soft black brush with very low opacity (10 -15%) to reduce the dark effect on the parts below: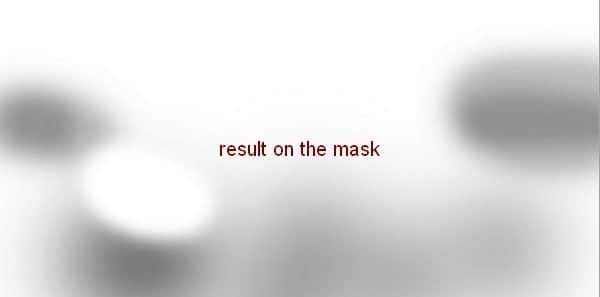 Step 9
I used Hue/Saturation to decrease the saturation of the landscape: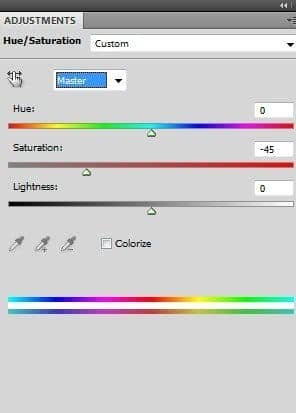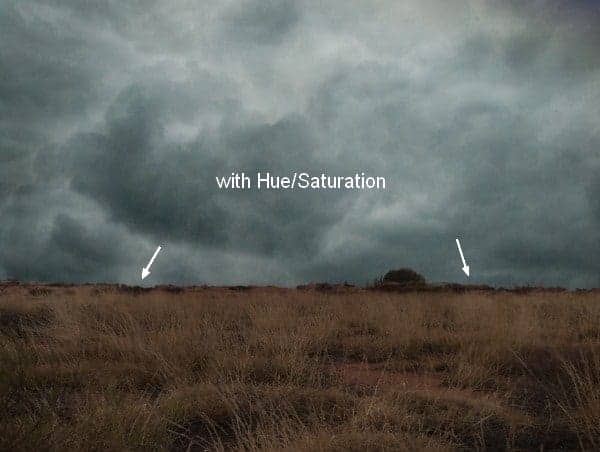 Step 10
Place the house image over the main document as the screenshot below shows: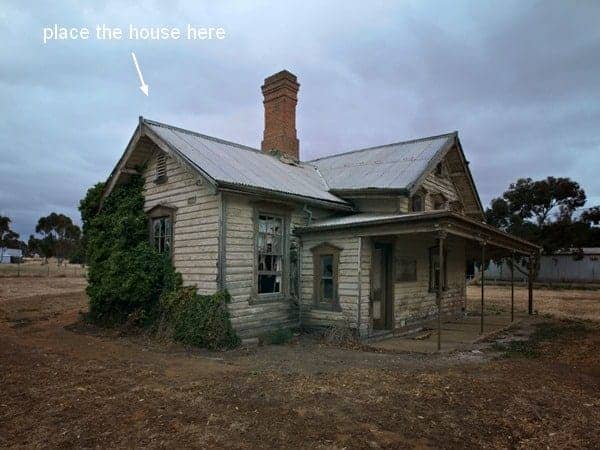 First I removed the background of the house using the Polygonal Lasso Tool: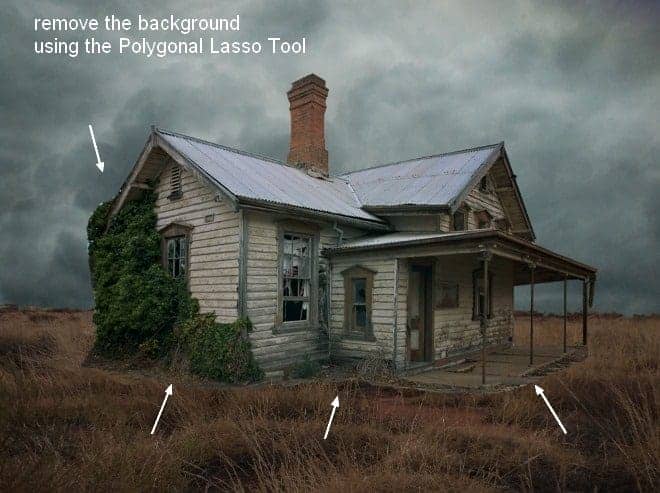 Step 11
You can see that the edges are still very hard after using this tool, especially the bush around the house. To correct it, click Reset Brushes from the brush menu to set the brushes to the default ones. Choose the Spatter 24 pixel brush to refine the edges of the bush and make it more natural. Also, use a soft black brush to soften the edges of the house bottom and blend them with the grassy ground: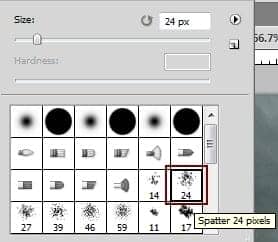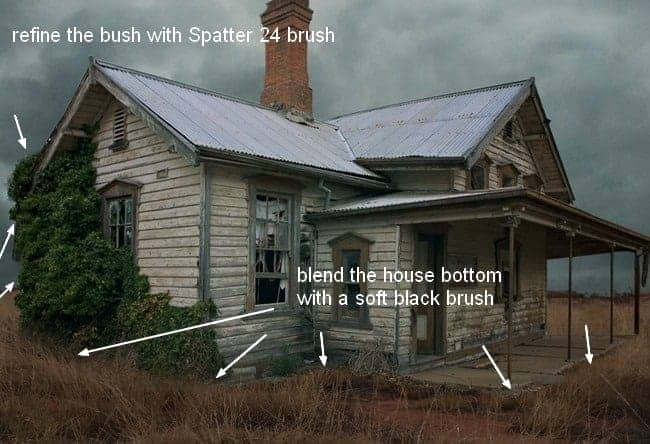 Step 12
Use Curves to darken the house a little: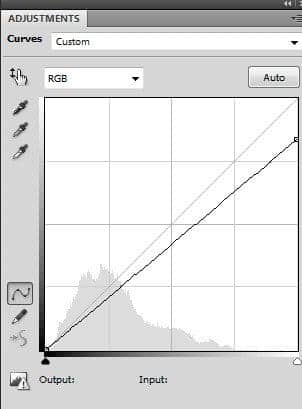 Apply brush masking on this layer mask to refine the light and shade there, to keep the upper part brighter and the lower one darker: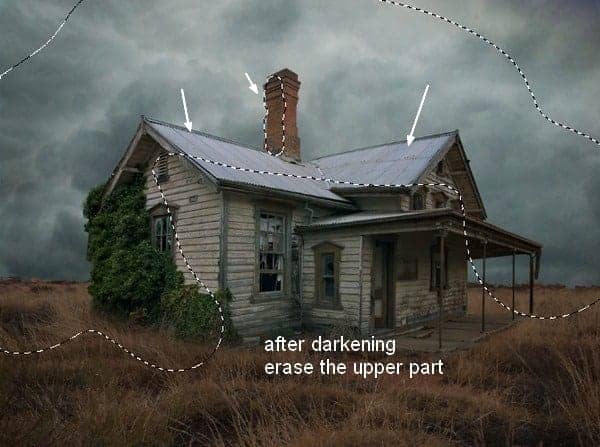 Step 13
Isolate the crow and place him at the top of the roof: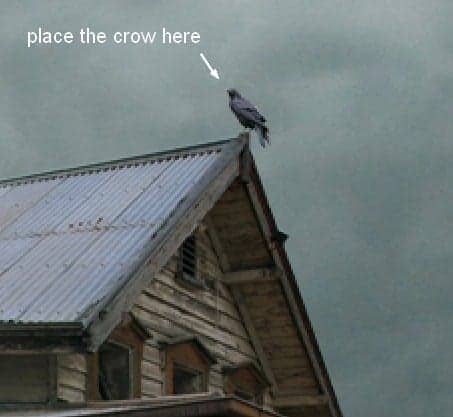 Step 14
Make two new layers on the top. Change the foreground color to black and the brush kind to the birds ones. Paint some birds in the sky as I did below ( remember to lower the size of the birds in the further distance to create a depth look):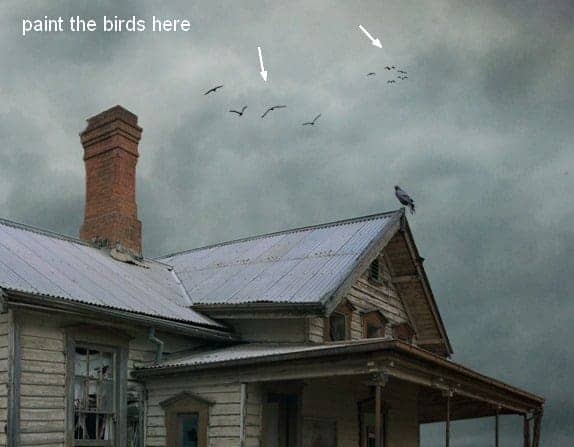 Step 15
Make a Gradient Map adjustment layer on the top of the layers with the default colors (black and white):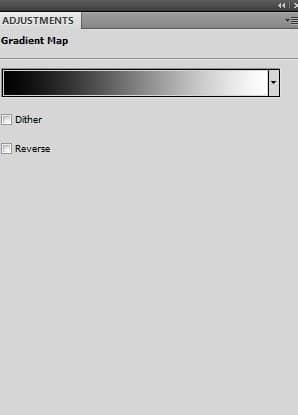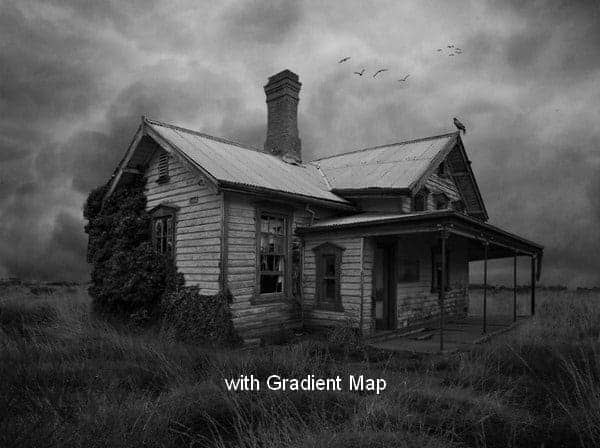 Step 16
I want to create an eerie mood in this scene. Create a new layer and change the foreground and background to #9d9d9d and #121212. Go to Filter > Render > Clouds: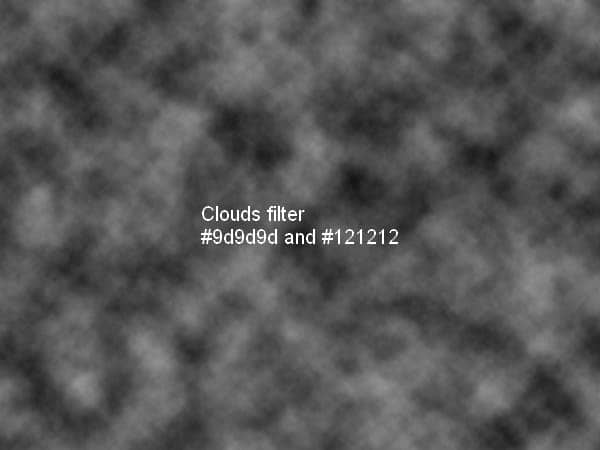 Convert this layer to a Smart Object. Lower this layer opacity to 50%: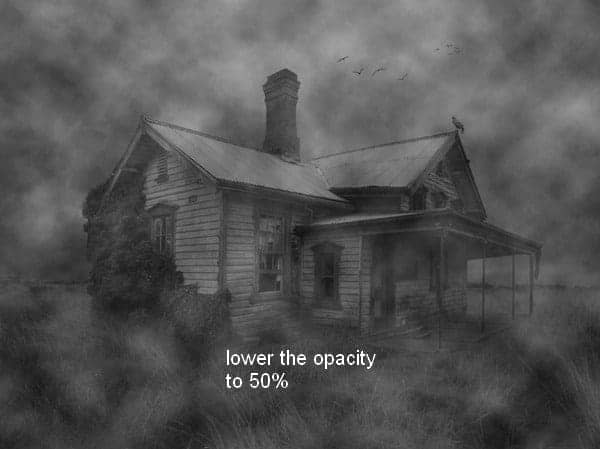 Step 17
Add a mask to this layer and use a soft black brush to remove the mist effect on the sky part: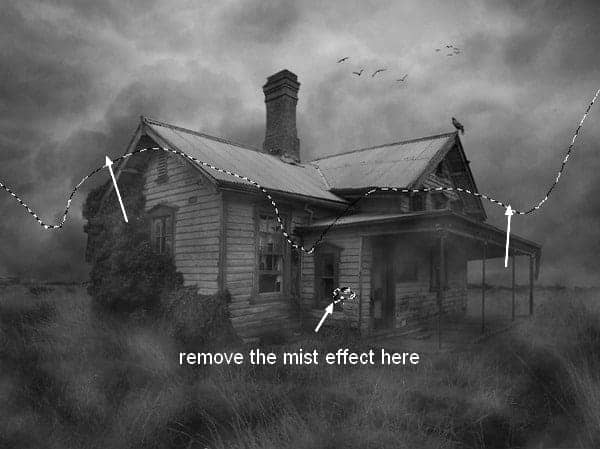 To refine the mist effect, go to Filter > Blur > Gaussian Blur and set the radius to 90 px: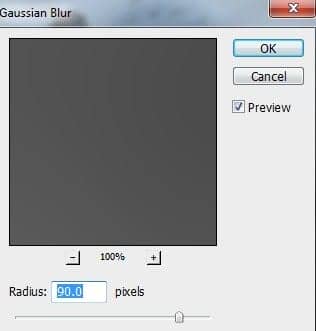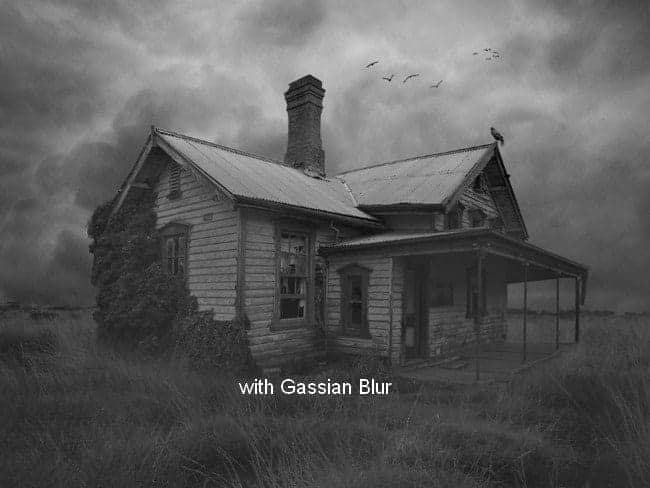 Step 18
It's time for coloring the scene. Make a Color Balance adjustment layer on the top: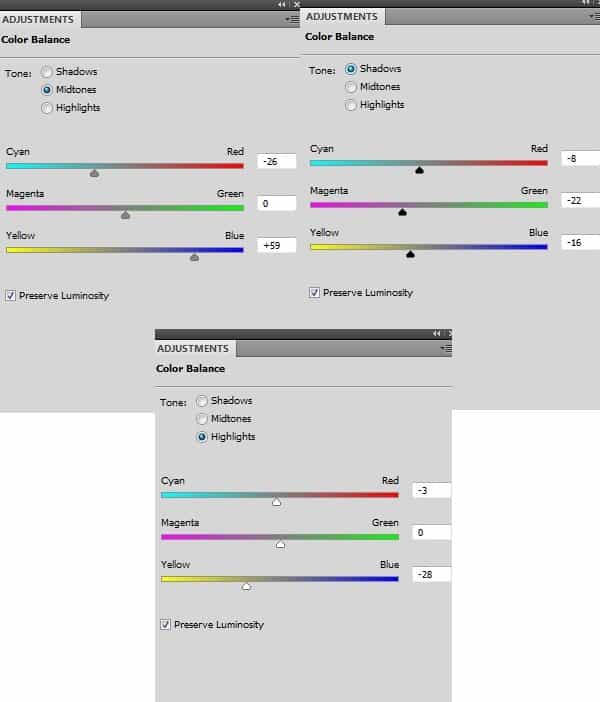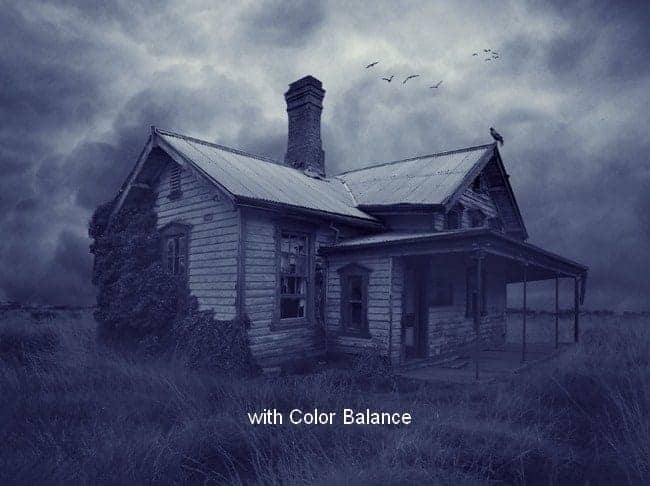 Step 19
Use Curves to darken the scene: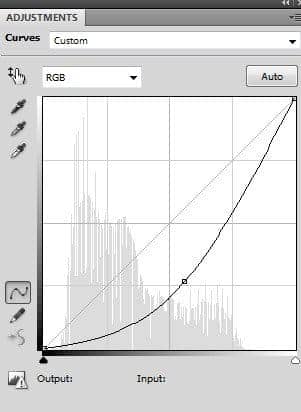 On this layer mask use a black brush to refine the contrast there: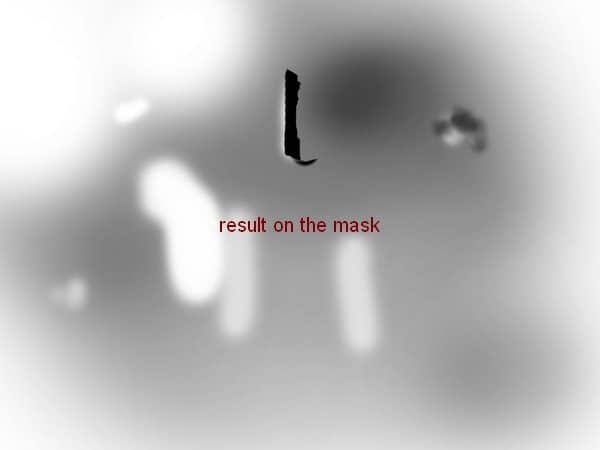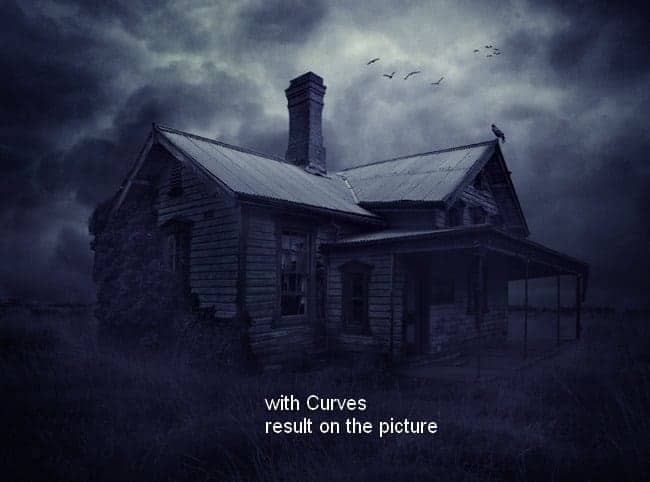 Step 20
In this step, we'll make the red light glowing from one of the house windows. Make a new layer, use the Polygonal Lasso Tool to make a selection on the window below and set the feather radius to 3: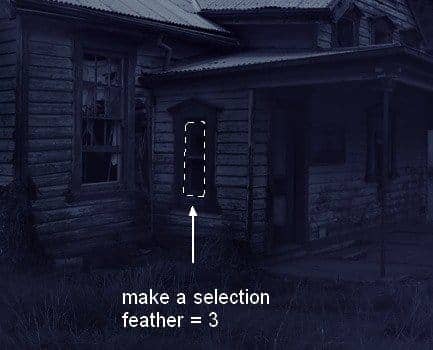 Go to Edit > Fill (Shift+F5) and fill with a red color (#ff0000):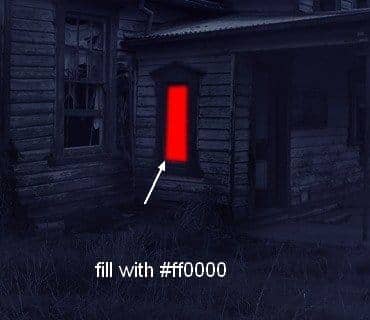 Use the Polygonal Lasso Tool again to make two selections with the feather radius =3 as shown below:
Click the Add layer mask button and we have this result: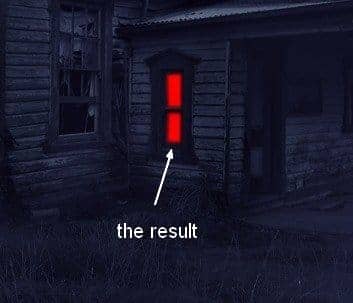 Step 21
To add a glow effect to this red window, double click this layer, choose Outer Glow: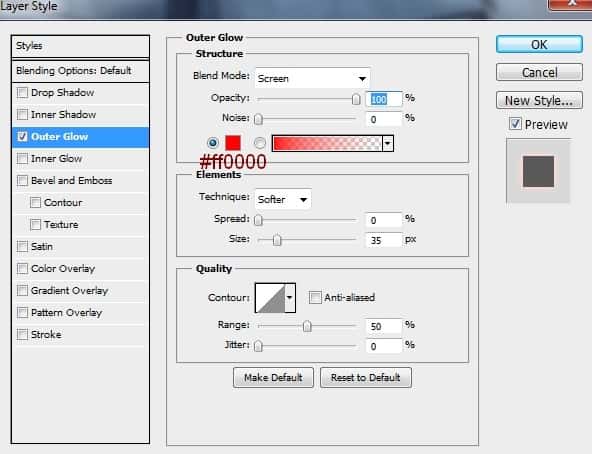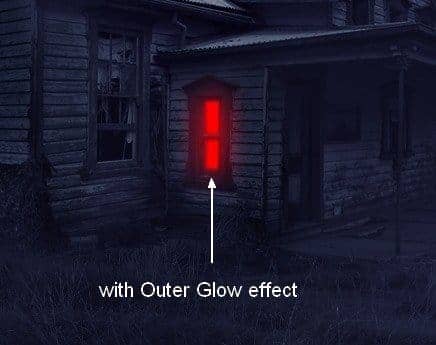 Step 22
Create a new layer and use the same color for a soft brush (#ff0000) with the opacity lowered to 30-35% to paint the red light under the window and on the grass: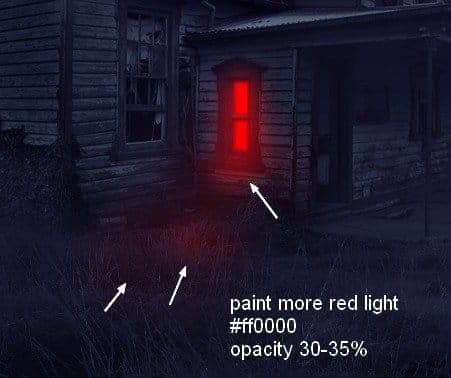 Final Results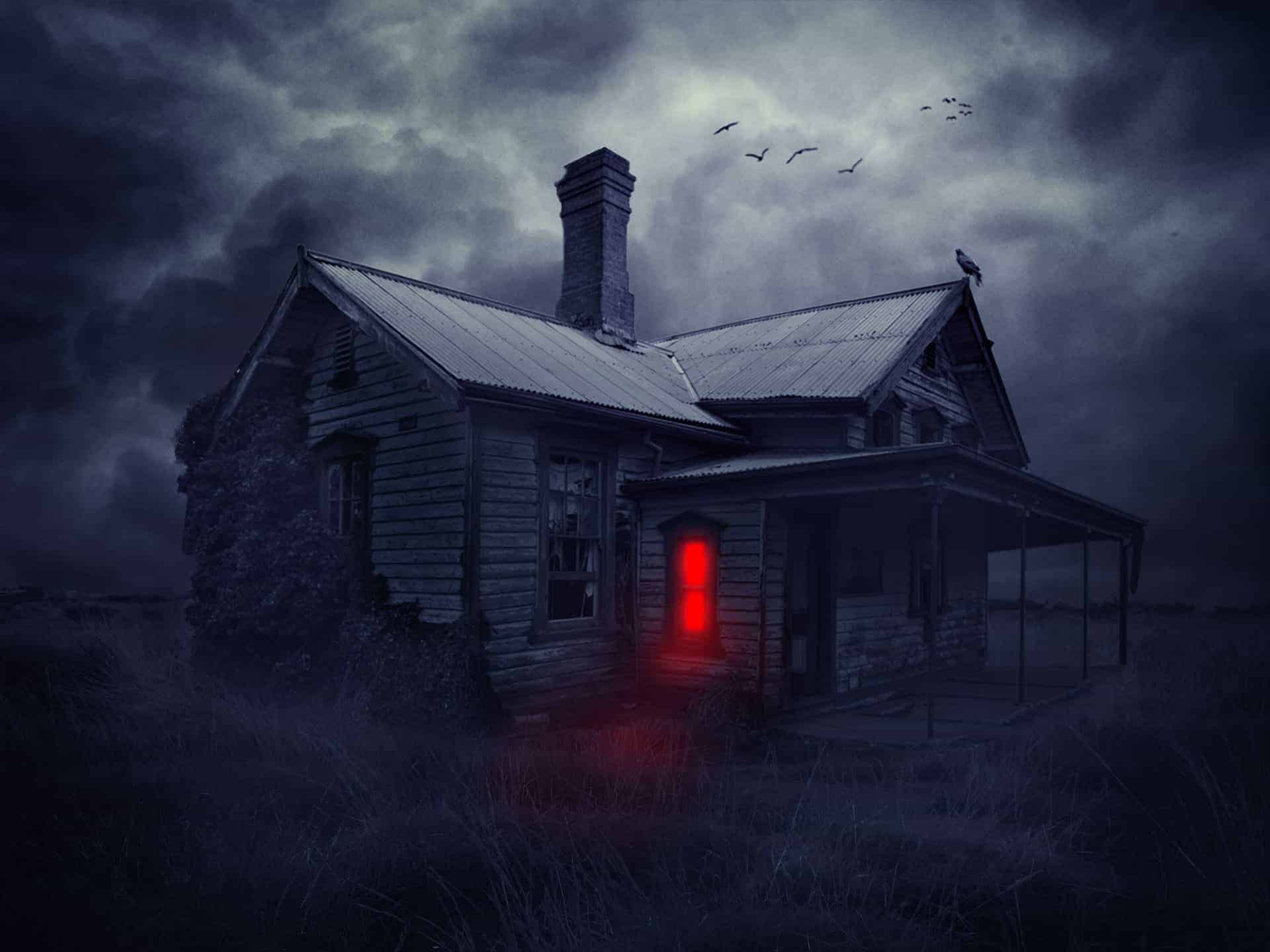 Download the PSD
Haunted.zip | 48.7 MB
Tutorial by Jenny Le