Step 14
For a second layer add an adjustment layer "Curves" (Image > Adjustments > Curves...). Put one point with Input: 68, Output: 43. This adjustment is like a smart filter so you can edit this on a smart mask. Of course, you can use adjustment layer if you want.
Step 15
Now add texture to the dress. In this step, we will edit a layer mask to get the desired result. Go to a Brush Preset panel (Window > Brush Presets) and click on the options button. Load "Square Brushes" and go to Brush Settings (F5) panel.
Step 16
Set the brush as shown in the image below to get the spray with squares. In Brush panel (F5) set Size: 255px, Spacing: 70% and go to "Shape Dynamics". In "Shape Dynamics" set, Size Jitter: 100%, Angle Jitter: 60%. Checked "Scattering" and set Scatter: 550%, Count: 2. You can add texture to the brush as an experiment or use a different shape or place some texture to the model.
Step 17
With Brush Tool (B), created brush and black color, draw on the second model layer with "Curves" a bit squares on the dress. It's a little spice up the dress of model. You can try different shapes and brushes. The main thing is the principle of work.
Step 18
Duplicate the original layer with a model two times (Cmd/Ctrl + J or Layer > Duplicate Layers...) and move it topmost in the layer stack. For a first copy go to Filter > Blur > Gaussian Blur... and set Radius to 2.0 pixels.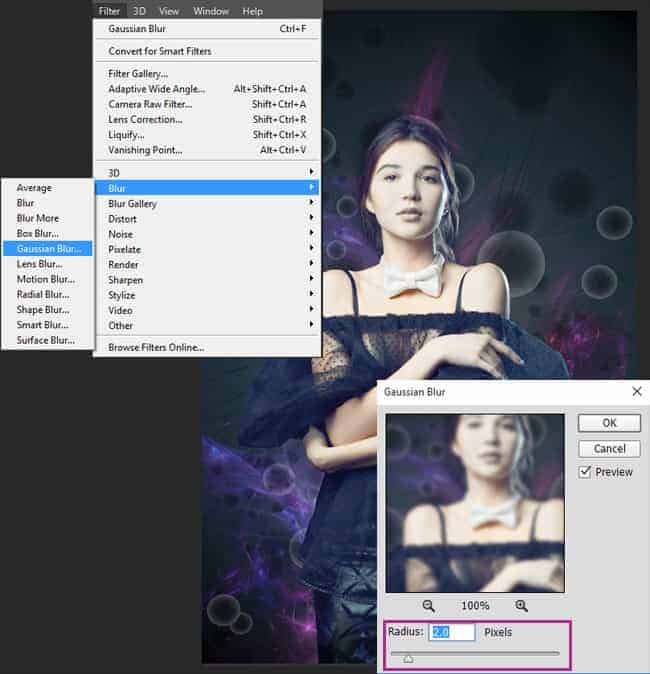 Step 19
For a second copy add filer "High Pass" (Filter > Other > High Pass...) with Radius 2.0 pixels. It is important to comply with the same value of blurring and sharpening to achieve a balance. Rasterize both layers (right-click > Rasterize Layer...). Clip both to model layer (Cmd/Ctrl + Opt/Alt + G or right-click on layer > Create a Clipping Mask).
Step 20
And now time for a retouch. So, we have two layers - one blurred, another sharpening. Do not worry about the appearance, we will fix everything later. First, let's remove unnecessary texture from the model on gray (sharpening layer) using a Clone Stamp Tool (S) with hard round form and Opacity: 100%. We need to clone the flat skin on those places where there is an error (hair at the hands, wrinkles, etc.). On the layer can also use a brush with 50% gray (#818181) to remove any texture. When you're done with it, set layer Blending Mode to "Linear Light" and reduce Fill to 45% (To edit the layer you will need to return all settings).
Step 21
On bottom blurred layer use Eyedropper Tool (I) + Brush Tool (B) or Mixer Brush Tool (B) with soft round form, Opacity: 10 - 50% to smooth color (shadows, highlights, problem areas). You need to darken and lighten strong overexposure too dark areas on the skin. Use the average skin tones near the area being edited. Also, try to make your correction was not different from the original. If you find that the correction is too obvious decrease layer Opacity until 50%. Use Zoom Tool (Z) or Cmd/Ctrl + (+/-) so you can more clearly see the details of the image.
Step 22
Since the correction is finished and we can to work with color and texture. First, add a new Gradient Fill layer (Layer > New Fill Layer > Gradient or use "Create new fill or adjustment layer" button at the bottom of Layer panel) with default black and white gradient, Style: Linear, Angle: 90 degrees, Scale: 100%. Change Blending Mode to "Multiply" and reduce Fill to 65%.