---
Step 5 - Adjusting the Bottom Part
The bottom part is still too bright. To fix it add new adjustment layer Levels and set it as on the picture below.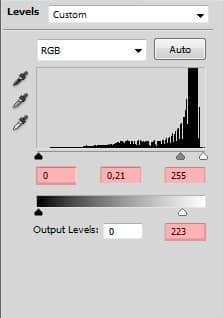 Grab the Gradient Tool (G), pick the black color and fill the thumbnail of the layer. Then grab the Brush Tool (B), pick white color and paint over the areas of the bottom part of the wall to make there the adjustment visible. Your image should look like the one below so far.
---
Step 6 - Retouching of Vertical Lines
As you can see on the picture above it's necessary to blend parts of the wall correctly. There are three main parts which need to be fixed - vertical lines, horizontal lines and the stone itself. To do that you will use Stamp Tool (S). If you're not familiar with this tool I would recommend you to take a look e.g. at this video tutorial or write "stamp tool" in google or youtube and you'll find tons more. It's a really powerful tool in Photoshop and it's a pity to don't use it.