Paul Cassidy is a photographer based in Madrid, Spain. His work often features a narrative and each picture he takes would suck you in its story. Let's get to know more about his inspirations and the story behind his work in this interview.
---
Can you please tell us more about yourself? How did you get into photography?
Well I was born in Ireland, in 1971 and grew-up in a coastal town in the south-east of the country called Tramore, which means Big Beach in Irish. I had a typically idyllic but uneventful small town upbringing, interrupted occasionally by trips to the capital to see my Grandparents and uncles and aunts, one of whom is an air-hostess, would bring me amazingly trendy clothes from New York (the highlight of those trips). After finishing school I did a Business & Marketing Degree, before lecturing for a few years and then setting up my own research and strategic planning consultancy company, which I ran for about eight years. At this point those trendy pants from age 8 started to have their far reaching influence and sent me off on a bit a tangent….
Feeling bored with my business and tiger economy Ireland, I decided to close-up shop and took off travelling for a year, with no real idea about what I was going to end up doing. This was when I bought my first camera (a little Nikon compact), and over the course of a few months, doing street photography I fell in love with life as you see it through a lens.
I settled in Madrid about 5 years ago and started to think about photography more seriously. I worked as a photography assistant and in art direction for a few years before I started developing my own portfolio about 4 years ago.

Faith

Faith

Carretera Fantasma

Carretera Fantasma
---
How do you come up with a concept? What are your inspirations?
Well I'm self-taught and I think that it shows quite a lot in my lack of discipline and direction. Really my portfolio is a bit all over the place, I'm quite instinctive about the projects that I undertake and it generally tends to be just because something or someone interests me enough to think about photographing them. My own interests in the world around me are quite diverse and I like to engage with subjects and collaborators that challenge my feelings, perspectives and prejudices. In a documentary type project like Shooting Stars, Fallen Man or Urban Eco-systems, although quite diverse in subject matter, both projects were about discovering an urban environment and my place in it. In a project like Ghost Road, narrative is the key element, I just try to transport the viewer to another world and take them on a journey with the protagonists, a sort of in-out, thank you very much on to the next thing. And then a project like The Strange One's Whim is a portrait, documentary and fiction rolled into one.

Shooting Stars

Sense of Anxiety
---
Emotions are said to be an important aspect of photography. How crucial is this element in your photographs?
How well I understand my own emotions and how that's conveyed through my photographs I have to be honest I'm not very sure and think its probably best for the viewer to decide. I do feel that generally (though not always) I try and create ambiguity, through seriousness of expression and stillness in the poses. I like tension and anxiety juxta-positioned with tranquility and serenity. I also see a lot of humour and irony in my work, and dont like to take it very seriously.

New Hope
---
What's the story behind "The Strange One's Whim"? What was your inspiration for this series?
The Strange One's Whim is a portrait of a real person, wearing his own clothes, hence he's already known as La Rara (The feminine for The Strange One in Spanish). We've just created a story to go with his personality and have an excuse to get him to show off his weird wardrobe. For that reason the photographs function as a portrait, a document of him and his clothes and an imaginative narration. We called it the The Strange One's Whim, because his name is 'The Strange One' and because we did the shoot in an old romantic era park in Madrid called El Parque de El Capricho, which means The Park of the Whim/ Caprice.

The Strange One's Whim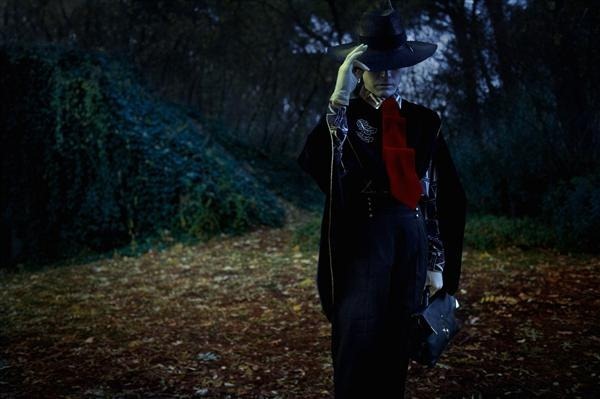 The Strange One's Whim
---
Do you use a specific technique in capturing your images?
When I do an organised shoot in studio or in a location I do a lot of preparation beforehand, with compositions, styling, make-up, etc. and always have a very clear idea of exactly how I want the photograph to look. Often I do that by preparing quite detailed illustrations/ drawings of how I imagine the photograph. I try as hard as possible to get everything absolutely right in the frame, but of course it never really works out that way does it?

Unknown Origins
---
How does photography influence your life?
For me it affects almost everything, but especially my sense of physical space and the way you view your immediate environment. I particularly like to study the action of light and its affect on form in almost any setting.

Star Sailor
---
How does the images you capture influence you as a photographer?
Mostly they create dissatisfaction and a sense of failing, but they're only photographs and don't really matter too much.

Veil of Darkness
---
Can you share us your future plans and projects?
I've been rather unproductive during the last six months but have a few projects in development, hopefully I'll have some new work out later this year. Otherwise I'm trying to get fit, lose some weight, become a better dancer and be less grumpy (just like everybody else i guess :))

Waiting Room
---
Can you give any message to our readers?
Have a nice summer!

In your Bedroom

In your Bedroom
---
More Information About Paul Cassidy
http://www.paulcassidystudio.com
http://www.behance.net/paulcassidy