---
Step 26 – adjustments
Use the layer mode in soft light and reduce the saturation to -40.
---
Step 27 – Model
To hide the original background of the model, you have to use the polygonal lasso tool and select only the model.
---
Step 28 – Layer Mask
Now add a layer mask to the image, In that way the selection you made is going to be the only thing you see.
---
Step 29 – Dress
Duplicate the layer and select only the model's dress using the same technique as before. Using layer mask and with the brush hide the undesired parts.
---
Step 30 –
Now go the the layer mask and choose the option add mask to the selection to have an editable layer of the dress.
---
Step 31 – Change size and color.
Now press Ctrl +T give a right click and choose the option warp to modify the dress, press enter when you are done to save the changes.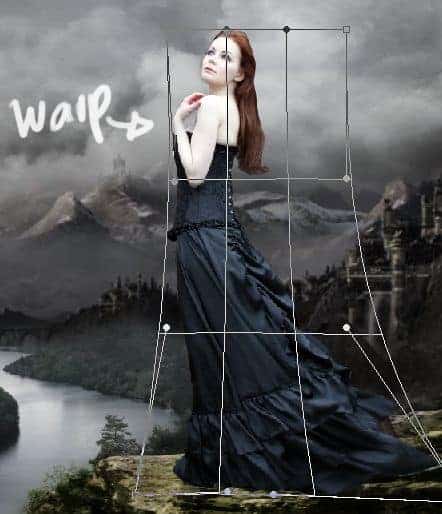 ---
Step 32 – Converting
Convert the dress layer into a smart object pressing right click in the layer thumbnail and then selecting the option Convert Smart Object.
---
Step 33 – Black dress
To make the model's dress black you have to reduce the saturation to -100.
---
Step 34- make up
Now for the make up I just paint over the model's face with pink tones in the cheeks and lips and some brown in the eyebrows. Also add some eye shadows.
---
Step 35 – Hair
You can paint the hair with the help of some hair brushes pen tool or tablet.
---
Step 36 – City lights
Now to make the city lights, create a new layer and with a soft round brush paint to create lights. You can use the brush in 5 px or less.
---
Step 37 – Blur
Go to filter – blur – Gaussian blur and select 2 px radius to give a softer look. Also you can use the eraser with 30% of opacity in some parts to blend the lights.