Double exposure is a photographic effect that often produces ghost images. Sounds creepy? Alright, check out these amazing photographs below to see what double exposure is really capable of. Some of them are done in analog photography while some are done digitally. Now, your eyes will witness awesomeness!

"In my process of creating double exposures, the only thing I know for sure is that I have no idea how any of them will come out. I exclusively use film when I photograph, and my method of creating double exposures is to shoot the entire roll of film, in a variety of different subjects, textures, compositions, etc., and then rewind the roll back to the very beginning, and then shoot another set of images on top of the same film. And there's a risk in that- not every image pairing will "work." The joy of this for me is the uncertainty– of which images will match together, of the colors that will come through, of the unexpected compositions that I have unconsciously created."
---
"These images are in my 'line of flight' project. This name comes from French Philosopher Gilles Deleuze's concept 'ligne de fuite' (means 'line of flight'), this concept covers act of feeling, flowing, leaking and disappearing into the distance and this line of flight connects with the possibility of multiplicity.
First I chose this concept and I began to took my picture at several places with my mobile phone (iPhone 5), this is very important that I wanted to use my phone, because this phone have lots of possibilities. I did not want to take an ordinary silhouette, I only wanted some dark areas in my face by using natural light. Then, I took photographs of ruined buildings and streets with trees. I wanted to compose a line of flight with these images, I wanted to create a multiplicity and I believe that a double exposure or multiple exposure gives me this possibility, And again first I used my phone, I tried several double exposure application and I usually use Diana Photo App for my mobile photography, then I add some textures with photoshop or some mobile app too and than I decided to color of picture only for an esthetic reason."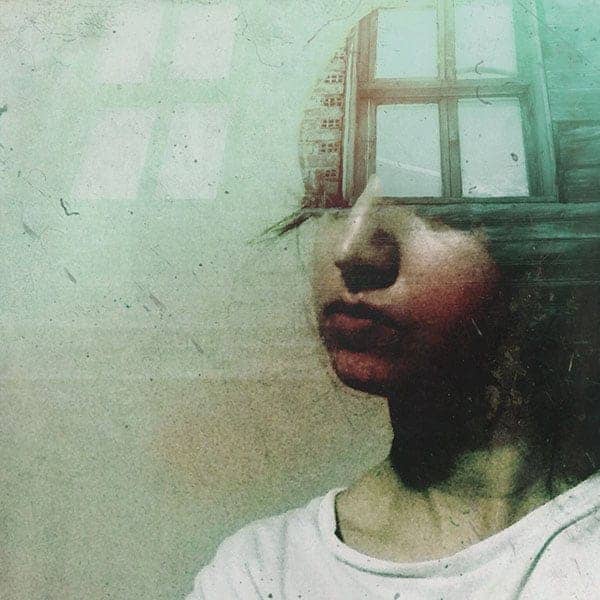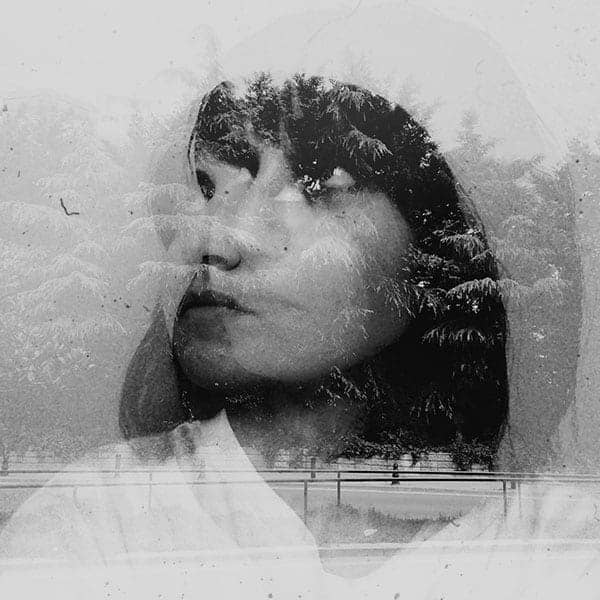 ---
"These images are of my friend, Olivia, who wanted double exposures of herself to use in a personal identity project. I took the portraits of her using my Canon Rebel T5 and then paired them with stock photos from Unsplash. Once in Photoshop, it was just a matter of experimenting with blending modes until I found the effect I wanted. I generally place the portrait at the bottom of the layer stack and then blend the second photo on top of it, using Overlay, Screen, Lighten, Soft light, or a combination of blending modes and adjusting the layer opacity. Once I've settled on the blend I apply a layer mask to the second photo and use the brush tool to paint in the areas that I want the blend stronger or weaker. The mask is mainly to help me keep facial features distinct. Lastly, I add adjustment layers for color and contrast and apply sharpening as needed."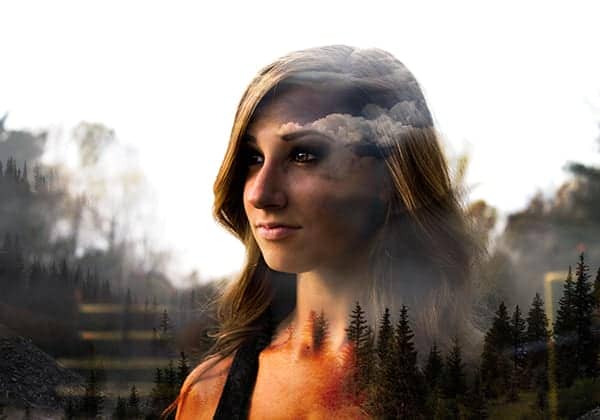 ---
"I made this photo using Adobe Photoshop Elements 8 only.. Using the layer mode setting in Photoshop I just explore the use of different layer mode there such as overlay, vivid light, soft light. The Girl in the first photo is Vienne Gapasin and the two guy there is her brother Mon Gapasin.. We shoot for a fashion shoot for beauty and and Black and white concept.. In the office during break time I usually explore the internet to see things that is so unique in the eye of the viewer one time while browsing the web I see this thing that called Double exposure / multiple exposure. Well, Im so amaze of this kind of shot.. 2 photos with different kinds of shot bringing together.. and then it all started to open my photoshop and try to do this things.. i think an hour before I do this double exposure lot of patience is we need while doing this very technical.. you will ask your self how to merge this two things with different shot? What kinds of tools? Do I need to use to merge this in one but beautifully artistic effect? So many question..but after I made one of this I continue to learn more and to explore for more different style in this kind of editing."
---
"Inspired by my motion media senior project, I shot portraits of friends and family back home in Atlanta and double exposed them with various landscapes of Savannah. Embarking on the journey of college away from home, each person helped contribute to who I am today and how I would like to document culture as a fine artist. Merging the fragments of my life from Atlanta to Savannah, I present the series "P.S Together 4 Always." All of the images were double exposed in camera with a 4x5 Field Camera using Kodak Ektar 100 Color Film. They were then digitally scanned and printed 20 x 24 inches with the digital RA-4 printer. During the postproduction phase the only editing done was the cleaning up of dust and scratches, color correction, and cropping of the edges. If you would like to see more images from this series you can check out my portfolio at https://behance.net/mahoganylenz. If you have any questions feel free to add me on Facebook at Michelle MnM! "
---
"Double exposure was a technique I wanted to try out as part of my A-Level course and instantly I saw the beauty within the style of photography and all the different ways that you could be different and creative with it. After seeing one or two of these style images on social networking sites I decided to play around with it and see what I could come up with.
The first photograph was made with images that I found on the internet (I know that you shouldn't really do that, I just hadn't found my style yet), after looking through other photographers work and looking at the image I had just made using the images of New York City became a clear winner.
I uploaded the images on to photoshop, after carrying out a self portrait shoot on my own and then placed my own images from the city on top, I then played around with the positioning of the images depending on the composition of both photographs it differs with every image. The black and white makes the photo look classic and makes it a lot easier to edit but the colourful shots, I personally think, look much more interesting and different to the 'normal' double exposure shots that you would expect to see."

---
"Talking about the technique, I use multiple exposure, making it only with the manipulation of the film, I use a mechanical camera which allows me to manipulate the film the way I want. The process begins when I stop the film to take many exposures as I want in the same frame, so the composition is done by itself, without measurement.I made this photographs with a Nikon FM10 camera, Pro Plus 200 film and Kodak 400 film. I enjoy the grainy photographs but sometimes I try some shots with less ASA to get soft images."
---
"Those photos are made by an old analog camera Smena 8 M, using Fujicolor Superia 200 film. Using this camera, it is possible to control rewinding of the film (not only a full frame as usually, but also a parts of it), and also to make double exposure photos. During scanning films, I am merging few frames in the same time (that is a reason why those photos are so wide). In general, my work is about illusions, dreams, I am trying to explore a new aesthetic of reality. Those photos are result of an attempt to memorize freedom of certain places."​
---
"I used the option multiple exposure which I have on my camera (I use the Canon 5D Mark III) and I edited them a little in Photoshop. The name of the first image is 'My soul' which represents the love for hometown. Name of the second image is 'She'. The wood inside the person represents her personality."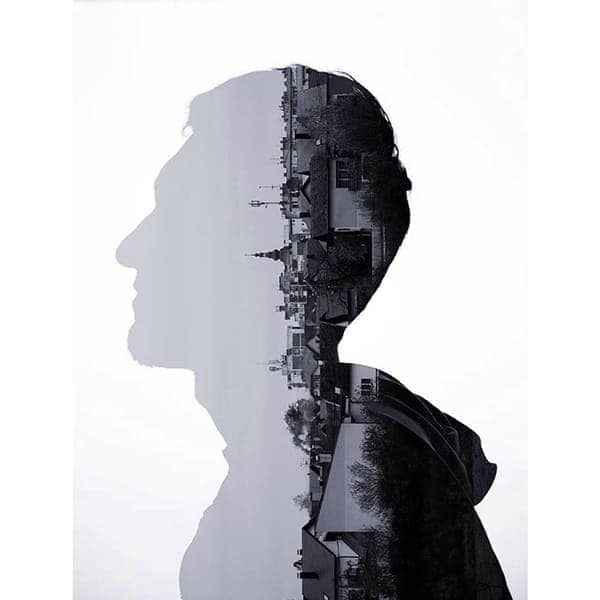 ---
"The story behind the picture is simply that I wanted to further practice my Photoshop skills and I followed this great tutorial by Chris Spooner. I also used the same royalty free landscape scene by Samuel Rohl.
In the silhouette photography session with Joonas Kuittinen we tried to achieve an image that would stand out from the background, so he used another flash behind my other side. (Facing the camera, but behind me.) That created beautiful shadows on the face but highlighted the hair. The tool I used was Adobe Photoshop CS6.
In the Chris Spooner's double exposure tutorial the woman's skin is almost completely covered with the landscape picture and I didn't like that so much. So in my own artwork I faded out the landscape on my face and let the skin with all it's imperfections show. I think that let the picture to "breathe" more. It also enhanced the calmness of the silhouette photo.
This was a quick training for me (for my own interest) on a rainy Sunday, not a great piece of art. :) And that in mind I don't have any fine words to describe the meaning of it. I'm very pleased with the outcome though."