Pastel color effects are typically used in portrait and wedding photography. With these Photoshop actions by SparkleStock, you can add these beautiful effects with just one click. They're easy to use and fast.
Lite vs Pro
The lite version is free and includes the first 5 effects shown in the image below. If you upgrade to the pro, you'll get the full pack of 22 actions and some bonus features.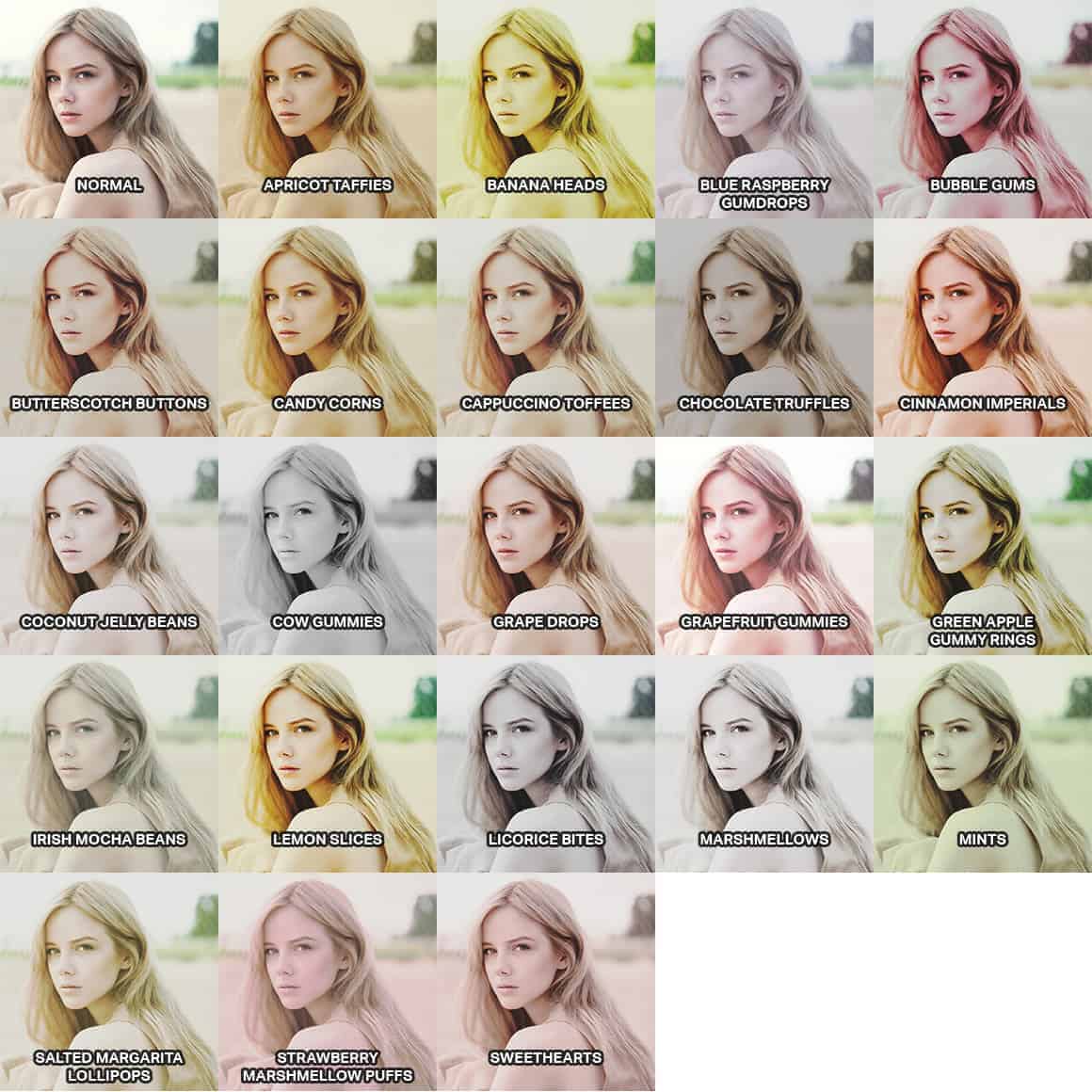 Because the Pro version contains so many effects, it's helpful to be able to switch effects without playing each action individually. For this, you can use the "Play All Effects" action to prerender all the effects. Once the action is done playing, simply go into your History panel (Window > History) and pick an effect. The effects are applied immediately which is a great way to pick the best pastel color effect for your photo. This feature is only available in the Pro version.
Compatibility
Photoshop CS3 and newer (including Photoshop CC)
Photoshop Elements 12 and newer
Free Download
Apricot Taffies
Banana Heads
Blue Raspberry Gumdrops
Bubble Gums
Butterscotch Buttons
Pro Version
Apricot Taffies
Banana Heads
Blue Raspberry Gumdrops
Bubble Gums
Butterscotch Buttons
Candy Corns
Cappuccino Toffees
Chocolate Truffles
Cinnamon Imperials
Coconut Jelly Beans
Cow Gummies
Grape Drops
Grapefruit Gummies
Green Apple Gummy Rings
Irish Mocha Beans
Lemon Slices
Licorice Bites
Marshmallows
Mints
Salted Margarita Lollipops
Strawberry Marshmallow Puffs
Sweethearts
Generate all looks with just one click