Do you have money that you don't know how to use? Let me show you how to spend it with this list of tools that can increase your productivity and let you use Photoshop in new ways. I'll show you the ones that I use all the time and and give you my honest opinion the others.
Pen Tablet
The most popular Photoshop tool people tell you to get is a pen tablet. These tablets let you control your cursor with a pen. They're pressure sensitive so that you can apply strokes of varying thickness and opacity and some have tilt-detection which works great with the new airbrushes in Photoshop CS6. Tablets let you paint with varying opacity, brush size, and tilt direction. They're great for everyone including photographers and photo manipulators and is a must-have for digital painters. There are many tablets to choose from the affordable tablets like the Monoprice 8x6" Tablet for $30 to the powerful and feature-rich Wacom Intuos5. Should you be so inclined, you might even want to selling all your personal belongings for a drawing monitor like the Wacom Cintiq 24HD that goes for $2500.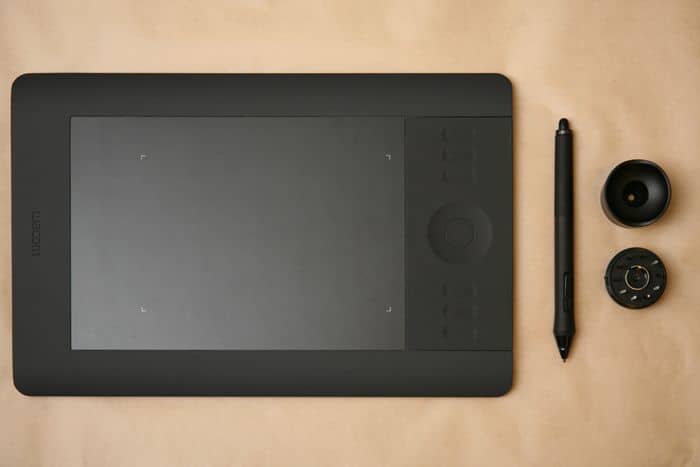 Wacom Intuos5
---
3D Mouse
The least known companion for Photoshop is a 3D mouse. Photoshop CS6 Extended has powerful 3D capabilities and a 3D Mouse is the best way to work with 3D objects in Photoshop. It makes 3D editing feel second-nature and speeds up your workflow. This knob can also be used to rotate, zoom in/out, or set to another feature of your choice. Currently, the only company making 3D mouse is 3DConnexion. Their SpaceNavigator can be yours for $100.
---
Gaming Mouse
The best mouse you can get for Photoshop are gaming mouse. They combine high accuracy, low latency, smoothness, and extra buttons to give you the perfect mouse for Photoshop. There are times when you need the absolute precision from your mouse. Times such as masking out people from photos, painting/drawing, or even working with vector shapes. High-end gaming mouse such as the Logitech G700 will give you all that precision. They also have extra buttons that you can bind to specific keys (ex. undo/redo, next/prev document, brush/eraser tool, etc.). It takes at least a few days to remember all the keys but once you do, you'll see yourself using Photoshop way faster than before. Most gaming mouse have a DPI adjust setting where you can adjust your DPI on the fly to slow-down your mouse when you need the extra precision or speed-up when you're creating long strokes. Originally designed to snipe your enemies in FPS games, the Logitech G600 mouse has a 3rd click button that you can hold down to slow down your mouse. For Photoshop, you can use this feature to slow down your mouse whenever you need that extra precision. I started with the Logitech G700 that I loved but craved for more buttons. When the Logitech G600 came out, I got it immediately and started to adapt to the new buttons. If you could only buy one thing, I recommend you buy a gaming mouse with lots of buttons.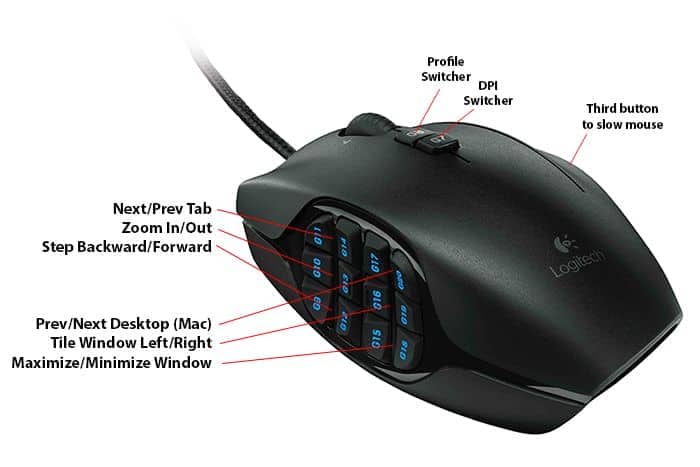 My Photoshop profile for the Logitech G600 mouse
---
Gaming Keyboard or Programmable Gameboard
Are you a Photoshop speedster? Have your own set of custom Photoshop actions and keyboard shortcuts? Advance to the next level with a gaming keyboard or programmable gameboard. These keyboards have extra buttons to store your hotkeys and can even record a sequence of keystroke actions on the fly. You no longer have to remember the hotkey to your saved actions or custom keyboard shortcuts. If you work on multiple computers or need more keys, get a programmable gameboard like the Logitech G13 or Razer Orbweaver. They give you more keys and is more fashionable to transport than having a full-width keyboard stick out of your backpack. For my gaming keyboard, I've set the extra buttons to my most frequently used keys that I've customized with the Keyboard Shortcuts tool (Edit > Keyboard Shortcuts).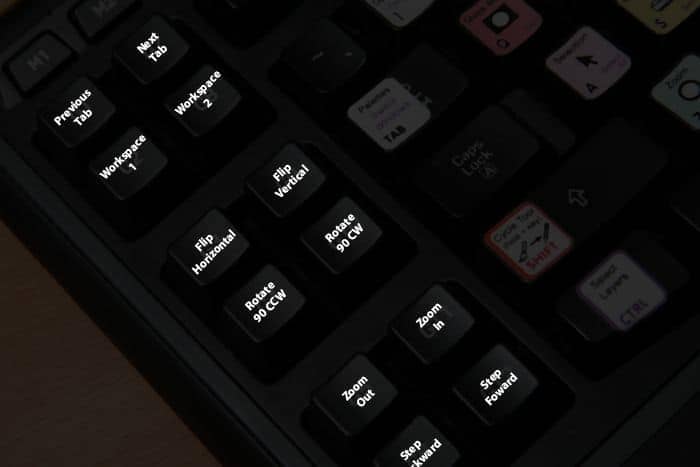 My configuration on a Logitech G110 keyboard
---
Keyboard Stickers
Still learning your hotkeys? Get some keyboard stickers to help! They are the best way to train yourself to using hotkeys. Many times, we avoid using hotkeys because it is too much work to find out what the hotkey is. These stickers let you look down on your keyboard to remind you of the hotkeys that you want to use. There are several vendors to get your Photoshop keyboard stickers and we're using the ones from Shortcut Stickers.

Shortcut Stickers
---
iPad
Adobe has several apps that complements Photoshop; Eazel, Nav, and Color Lava. These three apps are currently only available on the iPad (Sorry Android folks!). My favorite is Adobe Nav which lets you control Photoshop using your iPad. It lets you use your iPad as a custom toolbar, document selector, and can even let you transfer images directly from iPad to Photoshop. Next is Adobe Eazel. This app lets you create paintings on your iPad and transfer them wirelessly to Photoshop. The last app is Adobe Color Lava. This app lets you mix colors like fingerpainting and create swatches that you can transfer to Photoshop. I never use Eazel or Color Lava but Adobe Nav is always running on my iPad.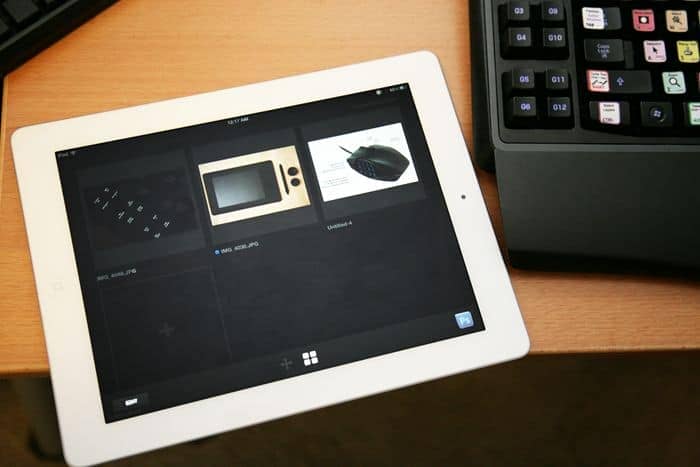 Adobe Nav connects with Photoshop to show thumbnail view of the opened documents.
---
Do you need all these gadgets? Which gadget are the most helpful?
There's all these gadgets and in the end of the day, it comes down to if they help or not. The most useful are my Logitech G600 mouse and G110 keyboard. The precision of a gaming mouse compared to my old laptop mouse is day and night. Not only are they more precise, they have smooth feet which makes gliding the mouse effortless. The extra buttons speed up my workflow a lot and I use them all the time. If you're not already using a high-quality mouse, you should look into getting one. Having the extra buttons on your mouse and keyboard definitely speeds up your workflow, but you really need to force yourself to practice using them. Like learning a skill, it takes practice.
The next most useful tool for me is the iPad which I use a lot just for Adobe Nav. I no longer have to scroll through the different tabs in my Photoshop workspace to find the right document. With Adobe Nav, I get a thumbnail view of all the documents I have opened and I can just tab on the one I want to open. It can also be used as a tool selector but if you know your Photoshop hotkeys, you won't be using it.
Finally, it comes down to the tablet, keyboard stickers, and 3D mouse. I don't have a 3D mouse but it looks promising and I'd like to give it a try. The keyboard stickers are nice to have but and I've learnt a few more hotkeys that I never even knew existed. They're not expensive and I highly recommend them because they're a great way to learn your hotkeys. As for the tablet, I use a small Wacom Intuos5. Some people use their pen tablets all the time and some people leave it sitting to collect dust. I'm in between – using it only when necessary. Having a tablet does give you access to tools in Photoshop that you can't use with a mouse. For example, if you have a pen tablet with tilt-sensitivity, you'll be able to use the airbrushes in Photoshop CS6 - this is great for digital painters. But most of the time, a pen tablet is only useful if you can control it better than a mouse.
At the end of the day, it comes down to how often you use Photoshop. If you use it every day, you must try one of those gaming mouse with extra buttons. It takes some practice to get used to it but once you've memorized all the buttons, you'll be using Photoshop so fast that people might think you're a wizard. The boost in productivity can turn your impulsive purchase into an investment. As for the other tools, I can live without them and I'd save them for later. It's better to master one tool at a time rather than getting all of them at once.
Are there any other tools that I missed? Feel free to write me a comment on which tools I should try next.