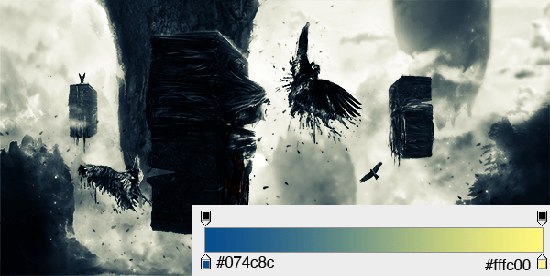 ---
Step 33 - Partial desaturation
The image with the gradient map on 'Soft Light' looks oversaturated, so make a new 'Black to white' 'Gradient Map' adjustment layer on 'Color' 'Blending Option' at 30% opacity. Also, there are places on the bottom left and right corners where the image is too black. Make a new layer with 'Lighten' 'Blending Option' and use the paint brush with #071922 color and use the brush in those corners. And there you have it, the final image.
---
Step 34 (Optional) - Optical flares
You could add some custom optical flares to add a more interesting look. The ones used here are a part of the Video Copilot's Optical Flares Bundle which cannot be shared publicly. Notice though, that the optical flares are different in color than the whole scene, this adds more 'color' appeal and makes it look more interesting.
---
Step 35 - Saving the final result
The image is finally finished, you could add a border and sharpen the image. Go to Filter -> Sharpen -> Smart Sharpen and use the following given values. Then, save it as a PSD file.
Amount: 130%
Radius: 1.0
Remove: Gaussian Blur
Check the More Accurate
---
Final Results
---
Download the PSD
Throes Of Perdition by Rockerdish | 13 MB
---
Authors Comment
---