Merge all layers with animals in a group and name it "Bugs" (Select the desired layers + Cmd/Ctrl + G). I combine all to groups, because then it is necessary apply the adjustment layers, which should flow to animals.
Step 26
Create a new group by clicking on the icon in the group at the bottom of the Layers panel. Then add a layer mask to it. Move the group "Mushrooms" and "Bugs" in this group.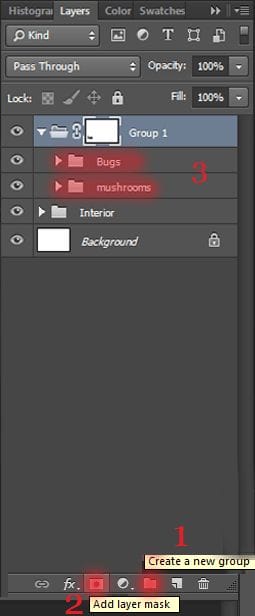 Take a Brush Tool (B) with there settings: Size: 70px, Hardness: 0%, Opacity: 45%, flow: 100%.
Remove on the layer mask a little stipe, to make it look realistic. In some places I have changed Opacity: 70% to enhance the effect.
Step 27
Now you need to create realistic shadows on mushrooms. To do this, create a new layer use the short keys Cmd /Ctrl+ Shift + N. Note that this layer is applied only to a group rather than to the entire document.
Use the Dodge Tool (O) for make light and Burn Tool (O) for shadow. Set the following settings.
Draw light and shade as shown in Figure. Pay attention to animals. Draw a shadow on the back of the frog and the shells so they look realistic. Shadow paint in accordance with the light from the background.
Step 28
When we finished with light and shadow, then you have to adjust the saturation of all fungi, to make it look authentic and natural. We will add two adjustment layers. The first is Curves to give a correct saturation and gamma. Go to Layer > New Adjustment Layer > Curves… or icon New Adjustment Layer > Curves…
Second adjustment layer is Hue/Saturation. It needed to do a bit of dark color that closer to reality.
Here I have made such mushrooms. Not much darken them and do not do much hard light and dark tones. Otherwise, your work will not look realistic and too overexposed. I combined all the adjustment layers with groups into one group and named it "mushrooms and bugs".
Step 29
Now add some spider webs. For this I used a brushes "Spider_Webs_1_by_frozenstocks". If you do not know how to load them, you can see it in my other tutorials, or use the search :). I have three different layers with different spider webs in different places.
Let's start with the bottom layer! Create a new layer and take a Brush Tool (B). Brush name "Spider_web_5" Size: 400px, Opacity: 100%. Color to all webs – #cacaca. I specifically took not white, because that will look more natural. Place the web of between mushrooms, but that the center was in the middle. Also make sure that the edges of the web concerned fungi.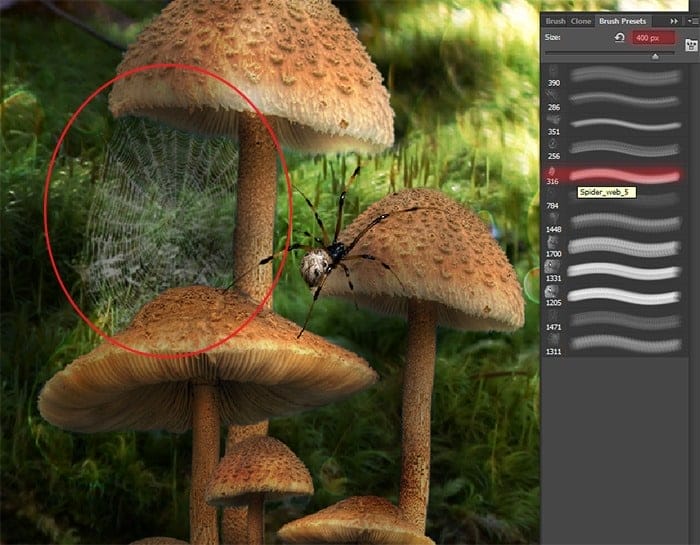 Second layer. Brush name "Spider_web_11" (Blue), "Spider_web_12" (Red), Size: 300px.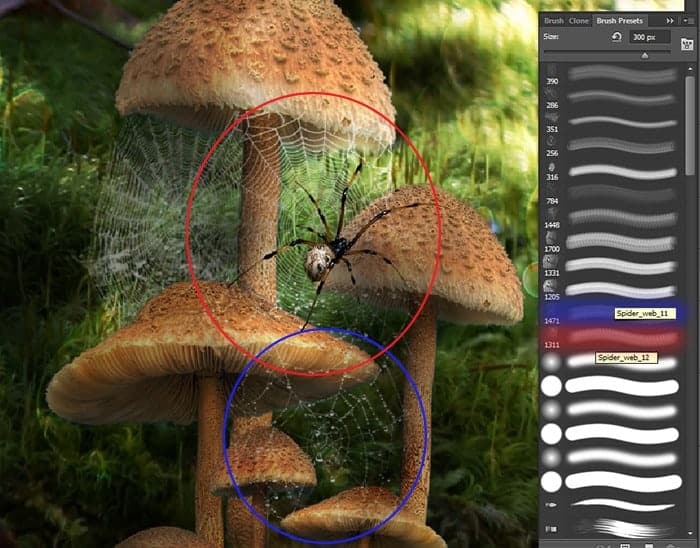 Third layer. Brush name "Spider_web_4" (Blue), Size: 256px.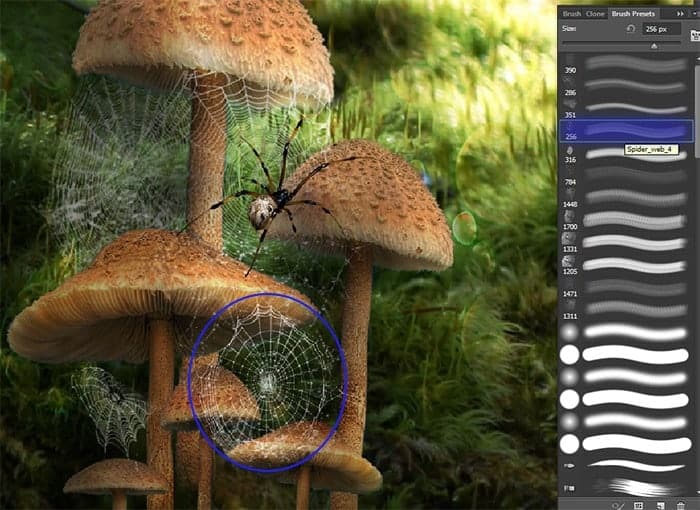 But last web need a little change. Go to Brush Presets and change the settings as shown in Figure. Brush name "Spider_web_3" (Blue), Size: 200px. Because the web on different layers, created volume and light game.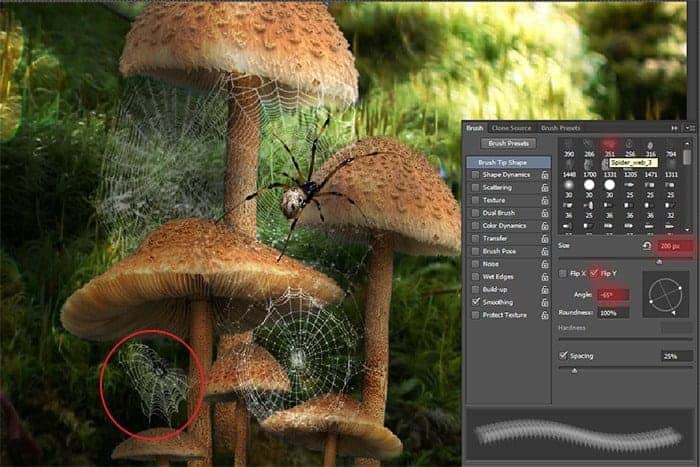 Step 30
Now let's pay attention to the model! And add it to start :). Go to File > Place. Image "Little_Witch_3_by_deathbycanon_stock". Place the model in the center of the image on a piece of wood. Reduce its size little.
Use the Quick Selection Tool (W) to select a model. Be sure to circle and every part of dresses and hats. Do not worry that background emerges through the fabric pattern, then we remove it. When you select a model, go to Refine Edge…