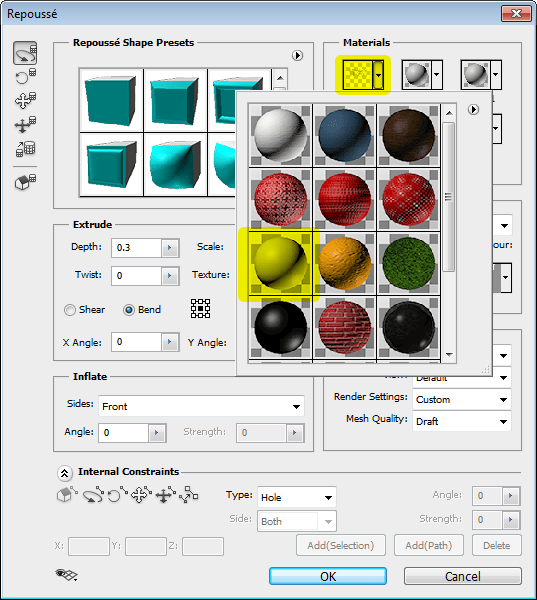 Here's how the text currently look.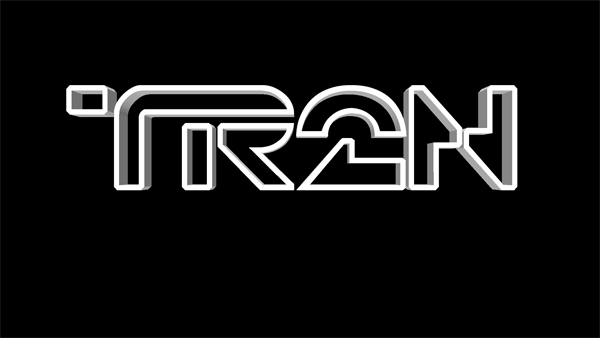 ---
Step 7
In the Bevel settings, select Front then set the height to 5, width to 0.5, and contour to the deep cove contour. Click OK to apply the changes.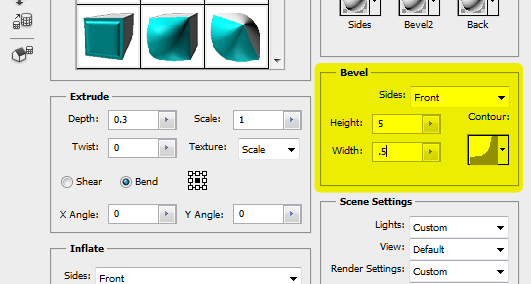 This bevel settings you just set gives your text a slight bevel like this:
---
Step 8
We're done creating the 3D text! Now that we're done, we can allow Photoshop to improve the quality of the 3D text.
One of the most common problems people experience when trying out the 3D tools is that they get jagged low quality edges. Photoshop does this to improve the performance while you're editing. Once you're done, you can change the quality and have Photoshop render a higher quality image.
This quality setting is hidden in the 3D panel. Go to Window > 3D to bring up the 3D panel. In the Quality drop down menu, select Ray Traced Final.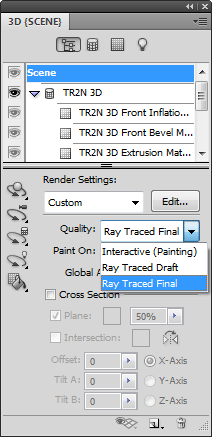 Photoshop will now render the image and you'll see a blue grid moving across your image. This process will take awhile depending on your computers speed. If you press anything, Photoshop will pause the render. To resume the render, just right-click on the layer and choose Resume Progressive Render. When the text quality looks good enough for you, simply click anywhere to stop the render.
After the render, you'll get a smooth text like this.
---
Step 9
Now we're going to apply some layer styles to give it a glow. Before we begin, I'm going to convert it to a Smart Object. This step is optional - you don't have to do it. I just like doing it because it protects me from accidentally changing the settings (ex. clicking on the visibility icon of the 3D settings). Every time this happens, Photoshop will have to restart the rendering. If you want to convert the layer into a Smart Object, right-click on the layer then choose Convert to Smart Object.
If you want to go back to edit the 3D settings, you can double-click on the layer thumbnail. Photoshop will open the layer as a new document and give you instructions on how to save the changes.
Edit the settings you like then save and close. The changes will show up in your original Photoshop document.