This interview features graphic designer Boris Pelcer. His passion and dedication not only in his work but also in life itself will surely captivate you. His work aesthetic features a whimsical appeal and mirrors the beauty of humanity. Read on and get to know more about this inspiring designer.
Can you tell us more about yourself? What influenced you to become a graphic designer?
I am originally from Sarajevo, Bosnia & Herzegovina. I lived in Bosnia, and later in Serbia until 1998 when my family emigrated to USA. I have been drawing since I was 3. I was quite fascinated with the idea of making something from nothing. The activity that initiated it all, was tracing the outlines of characters from coloring books on a separate piece of paper only to later on in the day redraw the same characters without looking at anything. I found the act of recreating something with the use of memory quite fascinating and as such I did it a lot. My fascination with creativity and creating itself has been well nurtured ever since.
---
Where do you find your inspiration?
I find a lot of inspiration in the work of other artists that display superb inter-connectivity of concepts with their visuals. Frequently I find inspiration in the simple everyday acts. Sincere but simple gestures inspire me just as much. Music is something always present during my studio time. The inspiration from music varies. Sometimes its just the overall energy and sometimes its the lyrics in conjunction with the overall emotional reaction of the song.
---
What was your big break as a designer?
Big Break in my scope of understanding is the big opportunity that drastically and in a positive direction changes the opportunities that I have as a creative individual. In that light of perception I still have yet to experience that "big break" opportunity. What I can say about getting this far is that it took a lot of effort and determination. After graduating from Milwaukee Institute of Art and Design I decided to work as an Apparel Graphic Designer for a creative agency known as Brew City Brand Apparel. I learned an amazing deal about the business part of working with clients as well as the conception process required to make good ideas. The speed of creating 10 to sometimes 30 designs a day forced me to learn a lot and at a very quick pace. I did this for about 3 years. Of course during that time all of the work completed for the agency was based around their ideas and their visions. The only time I could really push my own personal voice was after work. I explored some directions within my own work by doing exhibitions and freelance from time to time. As you can imagine it was hard to find the effort and energy to create for myself after a full day of creating work for someone else.
After 3 years of working there I realized that if I don't do something the exhausting pace of working for others wont give me a lot of opportunities to develop my own work and find my own voice. So, I decided to quit the job after 3 years and go back for my MFA in Graphic Design/Typography and really give myself the opportunity I been looking for. Its only been 18 months since and I have succeeded to make the best of it thus far. I am still experimenting with techniques and content. I'm not sure where it is all going but one thing is for sure, it feels right.
---
What is a day like for you? What projects or activity usually takes most of your time?
I would say just as much time as I spend creating work, I spend communicating with clients, promoting myself and writing about my work. I have found that being able to successfully discuss my work in a very concise manner helps viewers and other potential clients understand the thought process behind my work. For many clients too much mystery does not sit right.
---
Are there any medium you love to work with? Why?
My two favorite mediums are acrylic and digital. Digital of course allows me to satisfy my desire for extreme and clean detail, while acrylic allows me to capture and understand the value of hand rendered textures. The use of digital medium has also allowed me to experiment and understand how I can use colors in a simple but graphic manner. As you can tell I want to understand how I can create successful pieces that say a lot with the use of very little color or graphic elements, as well as see how much detail is too much detail.
---
Your typography work are all amazing, with "Dolce Vita" as my personal favorite. What is the work process behind these projects?
Once I have a certain mood or feeling I want to capture, I come up with a couple or few words that I can use as a starting point of what I want to say. The idea goes beyond being able to read the actual type and understand intellectually what the idea is about. When you read "La Dolce Vita" you will process the words and know that it means "The Sweet Life". That includes a lot of delicacies of life and I can try and list them all. That is not the point as I don't want to be literal. My intent with typography is for you to look at it and have an emotional response to the colors, contrast and the way the letters flow. By not being literal and simply implying a sensual feeling it allows you to look at La Dolce Vita lettering and have your own interpretation of it.
---
Do you have a signature style? How did you develop it?
One thing that remains similar in both my typographic and illustrative work is an overall whimsical feel. Another consistency found in all work is the close relationship between the visuals and the content for which it stands for.
---
I found your poster, "Thank you beautiful" very inspiring. What's the story behind this work?
The most profound, blissful & touching moments happen when we least expect them. These moments take the form of a sincere gesture, a kind word, a smile, or perhaps a gentle touch. They seem so simple but quite sincere & as such their impact goes beyond the moment itself, serving as a spark of light & hope when most needed.
In wanting to capture that feel good notion I made stickers & plastered them everywhere in hopes it will make people smile. That sticker was the inspiration for establishing an entire big project that is based on that precise simple idea of making others smile. The project is called Lettering Bliss. (www.letteringbliss.com)
Lettering Bliss is still in development as there is a lot of work to be completed and as such you wont find much on the site at the moment. Do look forward to the official release sometime in the first half of 2012.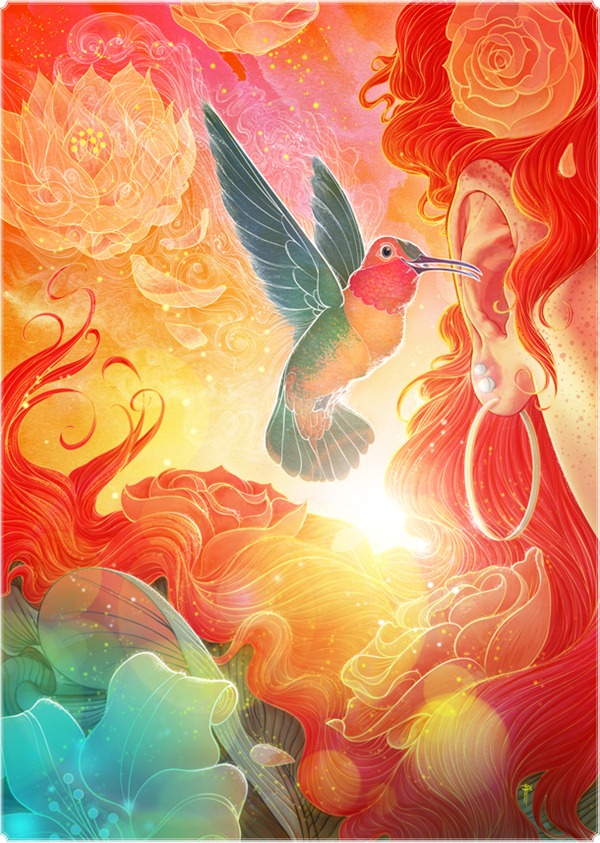 ---
Can you tell us more about your piece for DACS Episodes 2011? How was it conceptualized and what was your inspiration for this?
In talking to one of my creative friend David Waters (playdate.cm) I found out about DACS united and I immediately knew I wanted to do a poster for it. I had a very interesting opportunity of being a war refugee for almost 7 years as a child. I still had my childhood, but that particular experience forced me to grow up quicker than perhaps kids should. I can't say I understand what the victims of child slavery experienced, but to a milder degree I understand how it feels when a child is exposed to the dark side of human nature. Such has a way of destroying child's innocence. The experience forces the child to perceive life in a certain dark manner before that child even had the opportunity to experience all that life entails for it self. I included that complex notion in my DACS Episodes 2011 piece. Two wolves are metaphors for the dark experiences. One wolf is tearing the idea of childhood apart. The other wolf is inappropriately interacting with the source of girl's innocence. She is only a girl, a flower that has not bloomed yet. However, even before she has had the opportunity to bloom into a wonderful young woman, the wolf's inappropriate actions are causing the flower of innocence to start dying before it has even had the chance to bloom. There are other elements within the piece that collectively make it rather disturbing. My main goal was to capture to a degree what that experience must have felt like. To be honest as disturbing as the piece may seem, I still don't think I can ever capture the true agony of the actual experience. With all said and done, hopefully the piece will make you appreciate all the good things in life. There is something in human nature that makes us take things for granted, and as such its crucial we remind each other the value of appreciating one another.
---
Any message or word of advice for our readers?
Find your authentic voice, work hard and learn the value of patience.
---
More about Boris Pelcer
http://www.borispelcer.com/
http://www.behance.net/borispelcer