Adobe Photoshop CC 2015 is out and the update is massive. There are new features such as Artboards, new panels, a dehaze tool, and more. Read this article and find out what you'll get in the latest Photoshop CC update.
1. Use Artboards to Consolidate Multiple PSDs
With responsive web designs and mobile apps becoming mainstream, Designers had to save multiple variations of their PSD to accommodate the different screen sizes. Artboards are now available for Photoshop. Instead of saving multiple PSD files for a project, you can use save a single PSD file with multiple artboards. This is useful when you need to design for multiple screen or document sizes. Watch this video to learn how to use Artboards.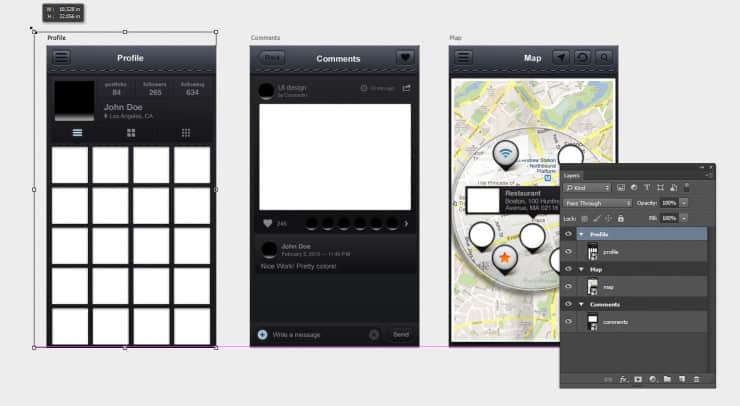 2. Library Assets Are Linked via the Cloud
The Libraries panel is a convenient place to store and access frequently used graphics. Now you can create library-linked asset - a graphic that is linked to a file you can change. If you make changes to that graphic, your PSDs will update with the new graphic. It works pretty much the same as a linked smart object except that it can be stored on your Creative Cloud drive. By default, any graphic that you drag to your document will be linked. To add a graphic that isn't linked, hold the Alt/Option key as you drag.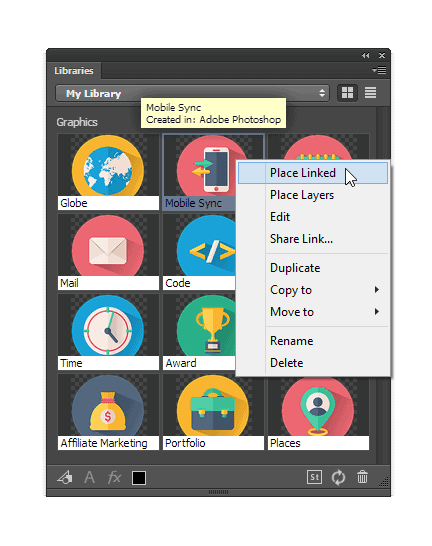 3. Adobe Stock Is Back
Many years ago, Adobe introduced a stock photo plugin that let you buy stock photos within Photoshop. It wasn't very popular and was discontinued. Adobe Stock is back now and instead of buying the images first, you can place watermarked comp images in your design and decide whether to buy it afterwards. The image can be licensed directly within the Libraries panel which will replace your watermarked image with the high-res licensed image. The images are $9.99 each but with a monthly plan, you can get them for as low as $3 each if you're a Creative Cloud customer.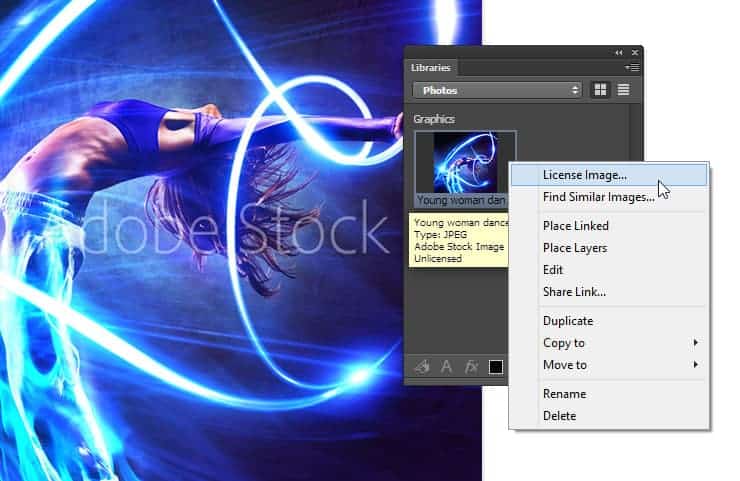 4. Use the New Design Space for Interface/UI Projects
Design Space is Adobe's attempt to give web, UX, and app designers a modern design experience within Photoshop. It's an interface with many standard Photoshop features striped out and replaced with a HTML5/CSS/JS layer. Design Space is released as a preview which means that it doesn't work on all computers. Currently this feature is only available in Mac OS X 10.10 or Windows 8.1 64-bit or higher and is only in English. To enable it, turn it on by going to Edit > Preferences > Technology Previews (Macs: Photoshop CC > Preferences > Technology Previews) and checkmarking the Design Space preview. Instructions on how to use Design Space can be found here.
5. "Save for Web" Tool Replaced by the New "Export As" Tool
Along with the new features geared towards web and app designers is the new "Export As" tool that replaces the "Save for Web" tool. Export As lets you export artboards, layers, layer groups, or your entire document as JPEG, GIF, PNG, PNG-8, or SVG image assets. You can find it by going to File > Export > Export As. The "Save for Web" tool has been moved to the File > Export > Save for Web (Legacy).
6. Stack Multiple Layer Style Effects
Traditionally, you could only apply one of each effect in the Layer Style dialog. Now you can add multiple copies of the same effect inside a single layer style. You can also change the stacking order of these effects.
7. Real-Time Preview on Mobile Devices
The new Device Preview feature lets you preview your Photoshop designs in real time on multiple iOS devices. Android devices are not supported at this time and iOS devices need to be running iOS 8 or higher. To use Device Preview, first install the Adobe Preview CC app on your mobile devices then connect them with a USB cable or to the same Wi-Fi network.
8. Grain Setting in the Blur Gallery
When you apply any sort of blur, your photos can look unnatural because the noise/grain is blurred away. To give it a more realistic look, use the new Noise panel to introduce back some noise.
9. Find Glyphs Easily with the Glyphs Panel
No longer do you need to search Google or use your computer's character map/viewer to find those glyphs we don't know how to type. Simply open the Glyphs panel from Type > Panels > Glyphs Panels or Window > Glyphs to find the glyph you need.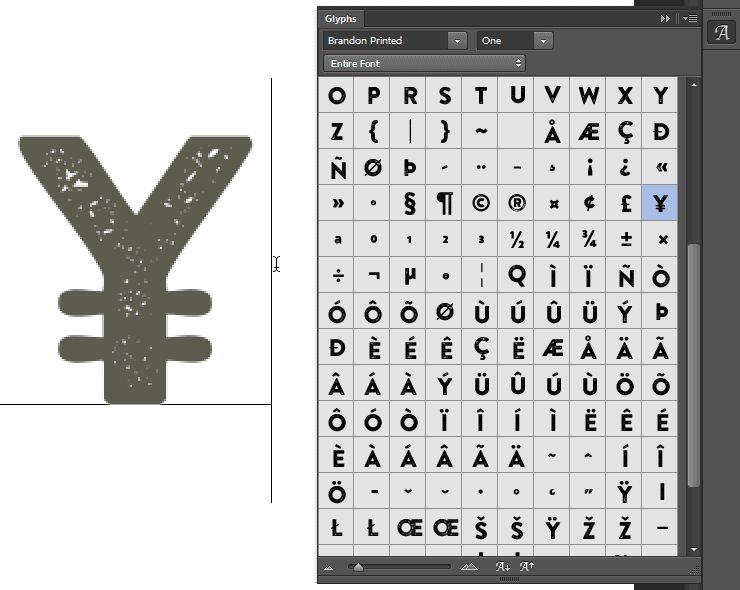 10. Dehaze Photos with Adobe Camera Raw 9.1
Included in Photoshop CC 2015 is Adobe Camera Raw 9.1. This release introduces the amazing Dehaze tool we first saw as a sneak preview at Adobe Max 2014. With a simple slider adjustment, you can reduce or add haze. There's also a new Whites and Blacks slider for local adjustments within the Camera Raw tool.
11. Lots of 3D Printing Improvements
Photoshop is increasingly used in the 3D printing industry and the new features are definitely useful. First, you can export your 3D models as a SVX or PDF file (Yep, you can place 3D models inside a PDF). The min & max depth for bump maps can be adjusted, and meshes can be simplified (more on this in the next feature).
12. Lots of 3D Imaging Improvements
Also improved are the 3D imaging tools. Photoshop has been consistently improving its 3D capabilities.
The new Simplify 3D Mesh tool (3D > Simplify Meshes) can be used to reduce the number of triangles in your mesh to something more reasonable.
The Export Properties UI has been improved.
Ability to export a single mesh instead of the entire scene.
New Generate Bump/Normal Map filter to tweak bump maps.
Create bump/normal maps from diffuse textures.
Convert a vertext color to a texture color in PLY files.
13. Real-Time Healing Brush Preview
Previously, using the Healing Brush tool required a lot of clicking, undoing, and reclicking. Now you can see the changes in real time as you paint.
14. Transform on Drop with the Content-Aware Move Tool
A new option in the Content-Aware Move tool lets you transform/resize the area after moving it. For example, in the image below, we can enlarge the hiker to match the perspective of the new location.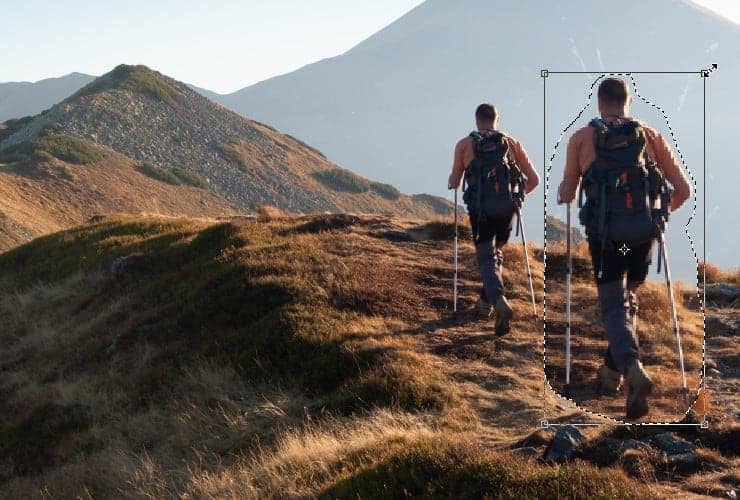 15. Up to 80% Less Energy Usage While Idling
This is a huge improvement for laptop users. In previous versions of Photoshop, leaving Photoshop running while your system is idle could drain your battery. The Photoshop CC 2015 update reduces energy usage by up to 80% while idle.
16. Content-Aware Fill for Photo Merge
Fill empty areas automatically with the new Content Aware Fill Transparent Areas option. The results aren't perfect for panoramas like the one below where there are huge gaps. But for small gaps, it works very well and the results are seamless most of the time.

17. Apply Adjustments as Smart Filters
Using Smart Objects makes even more sense now that adjustments can be applied as Smart Filters. You no longer have to add adjustment layers and clip them to your layer.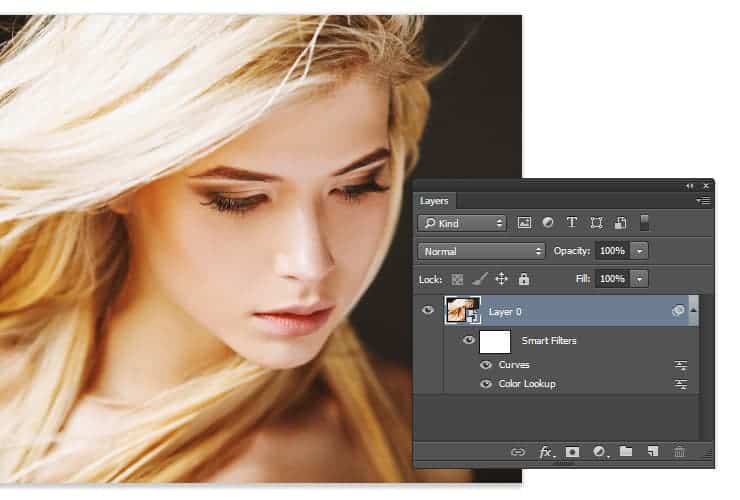 18. Layer Organization Tweaks
When you move a layer to a group, it now moves to the top of the list instead of the bottom. Also, undoing/redoing or stepping backward/forward will no longer change your current layer selection.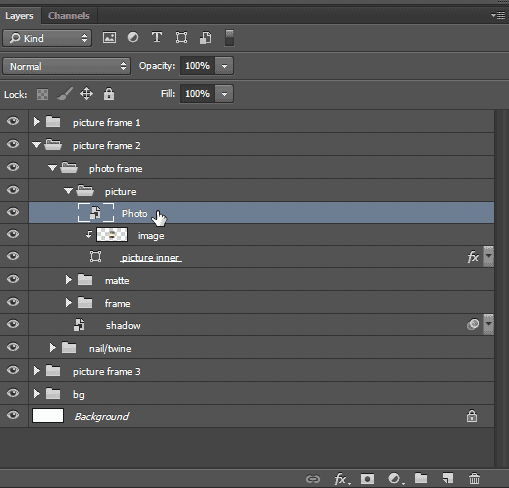 19. Press ESC to Discard Your Text Entry
In previous versions of Photoshop, pressing ESC will apply your text entry. Now pressing ESC does what it should do and discards your text entry. If you want to turn this feature off, you can disable the option in your Photoshop preferences (Edit > Preferences > Type > Use ESC key to commit text).