Don't waste your time doing the same thing over and over in Photoshop. This tutorial will show you how to apply the same editing to thousands of images at once in Photoshop using your own Actions with the Batch automation. You'll learn how to create a basic Photoshop Action and learn how to run it within the Batch automation window so you can quickly edit tons of images. Get ready to cut your editing time in half!
What you'll be creating
In this tutorial we'll create a Photoshop action that resizes the length of our images to 1000 pixels and then we'll apply it to several images at once. Photoshop's batch and action automation features have been available for a long time so you'll be able to follow along in Photoshop CS3 or newer. There are a ton of free Photoshop actions here on Photoshop Tutorials that you can use to batch process your images using the same technique!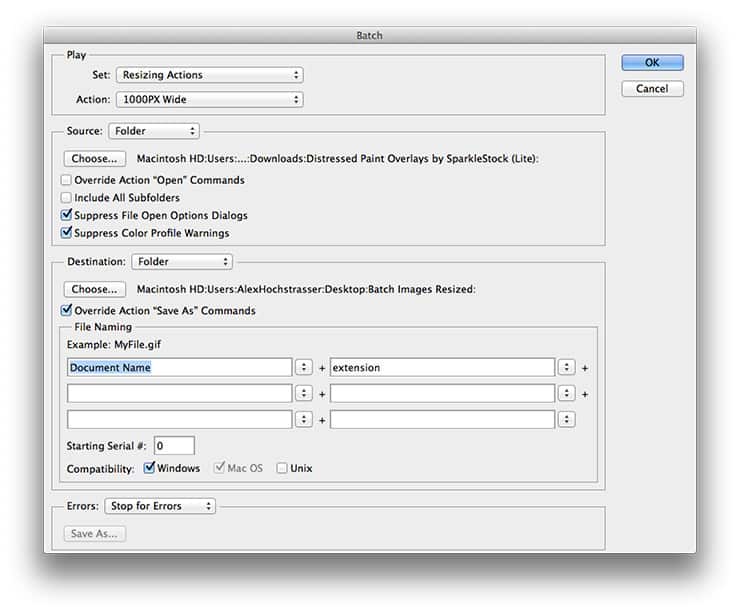 Tutorial Resources
Step 1
First create a new 2000px by 1500px document. This will give us a workspace to create our action and record our changes for the image size dialogue box later on.
Step 2
Go to Window > Actions to open the actions palette. Click on the Create New Set folder icon at the bottom of the actions palette and name it "Resizing Actions." You can move sets and actions around in the actions palette simply by clicking and dragging.

Step 3
Click on our new Resizing Actions set to select it. We will create our action inside of this set so that we can save it for later. You cannot save actions out of Photoshop and open them on another computer unless they are in a set. Click on the Create New Action button and name the action "1000PX Wide"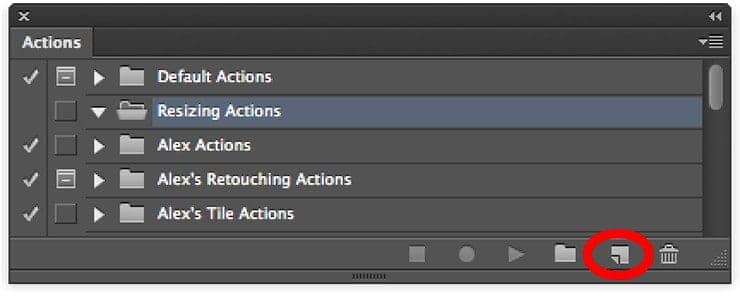 Step 4
Click Record to start recording your action. Anything you do now will be recorded in steps within the action for you to playback later in the batch automation. Go to Image > Image Size and change the Width to 1000px. Make sure that the Scale Styles, Constrain Proportion, and Resample Image tick boxes are checked. Set the resampling dropdown menu to Bicubic Automatic. Click OK. Don't worry about the Document Size settings since the action will only record the values for the tick boxes, the width value we changed and the resampling settings in the dropdown menu.