Now on the Channel Mixer layer mask use a soft black brush to refine the red light, make it flow along the stair from the gate. Here is my result on the mask and on the picture:
Step 30
Apply the same technique on a new Curves adjustment layer as I wanted to brighten the red effect:
Step 31
Create a new layer on the top. Use a soft brush with the color #af696c to paint on the gate area. change the mode of this layer to Hard Light 100%:
Step 32
On a new layer use the same brush to paint again on the top of the gate but set the mode to Overlay 100%:
Step 33
I used a new layer and a soft white brush with the opacity about 40% to brighten the red light. Change this layer mode to Overlay 100%:
Step 34
Open the nebula image. To give it more "fiery" effect, I duplicated this layer and used the Liquify Tool to bend it. Go to Filter > Liquify and choose the Forward Warp Tool:
Use this tool to tweak the nebula in the way you want. Here is my result: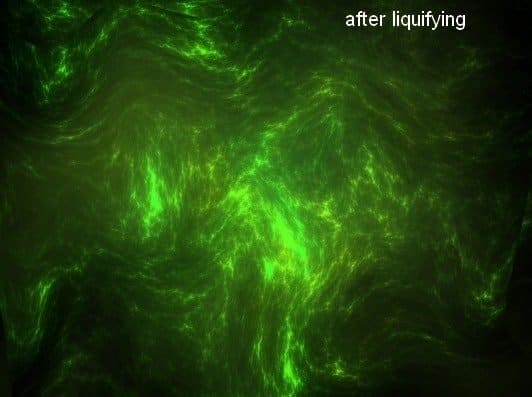 Step 35
Drag the result onto the gate after resizing it down and change the mode to Overlay 100%:
To remove the dark edges of this nebula image, double click this layer, choose Blending Options. Hold down the Alt/Option key while dragging the black slider of This Layer until most of the dark edges disappear:
Step 36
Add a mask to this layer and use a soft black brush to remove the remained edges:
Step 37
I used Hue/Saturation to change the color of this effect:
Step 38
To make the effect more visible I used a Levels adjustment:
On this Levels layer mask use a soft black brush to reduce the visibility on a part of the effect:
Step 39
I used Vibrance to enhance the final effect:
On this layer mask use a soft black brush to reduce the redness on the raising hand of the model:
Final Results
Download the PSD
Tutorial by Jenny Le
Thank you for reading this tutorial, I hope that you enjoyed it. If you want to view my other arts and tutorials you can follow me on Facebook or look at my Deviantart page .
– Jenny