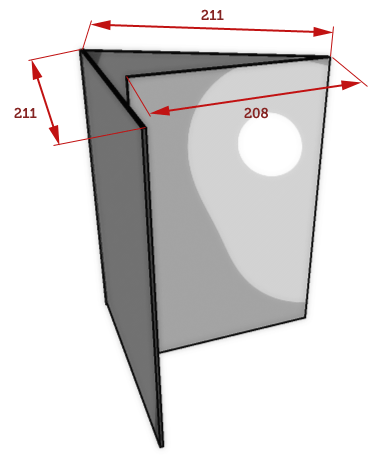 All right, we can start work from here, really. First of all- create new document with a real dimensions lowered by 10 mm from each axis (because of margins) - just follow the Step 4. My bleeds are equal to 2 mm, not a standard 3 mm. But actually I can run my action, and then just go to Image > Canvas size and type -2 mm (-1mm × 2) in each input field (remember about Relative checkbox).
Now we have to create some additional guidelines that will determine folds. Here's a trickery. We have to make different guides for inside and outside part of our brochure. Look at this sample guillotine work: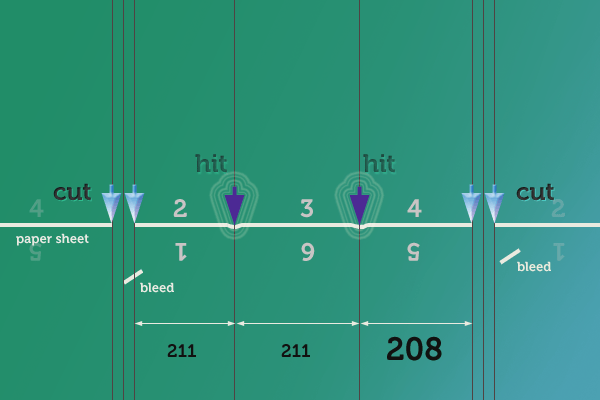 First of all, I will tell you how in Photoshop delete already made guides. It will help you if you will set them wrongly by a mistake. Ok, here's a magic- press [V] or choose move tool, click on a guide that you want to delete and drag it outside the document- it will disappear. If you want to rotate your guide by 90 degrees you can just press [Alt] and click in the point where guide should rotate. If you want to move guide by 10 pixels and it's multiplications do it while holding [Shift]. Now let's create our folding guides. Go to View > New Guide and type in 213mm in the input box. Repeat step, but with value of 424mm (213 + 211). Save the document as a inside.psd. Now delete both guidelines and add another two, but now type respectively 210mm and 421mm (210 + 211). Then go to File > Save as and save this document as outside.psd. Now we will start to work with this outside.psd document, and inside.psd will stay untouched as grid-only blank document for now.
---
Step 6 - Front page
You can start from filling the whole document with white color. I have to do so, for I am always starting with transparent background. It is just my preference though. I don't like the auto-filling when I am playing with canvas size or so. You can use this type of brochure for your client work to display his offer, or just a product. I think that this destination is most often used. Also I saw some C-type brochures with CV/Resumes. I have to make some identity of fake company with its fake products and offer. Don't look at this, it is just for tutorial purpose, I won't advertise anything (at least not with intention). I will stay far from images for it is not universal to make absolute position of image. Of course I will provide some sample, but you have to decide by yourself where the given image fit perfectly. I will use my illustrations from drawing tutorials that you can find on this site elsewhere. It is good to make groups and organize layers.