Also I have added a small shape so thanks to this design will fit to the Page 5. You will see it clearly on the Mock-ups.
You can enhance your text by wrapping it around the quote or image. It is just a case of custom shape.
Also remember about the thing, that the brochure will be watched from closer distance (probably) than your computer screen. Just try by yourself. My monitor is on the lenght of my arm plus about 15 centimeters. To holding the brochure I have to bend elbows, so it is much more closer. If you think that you have typed too small font size maybe try to print out some sample on your local printer. It is very possible that the text will actually be in perfect size for reading. Here goes the Page 2.
Our content on Pages 3 and 4 will be connected. I have made a heading for both pages. Notice the spacing hovered with red arrow. Try to keep your letters far from folds because they will be harder to read.
On the Page 3 I will place two book's mock-ups. My work here is quite pointless so I am doing just a simple tasks. Yup, I know- "Breathe today" would be for some Arabic.
Just another simple mock-up template for magazines.
And a full spread: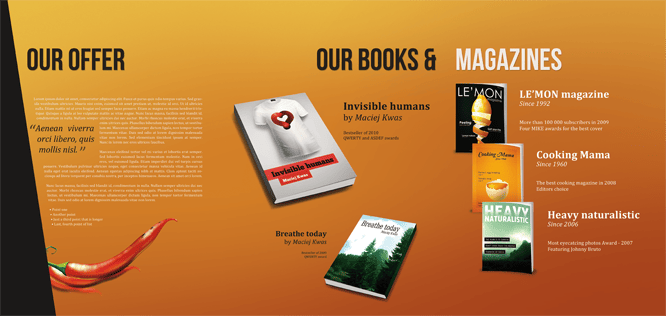 ---
Step 10 - Get ready for the Mock-ups
There's a time when you would like to present your work to the client. However, it is rather a bad idea to send him just the preview of two files (inside and outside). For sure he will feel a bit confused. Your client don't have to know anything about print, but he would like to see some mock-up before he will spend his money. It's a best way for both sides. Let's try to make some mock-up. My mock-up is pretty small because of the limit in width of the website. Try to make your mock-ups bigger, just a bit smaller from the real size (in between 20% and 30% of actual dimensions). You can actually use my mockups. There's nothing more than a Distort transformation (Well, just a little bit warp on the boundaries). Just place your design above mine, go to Edit > Transform > Distort and try to fit the shape. You can even resize my file for here the quality isn't important, just follow the shape.