Repeat this step two or three times. You can also try out with black color.
Don't get too far with your design aspirations. Brochures should be simple and informative. Also, avoid fancy backgrounds for your text could be hard to read.
---
Step 7 - Page 6
Back page- the perfect place for some map or contact info. All the tri-fold brochures that I have made in my life was in that concept. Occasionally there are some company photos. Just keep it simple. I think that for a lot of people it is intuitive to look for contact info on the last page. Make a selection in between our guides. Make sure that you have active snapping.
It will help you a lot in working with guides and in precise designing. Fill the layer with dark, grey color. Then add some text- that's it. I don't want to overload this page. Get advantage of Character panel and play with typography, for it is very important part in print design.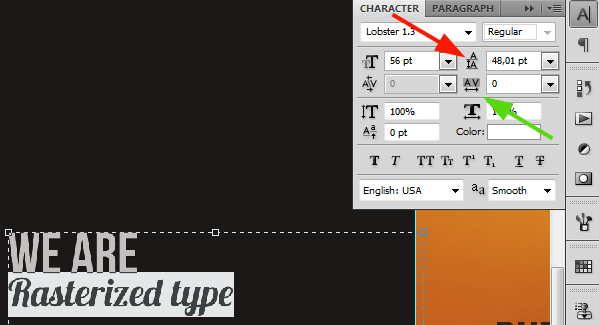 Under the red arrow you can set the leading of currently selected line (or lines). Under the green arrow you can modify the tracking of the characters (spacing between them). Sometimes you want to spread the whole text, just select it then and change tracking. These options are very useful, so play with them a bit for now. Below is the finished page.
---
Step 8 - Page 5
It is almost last page. However, this will be probably the first page that you will see while opening the brochure. It is good to place some company info here or connect its content with Page 2. In layer's window place this page set underneath page 6 and 1. Whatever you will place or draw on it, if it extend the page boundary, it will be covered with previously made backgrounds.
I've decided to put here about us page. Most often this section is on Page 2, while content on Page 5 is connected with Page 3 and 4. I think that this is confusing and for usability purpose I will connect 2,3 and 4 together while 5 will be separated. Also I changed a bit look of Page 6, but nothing really big at all. As the content is planned to be separated, thought we could make a connection of backgrounds. I am planning to make an orange background all inside the brochure. Fill the background with the same color that you have used on Page 6. Then make a selection, something like that: