Here are 3 of the most popular wedding photo effects that every wedding photographer should know. In the first part, you'll learn how to access the hidden split toning presets and apply them so that they don't affect the tonal information in your photo. Next, you'll learn how to increase contrast in a B&W photo without clipping any highlights or shadows. This is especially useful in wedding photos where you have dark areas in the grooms tuxedo and bright areas in the brides dress. Finally, you'll learn how to use just one curves layer to create a popular film effect. This technique can be used in Adobe Lightroom 4 to create effects seen in many expensive Lightroom presets.
Split Toning
The first effect you will learn is split toning. Split toning is an effect that tints the highlights and shadows of your black & white photo to give it a two-tone color effect. You can do this easily in Adobe Lightroom but sometimes you need to do it in Photoshop for more control. Thankfully, Photoshop CS6 already comes with 32 photographer-created split toning presets.
Before you apply this effect, you need to convert your image to a black and white photo. You can do this easily by adding a Black & White adjustment layer (Layer > New Adjustment Layer > Black & White). Feel free to make any adjustments you like or use the auto button to have Photoshop guess the best settings for you.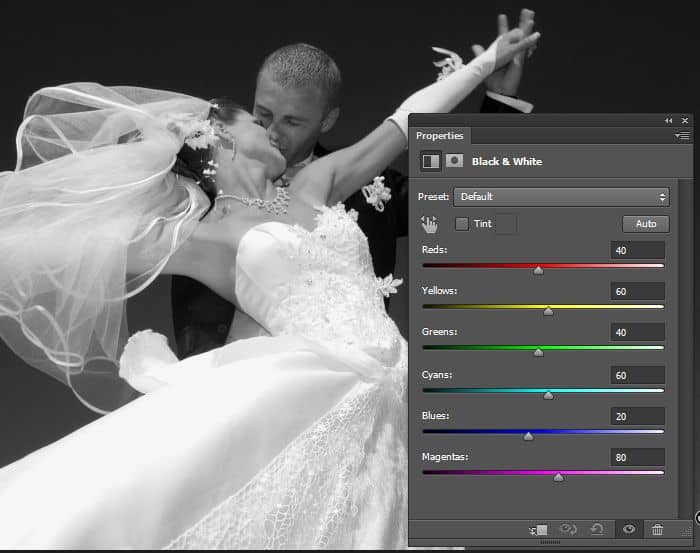 Next, add a Gradient Map adjustment layer (Layer > New Adjustment Layer > Gradient Map) then set the blending mode of this layer to color. This blending mode makes the layer affect only the color of the layers below and it's useful when you want to protect or preserve the tonal information in your photo. Go into your Properties panel and click on the arrow button beside the gradient to bring up the gradient preset picker. In the preset picker, click on the presets menu and load the photographic toning presets.
Photoshop CS6 has 39 built-in presets and they're all created by a professional photographer. To make things easier, you can download a chart of all the toning presets here. Pick any toning preset that you want to use. Some of these presets can look overly strong but this is done purposely so that you can lower the opacity of the layer to fine tune your settings. After picking your tone, lower the opacity to get the results that you like. To adjust the balance of the colors, go into the gradient editor and reposition the colors.