Learn how to create a coffee shop advertisement using Photoshop and iClone4. The first part of this tutorial will show you how to create a swirling milky coffee. The second part will show you how to use iClone to put a 3D model in the coffee. You'll finish the artwork in Photoshop where you'll combine the 3D model and coffee together and apply the finishing touches.
---
Preview of Final Results
---
---
Create Advertisements with Posable Figurines using Photoshop and iClone4
---
Tutorial Details
Program: Adobe - Photoshop CS3, Reallusion – iClone4
Difficulty: Easy to Medium
Estimated Completion Time: 1.3 Hour
---
Resources
---
Preface
When graphic designers need an image to work with, they usually search through thousands of image libraries to find that one unique impression that will speak their message. But chances are, that they won't find the exact image, pose or camera angle that they have in mind. This is the most difficult and frustrating part of the job, not to mention the most time consuming one. In this Photoshop tutorial, we will introduce a new and clever way of creating your own 3D character with the exact pose and identity you need. In the following figure-posing tutorial, we will learn how to create an advertising message by first combining primary image layers in Photoshop for an initial background. Then we will use a 3rd Party tool, known as iClone4, to pose a 3D figurine with the exact pose and camera perspective we need. Later we will bring everything back into Photoshop for the finishing touch.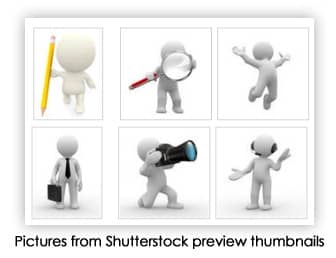 ---
Step 1 - Create your Message and Collect your Images
As simple as it may sound, the first thing to do is to lay out the message you wish to convey and collect the necessary images for the background, foreground and other. In this example, we will bring in a coffee cup image for the background, a pouring cream image for the foreground and an auxiliary towel image to use as an accessory.
Collect all primary images for your Ad (picture01, picture02)
Collect auxiliary images to use as accessories for the 3D figurine ( picture03)
---
Step 2 - Compose your background image in Photoshop
Set your Ad image size to 800 x 600. Set the background color to white.
Open picture01 (coffee cup), and use the Polygonal Lasso Tool to select the coffee cup image on the picture. Press Ctrl+C to copy the selected image and paste it in the Ad image file. Adjust the position of the cup.
Open picture02 (pouring cream) and use the Polygonal Lasso Tool to select the image of the pouring cream. Go to Select/Feather and set to 2 pixels. Press Ctrl+C to copy the image and paste it in the AD image file. Adjust the position.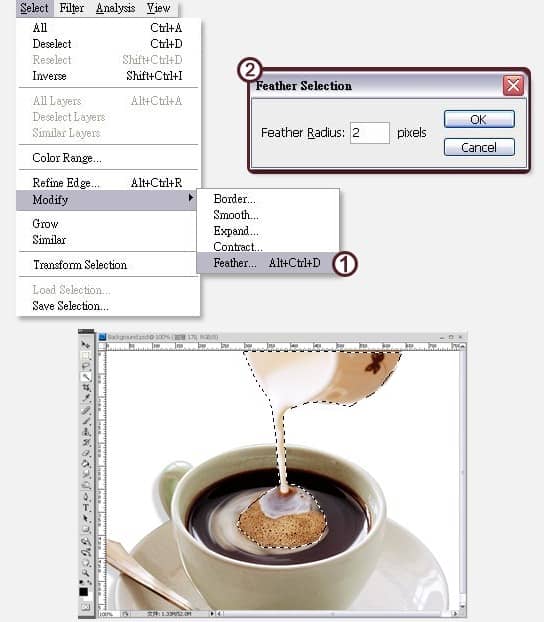 Save the Ad image as "Background.jpg". Now you have your background image ready.
---
Step 3 - Pose your 3D Figurine in iClone4
Here we introduce an easy-to-use 3D animation tool known as iClone. No need to have any previous knowledge in animation or modeling as iClone is a 3D environment application that allows you to easily drag and drop ready-made 3D props to later animate and adjust camera perspectives. You can create videos and images for further repurposing in Photoshop. Just open iClone and make sure you have installed the Mr. Pose & Friends add-on content pack I found below.
---
Step 4 - Set up an iClone Environment
Open iClone and select the Export tab on top, then go to the Image Tab on the Menu Bar just below. After that, go to the Modify panel on the right of the application and choose the Output Size. Set the size to 800 x 600 (Custom Size).