I applied brush masking for the result below:
Step 11
Make a new layer under model group and change brush to feather ones. Choose brush with number 584 to paint behind model neck and rotate it with Cmd/Ctrl+T:
Duplicate this layer and flip it horizontally (Edit-Transform-Flip Horizontal). Move it to the right of the neck, then group two these layers. I named it "feathers 1".
Step 12
Create three new layers above model group and add more feathers to front of model neck.
Step 13
Create several layers and use different feathers to add around model. Remember to vary brush sizes and angles to get more random, natural result:
Step 14
In this step I added four feathers to foreground and top left of the pic. With each layer, choose filter-Blur-Gassian Blur and pick radius as 8.5 px:
Make group for all feathers from step 12 to step 14. Call it "feathers 2".
This step is to create some depth for the picture.
Step 15
Create a new layer on the top. Change foreground to #1d1b1b and active abstract spiral brushes. Choose brush with number 1176 and paint on the neck part with feathers:
Add layer mask to this one and blur some unwanted lines with soft brush:
Step 16
Make two layers on the top, change foreground to black. On each layer use watercolor brushes (pick the ones you like) to paint under the neck with feathers.
Use cmd/Ctrl+T to rotate it to get your desired result., and layer mask to remove any unwanted parts:
Step 17
Open crow 1 stock. Isolate him and put him beside model ear:
Add layer mask to crow 1 layer and use soft brush with opacity about 50-55% to blend the lower part of the crow with model head:
Step 18
On the crow 1 layer, go to Layer-New Adjustment Layer-Gradient Map and check Clipping Mask options:
Pick default colors (black and white) for Gradient Map to desaturate this crow:
Step 19
I used Curves with Clipping Mask to darken this crow:
Step 20
Add crow 2 after extracting to the disintegrated hair part of the model: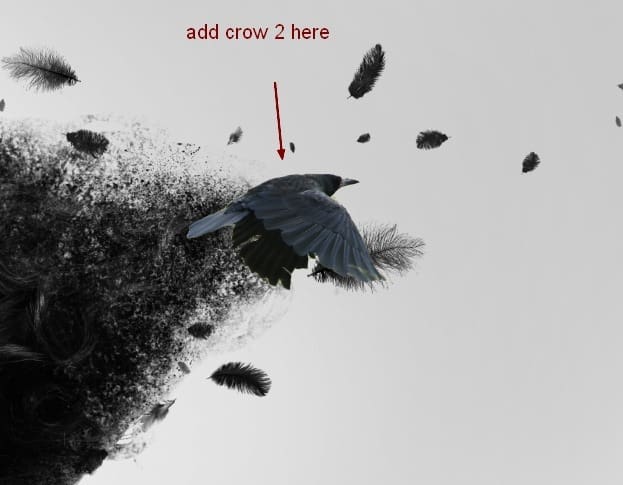 Use derbis brushes with same setting in step 4 to blend the crow with this disintergration.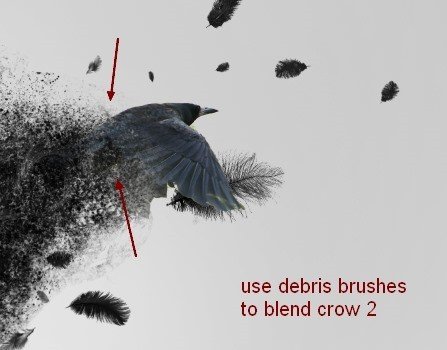 Step 21
Use a Gradient Map layer with black and white for this crow :
Step 22
Put crow 3 at the right of the pic, between flying feathers:
I used Curves to lower the contrast of the crow: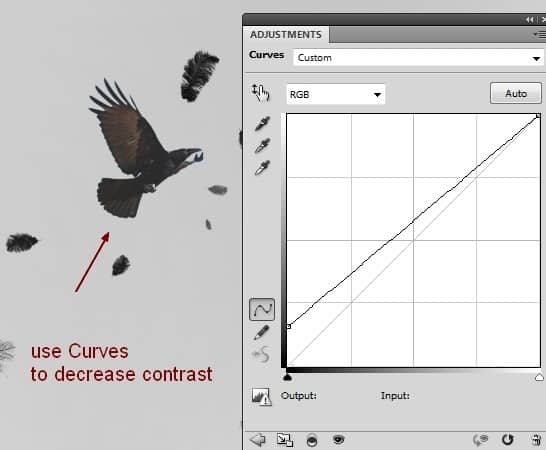 Step 23
I added a Hue/Saturation layer to desaturate this crow: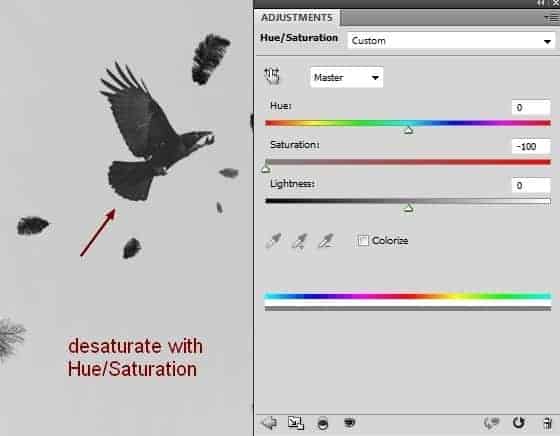 Step 24
Make some layers on the top. Use black and debris brushes to add to disintegrated hair. Play with transform tools and different brushes until you feel good. Don't hesitate to use layer mask if needed to get a better result. Here is mine:
Step 25
Make group for debris layers as done with model and hair. Use Curves above all these ones to decrease the contrast of them a little: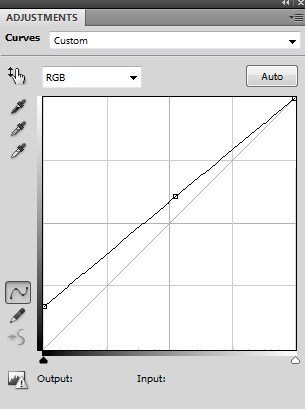 Step 26
Create a layer on the top. Use a red color for brush (I picked #ff0000) to paint on the eye of the crow beside model ear to make an evil effect. Change the mode to Color 100%: