Step 20
Add style "Drop Shadow" (Layer > Layer Style > Drop Shadow or use Style icon on a Layer Panel) to envelope like shown in the image.
Here's what you should get. So I do not interfere with layers of old photos, I unite them in one group "Cards". Select all layers except wood background and central frame and go to Layer > Group layers or use Cmd/Ctrl + G.
Step 21
We now turn to the most interesting part of this tutorial. Specifically the central picture. In this part of tutorial, you will learn how to make a realistic effect of live photo. To get started on the center frame is necessary to impose a texture from Step 15. On new layer, used color # 363636 draw spots. If necessary, remove excess. Make this layer as Clipping Mask (Option/Alt+ Cmd/Ctrl + G) and set Blending Mode "Overlay" and Opacity: 80%.
Step 22
Now add a background from which the model will go. Go to File > Place (Place Embedded), select image "Balcony_by_LateRose_Stock" (Balcony). Use the Free Transform tool (Ctrl/Cmd+T or Edit > Free Transform) to resize image like shown in the image below. Does not necessarily reduce size of all image to entire into frame. You need only a fragment. Place on frame fragment of photo, which you like more. I chose a piece that got there part of the sky, foliage, flowering tree and beautiful columns.
Before next moving, I suggest you reduce Opacity to 50% of Balcony layer. So you can see the frame under this layer. Use Rectangular Marquee Tool (M) to select a part of the photo is slightly larger than inner of frame. (Until the middle of the first small border).
Now we need to soften the edges of selection. You can click RMB on selection and select from a list "Feather" or go to Select > Modify > Feather... or Shift + F6. Set Feather: 3px. No longer need, or edges will be quite blurry and if it is less than a blur will not be visible. We have not done this for previous photos because they were imposed on the frame, and in this case we add effects, and they will look ugly if the edges are not blurred.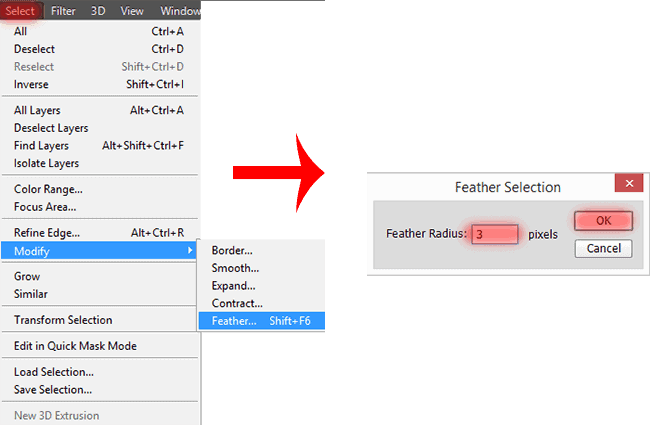 Step 23
Add a Layer mask (Layer > Layer Mask > Reveal Selection or use icon on Layer panel) to this layer to remove everything else, except for selection. Set Blending Mode "Overlay" and return Opacity to 100%.
Already familiar filter "Grain" (Filter > Filter Gallery... > folder "Texture" > "Grain") we also add to this picture, but I purposely make it more visible and strong. I understand that now does not look good but when we add a model you will see why I did it. Set the settings for each parameter as I shown in image.
Step 24
Getting started worked with a model. Go to File > Place (Place Embedded), select image "pink_dress_lift_by_eyefeather_stock-d4iyxvm" (Model). First flip horizontal a model (Edit > Transform > Flip Horizontal). She would look more realistic, and this location would be more harmonious in image processing. Use the Free Transform tool (Ctrl/Cmd+T or Edit > Free Transform) to position and resize a model like to hem of her dress out of the field of the previous picture and a little went on drawing of frame, but not below the frame.
I use Quick Selection Tool (W) to select a model. Do not worry about dark lace on hem of her dress and on her right and left hand. Then we remove the dark and they will remain intact. Make sure that the parts of the interior were not included in the selection. Do to Refine Edge to remove excess contour and dark from lace.