Grab the Brush Tool (B), set Master Diameter on 2 - 4 pixels and lower its Opacity on 5%. Pick black color and paint over the areas with shadows to make them even more darker.
On the following picture you can get inspiration where to paint. I set the Blending Mode back on Normal again so you can see the strokes better.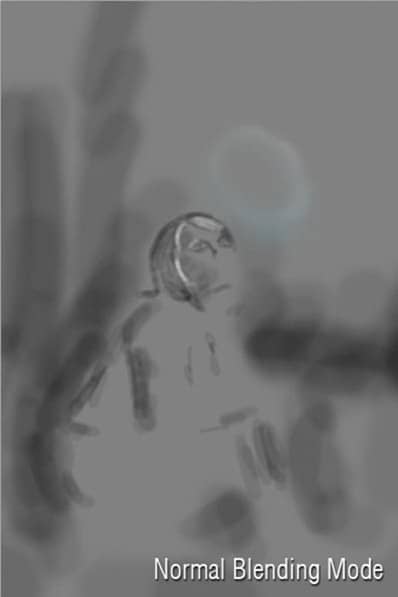 ---
Step 12 - Butterfly's Glow
This is another very quick step in which you're adding glow on the place where you're adding butterfly in following steps.
Add new layer on the top of all layers and name it GLOW. Grab the Brush Tool (B), choose some soft round brush and set the Master Diameter on 350 pixels. Set its Opacity on 20%. Hold Alt to activate the Eyedropper Tool (I) and pick some light cyan color from the picture.
Simply paint one big dot above the girl's head. Below you can see how your image should look so far.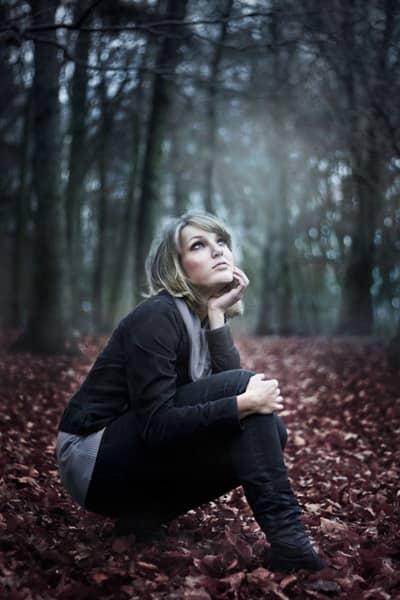 ---
Step 13 - Minor Adjustments
Before you move on adding another element to the picture you need to do two minor adjustment - remove some lights around the girl and add warmer tones.
Let's start with removing lights. Add new layer on the top of all layers and name it LESS LIGHTS. Fill it with #808080 grey color again and change its Blending Mode on Overlay.
Grab the Brush Tool (B), pick black color, set the Opacity on 5% and paint over the area which is highlighted on the following image.
Paint with black also around the edges to create gentle vignette.
Let's move on adding warmer tones. You do it very easily by adding new adjustment layer Photo Filter on the top of all layers and setting the window as on the picture below.
After all these steps your photo manipulation should be similar to the one shown below.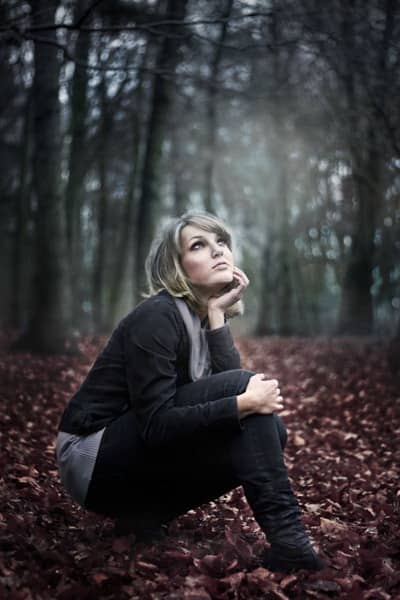 ---
Step 14 - Adding Bokeh
Download bokeh texture listed in the beginning of the tutorial and drag it into your photo manipulation. Place it on the top of all layers and name it BOKEH.
Press Ctrl + T on your keyboard and resize it on proper size. To apply the changes press Enter.
Now you need to blend the layer properly. You want to make black disappear so the Screen Blending Mode is ideal in this case. So change the Blending Mode of BOKEH from Normal to Screen.