In this Photoshop tutorial, you'll learn how to bend cityscapes with a simple trick. You'll learn how to use the Polygonal Lasso tool to create a perfect triangular selection and rotate it for a perfect fit. This tutorial is perfect for beginners and only requires basic Photoshop knowledge.
What You'll Be Creating
Here's a preview of what you'll be creating. You'll take part of a landscape photo and bend it into a vertical wall like in the movie Inception. If you don't want to follow this tutorial, download the Inception Photoshop Actions to do it for you.
Step 1
Open a landscape photo. Although you can use any photo, it's best to follow this tutorial with a photo where the top-half is the sky. Here's the photo that we'll be using for this tutorial.
Step 2
Now we need to create a perfect right-angled triangular selection. You'll do this with the Polygonal Lasso Tool and be pixel-perfect with your selection. This is especially hard on a non-square image but there's a trick.
Here's the trick. Zoom in to the top-left corner of your image (zoom in really close). Select the Polygonal Lasso tool (L) and click on the top-left of your image.
Press Ctrl/Cmd+- to zoom out. While holding the shift key, click below your image. This will create a perfect 45-degree line.
Complete the selection.
Step 3
Press Ctrl/Cmd+J to duplicate the selection into a new layer.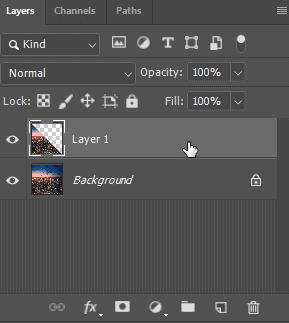 Step 4
Press Ctrl/Cmd+T to activate the Transform tool. Right-click inside the box and select "Flip Vertical".
Rotate the image like shown in the video below. Start by moving your cursor outside the box. While holding the Shift key, drag to rotate. The Shift key constrains your rotation to 15 degree angles.
Final Results
You're done! Here's what our image looks like and a couple more examples.