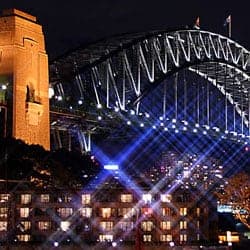 Make night scenes more glamorous with this Photoshop effect that generates dazzling star effects from light sources. In this Photoshop tutorial, you will learn how to separate the light sources from the photo and use the separated light sources to create a 4 point star filter.
Before and After Star Filter Photoshop Effect
---
Original Image
---
Star Filter Photoshop Tutorial
---
The Process with Photoshop
To create this star filter effect with Photoshop, we need to first find the light source to create the star effect from. Once it is created, the light source is blurred diagonally to create the first half of the star. Then, a copy of the light source is duplicated and blurred the opposite direction to complete the star. Once done, it is blended into the photo and tweaked for sharper flares.