Typography is a remarkable piece of art that has its own styles and techniques to making a written language more appealing when it comes to learning and recognition. Today, you will witness inspiring examples of 3D Typography created by various talented artists. You will see in this article the process and tools they've used in creating a 3D inspiration. Have fun and enjoy!

"Nr.50 Typography is an experimental typography creation. I thought it would be great to somehow combine aquarelle paint with 3D type. First I created a base with aquarelle paint and scanned it into my pc. Then I made a couple of variations of 3D type and start blending them together. The Flames are also a combination of photoshop and cinema 4D. This is the result! Hope you like it. Tools Used: Photoshop & Cinema 4D"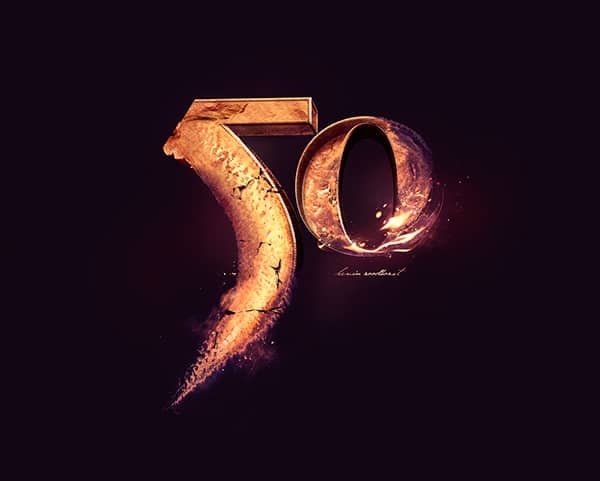 ---
"Picture 1 - Impact I've always been very curious about 3D modeling, but never had time to study the specific software, so I decided to try with what I ruled: Photoshop and Illustrator. I also wanted to improve the quality more lights and shadows in mine and was this mixture that came these two parts. First I used Illustrator to generate letter by letter in 3D using the Extude tool. Worked with the color of the white letter and not much shifted in light, just enough to create a good contrast between the faces. After play was letter by letter in Photoshop and there give color to each of them and increase the contrast. After positioning and color each letter, I wondered where the light should come and started working in the shadows. I selected face by face and creating a mask it. In these masks, I was painting with a brush black soft areas that I thought should have shade and adjusting the opacity of these layers. I used 1-3 coats of black to try to get the most of a real shadow. After finalizing the shadows, did the same process with the areas that should be more enlightened, only this time by painting it white. Same process: masks and adjustment of opacity. At the end, I added some elements to give a little more life to the piece. IMPACT name was just a tribute to source I used (which has the same name) because it was one of the easiest sources that had found to work this technique.
Picture 2 - Foxine This image was a gift I made for a college classmate (who is nicknamed Fox or Foxine) and the process was very similar to the previous one. As I mastered relatively well these effects, thought about going a step further and thought "Why not add real elements to 3D?". With that in mind, I chose the pictures of some foxes in positions that I thought were close the 3D. The secret was here working with lines that end faces and shadows. Use the shadows to merge 3D with real was the key for the part to stay nice and look as real as possible. Then only I used some bokeh effects to give a shine to the art."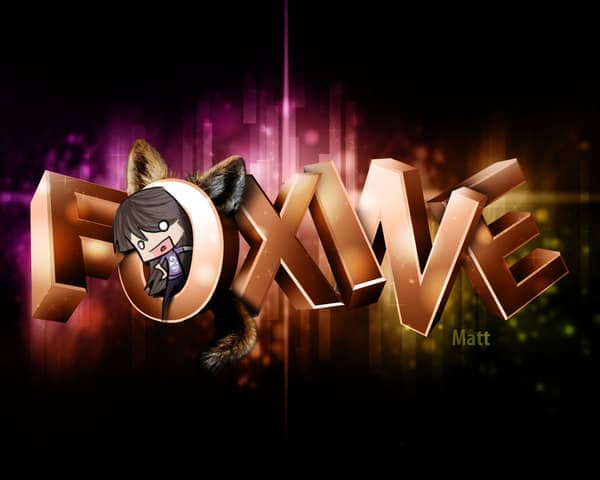 ---
"I took a participate in the session of speedmodelling about creating 3D typo (on the forum of Newtek- producer of 3D software which I use - Lightwave 3D), made some project, and later- got this new idea to use millions of pins to form a 3D text. For this, I use instances feature from Lightwave 3D, where single block was multiplied to about 5 millions on the scene- creating a matrix of pins, their height was driven by some layers of textures, and similiar with color. For foreground- with similiar technique- i created crystal cubes. After rendering- I did some post-processing in Adobe Photoshop - color correction, depth of field using lens blur, etc."