Can't wait for the new Photoshop? Here's an in-depth report on all of the new and improved features you can expect in Photoshop CS6. Check back to this article frequently for the latest updates!
---
General Updates
---
Interface
The very first feature you'll notice in Photoshop CS6 is the new dark color theme which is designed to match other Adobe products such as After Effects and Lightroom. If you don't like the color, you can change it back to the Light Gray theme or customize it to any color you like.
Screenshot of Photoshop CS6 dark interface
Interface colors are adjustable through the preferences
Video demonstration of Photoshop's new interface
---
Background Save
Saving large files? Photoshop will save files in the background so you can immediately continue your work in Photoshop.
Background save progress bar
Demonstration of background save
---
Preset Manager
Photoshop makes migrating your presets and preferences from CS5 to CS6 easy with the new Preset Manager. You can also save these presets/preferences and load them onto other other computers.
Save and load presets with the new Preset Manager
---
Filters
---
Liquify Filter
The Liquify filter has undergone major performance enhancement. You can now edit photos with no lag – adjustments are made on the fly! In addition, the maximum brush size has increased from 1500 to 15000 pixels.

Photoshop CS6's new Liquify filter lets you edit without lag
---
Adaptive Wide Angle
The Lens Distortion tool was great for fixing small lens distortions but was very limited with wide angle/fisheye distortions. This new tool will let you remove curved lines – just draw lines over straight edges and Photoshop will automatically fix it. It's apparently very easy to use with few settings to adjust.

Photoshop's new Adaptive Wide Angle magically corrects wide angle/fisheye distortions better than the Lens Correction filter
---
Field Blur, Iris Blur, and Tilt Shift
These types of blurs have popular recently and people were using a combination of blur filters and layer masks to create it. It's easier than ever in CS6 with dedicated filters for these blur effects.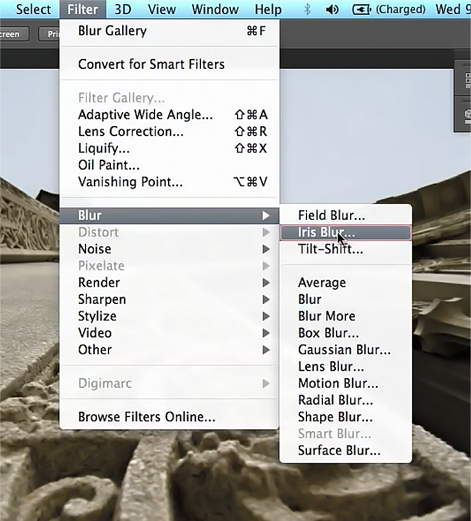 The new blur filters
Screenshot of the new blur filters
Demonstration of the new blur filters
---
Oil Paint
Like artistic filters? This new Oil Paint filter can turn your photos into oil paintings in one step.
Image created with the Oil Paint filter
---
Adobe Image Deblur
This filter is potentially available in CS6. It restores blurry photos caused by camera shake (not lens blur, wrong focusing, etc). It works by detecting the path of the camera shake and using its own algorithm to correct the blur. The results are magical.
How Adobe Image Deblur works
Demonstration of Adobe Image Deblur at the 2011 Adobe MAX conference
---
Tools
---
Selection Tools (marquee, lasso, etc.)
The selection tools will now allow you to apply a value with a decimal point to the feather setting (ex. 1.5px)
---
Eyedropper Tool
The Eyedropper tool has new options which lets your tool ignore adjustment layers and/or sample from the current layer or below. This applies to all the eyedropper tools (ex. black point, white point, white balance tool, etc).
---
Brush Tool
There are many new improvements to the brush tool. The first update is rich cursor support for the brush tool. You can now adjust your brush settings using hot keys and see a live preview of your brush size, feather, and opacity. Speaking of opacity, there is a new hot key for changing the opacity (Ctrl/Cmd+Alt/Option+Up/Down). In addition, the maximum brush size has been increased from 2500 to 5000 pixels – you can expect to see even higher resolution Photoshop brushes when CS6 comes out!