Click Option Icon like in image. Then choose Output tab. And choose your size. I'm choose 1280x960 here. It's nice to have bigger size but please remember that the larger size , the longer time you have to wait.
Step 15
After that. Press this "R" button to start render. And go have a cup of tea. But I think this don't take long.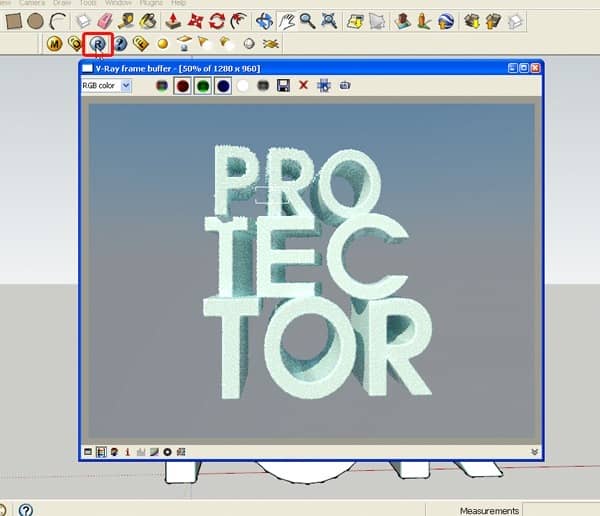 Step 16
After the render finished, Press save icon and save your image.
Step 17
Please note that Vray will save 2 jpg files for you. One is the rendered picture, and one is alpha channel of this picture. It's cool and you can easily handle this in Photoshop.
Now we done with Sketchup. Back to our Photoshop!
Step 18
Open "Waterfall in the mountain 02" in camera raw to make some adjustments. Setting as below.
You can open your image in camera raw by right click it from Adobe Bridge > open image in camera raw.
Or do it directly by access in Photoshop Edit>Preferences>File Handling / Then tick "Prefer camera raw for jpeg file" > OK.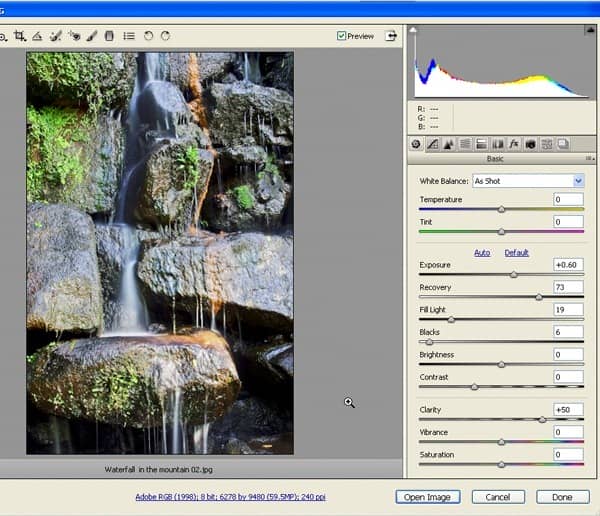 Step 19
Open image in Photoshop. Maybe you want to make your back up for the image. Just Press Ctrl + J to duplicate the image, then hide the one below.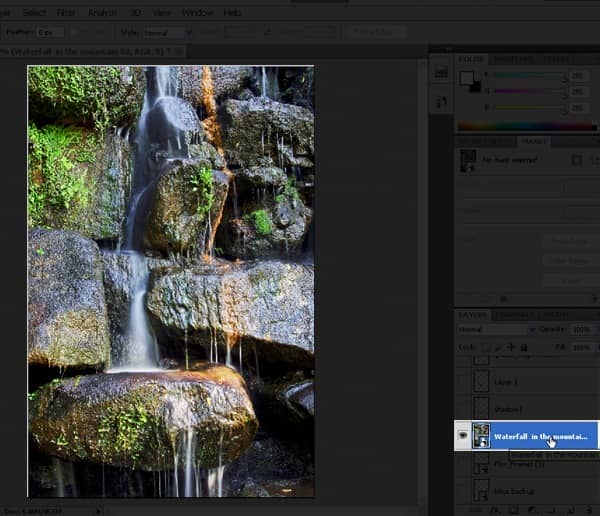 Step 20
Next, open 2 rendered files. Double click on the layer name and name it PROTECTCOLOR and PROTECTCOLOR.Alpha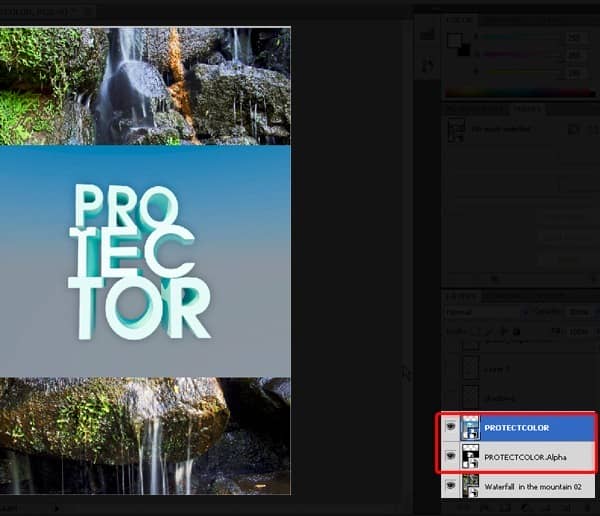 Step 21
Now we can take advantage of the alpha channel. Select PROTECTCOLOR.Alpha layer, use Magic wand ( or press W ) to select the white space
Step 22
Then click on PROTECTCOLOR layer , and click on Add vector mask icon at the bottom.
Step 23
And this is it! We have nice 3d typography without background. Now you can hide or just delete PROTECTCOLOR.Alpha layer.
Step 24
Use Ctrl+T to scale and move your typography like this. Try to make the typography like standing on the mountain. I named the typography layer PROTECT, then duplicate it ( CTRL + J ). Set blending option of PROTECT layer ( below ) is Screen ; and the duplicated layer is Multiply. This setting will blend your text into the background.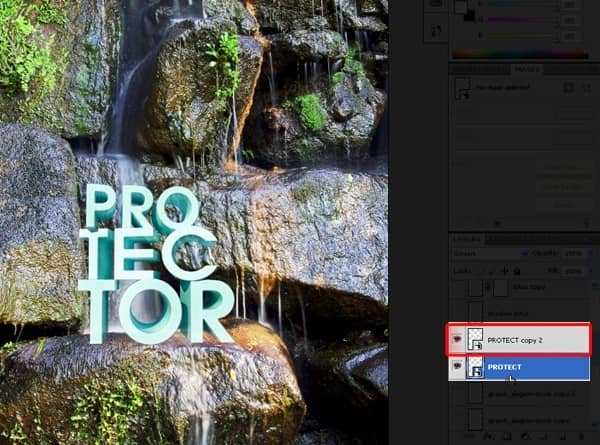 Step 25
Make a new layer below PROTECT and name it SHADOW_TEXT. Change blending option to Multiply.
Then choose BRUSH TOOL , opacity 20-30% like this setting.
Use your imagination to draw the shadow of the text on the rock cliff.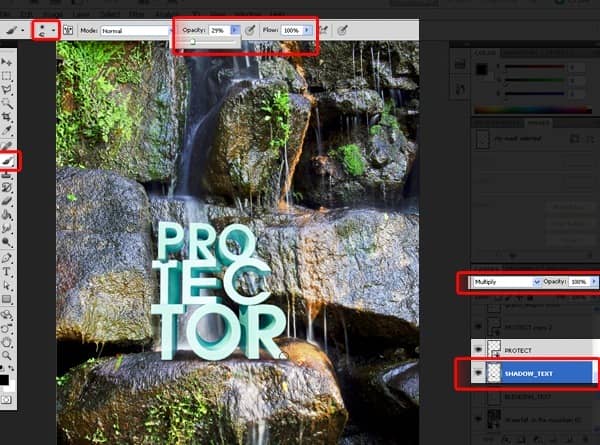 Step 26
The shadow will goes like this...
Step 27
Now create another layer below SHADOW_TEXT ; name it BLENDING_TEXT , setting as below.
Use the brush again, but this time choose green color like below , you can also pick the color from the text.
Now draw around the text - there is always color blending between objects and background. The rock cliff will reflect the color of the text.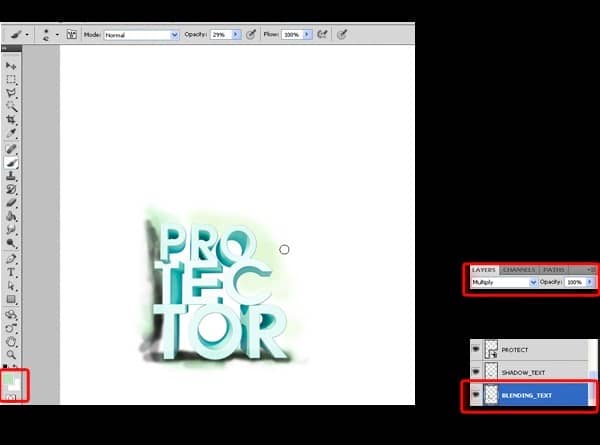 Step 28
If you did right, you will have this. You could change opacity of BLENDING layer and SHADOW layer to have right effect.
Step 29
Now open Flor_Frames (4).jpg in new file. Press CTRL + A > CTRL + X > CTRL + V and you will have this.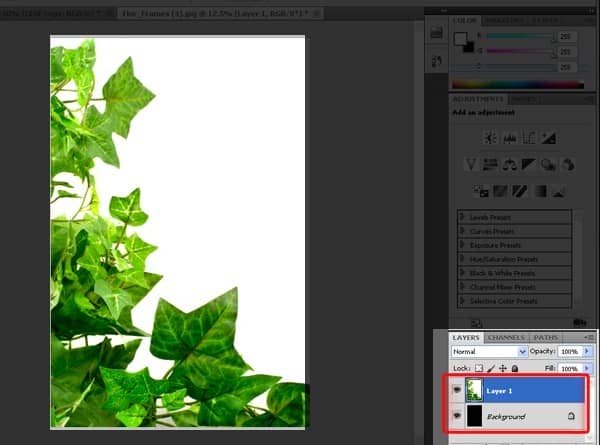 Step 30
Pick your foreground color is white. Then Select> Color Range > Just click OK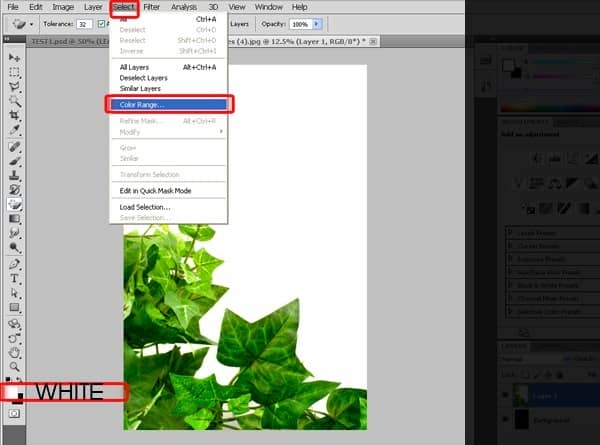 Step 31
Color range will select all the white space in the image for you. Press delete to get rid of this.