Create this magical twilight landscape with floating islands, a old sailboat, and a surreal moon background. This tutorial will teach you how to mix stock photos, apply filters to create a twilight scene, and even some matte painting basics!
Preview of Final Results
Tutorial Resources
Step 1
Let's start! Create new file 1920x1080 size.
Step 2
Choose Forest Mountain stock and place it: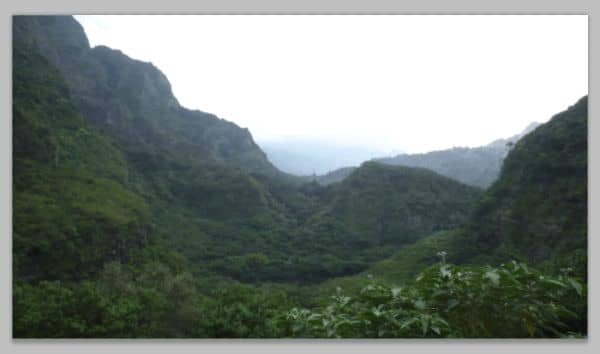 Step 3
Add new adjustment layer (Layer > New Adjustment Layer) with Brightness/Contrast).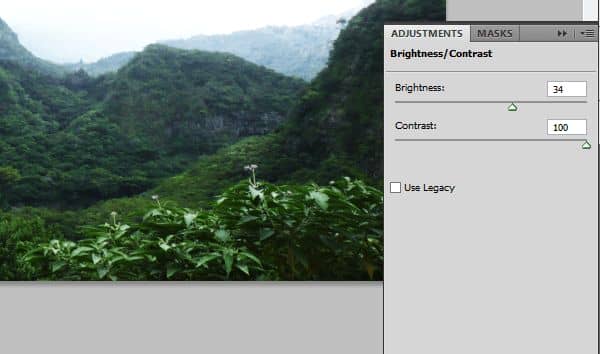 Step 4
At adjustment layer make mask. Use big (ex. 200px) soft brush and draw: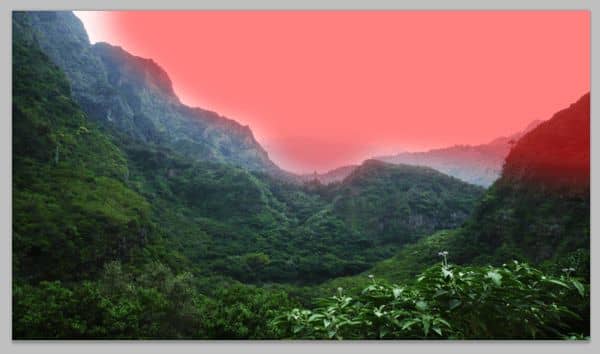 Step 5
Then, paste Sky levels stock as new layer. You should transform it, to fill canvas. Change blending mode to Multiply.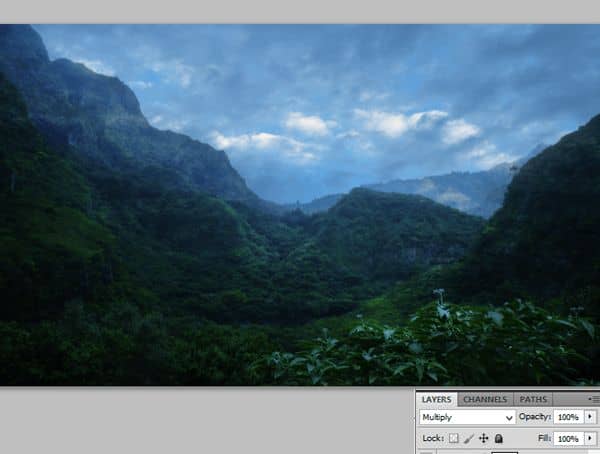 Step 6
On this layer, use mask. Try to mask all the trees from the bottom side. you should use big, soft brush (ex. 300px or more). My masking results are below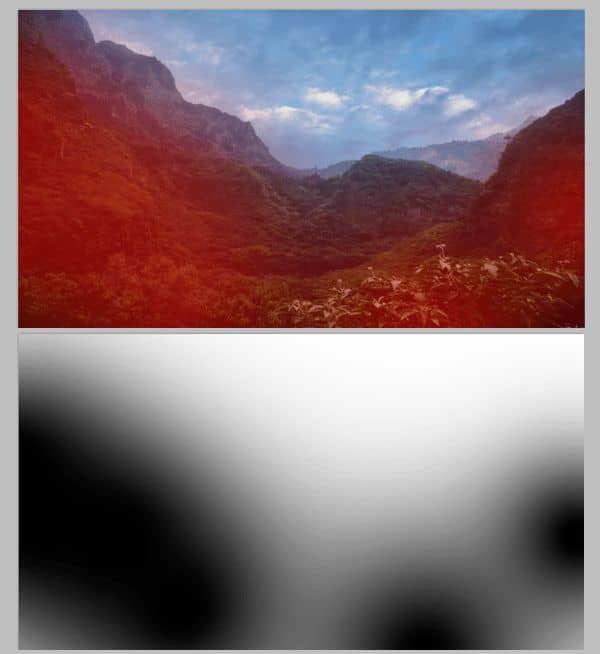 Step 7
Paste Stars stock, as new layer. Then add mask to this layer. Again use soft, big brush on contours of mountains.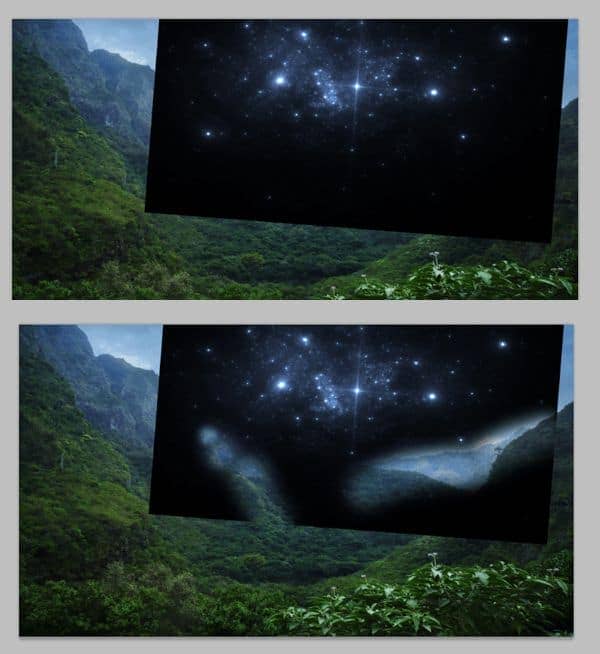 Step 8
Change blending mode of stars to Screen.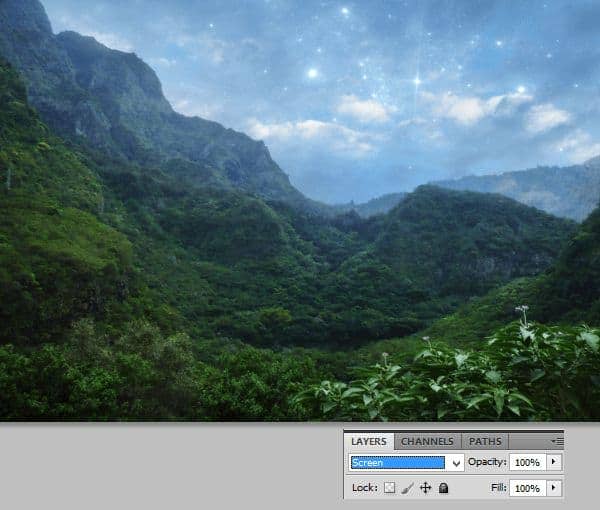 Step 9
It's time to paste moon stock on new layer. Place it as shown. Change blending mode to Screen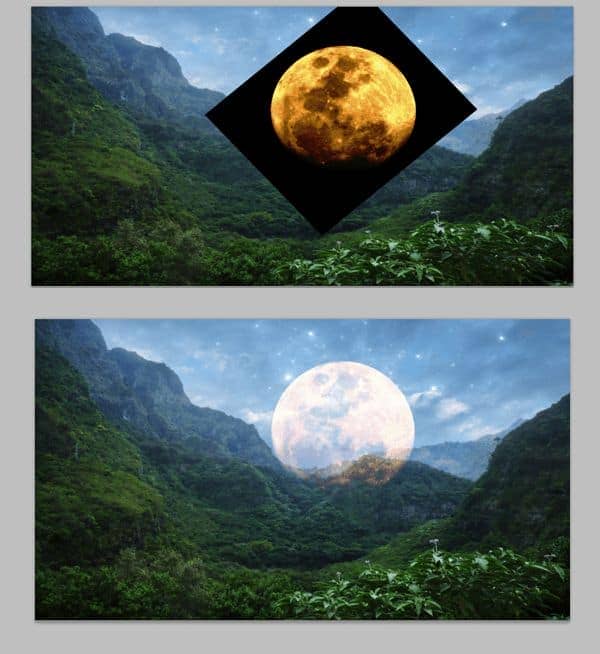 Step 10
As you can see, moon is too big and the color doesn't goes with this landscape. You should change that. First - mask. Use big, soft round brush (100-200px) and mask it on the bottom.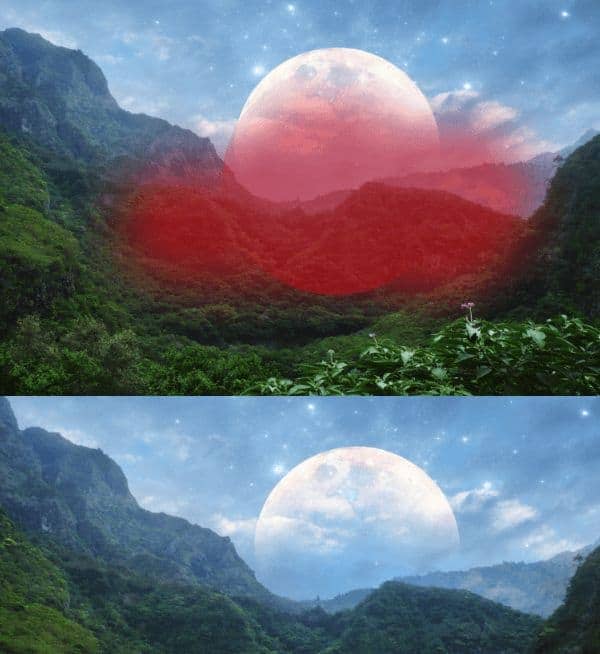 Step 11
Now hue of the moon. Add adjustment layer with Hue/Saturation and create clipping mask (RMB>Create clipping mask).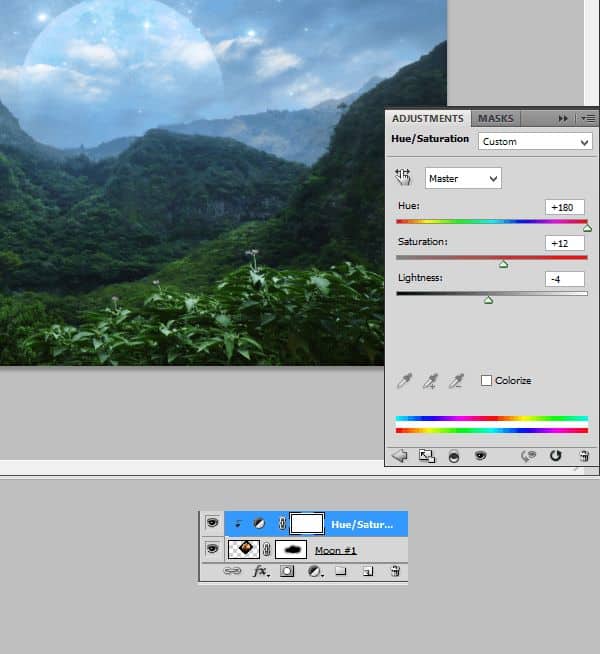 Step 12
You should make moon brighter. Compliment won't work ;). Holding ctrl choose Moon and Hue layer. Duplicate it.

Step 13
Add new layer. Choose Gradient Fill tool and #362f2d color. Arrow will guide you :)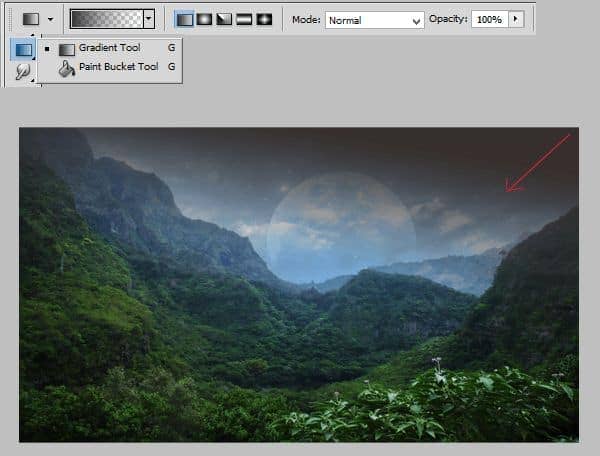 Step 14
Change blending mode of this gradient to overlay.
Step 15
Add new layer. Choose soft, big (370px) brush, #6dcff6 color and set opacity to 70%. Draw gently glow around and near moon. I also draw a few spots on the edges of mountains.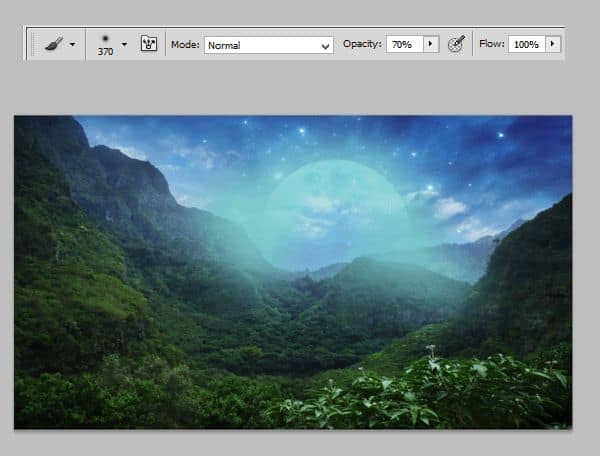 Step 16
Change glow layer blending mode to soft light.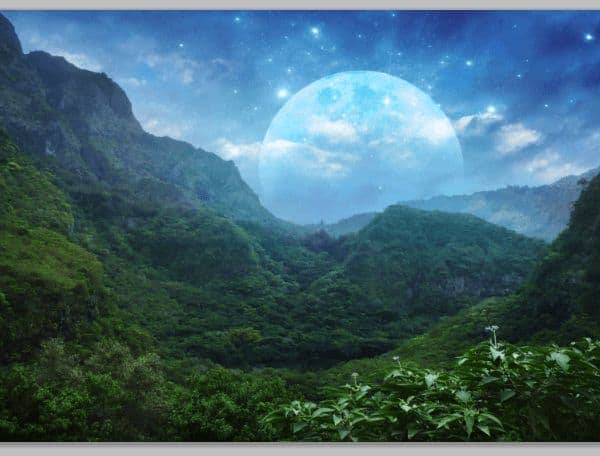 Step 17
Now you will know some matte painting techniques. Add new layer. Choose soft brush, 40px wide, #929397 color. Draw on the edges of the mountains/plants. This is very important step! It can appear like fog, and give mystic look!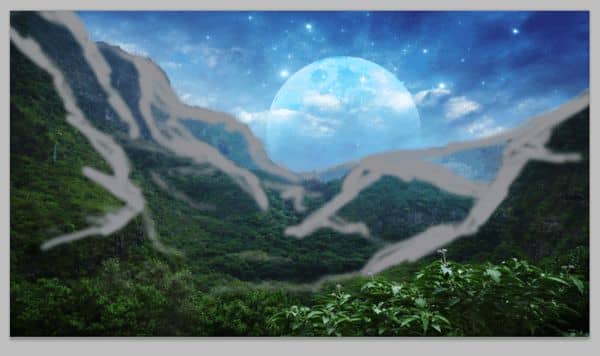 Step 18
Change blending mode to Soft light. Will be awesome! :)
Step 19
Duplicate fog layer.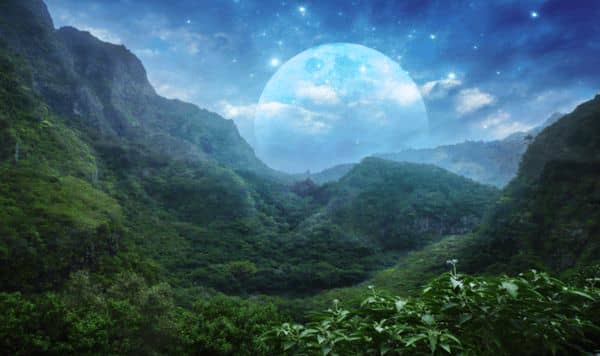 Step 20
Create new layer. Now choose 100px wide brush, the same color. Draw delight on the depressions of landscape.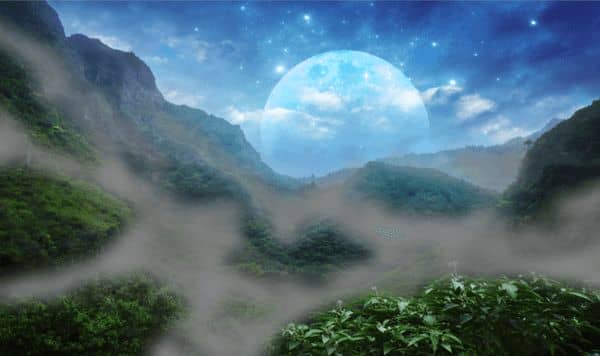 Step 21
Change blending mode to Multiply (Suprise! :])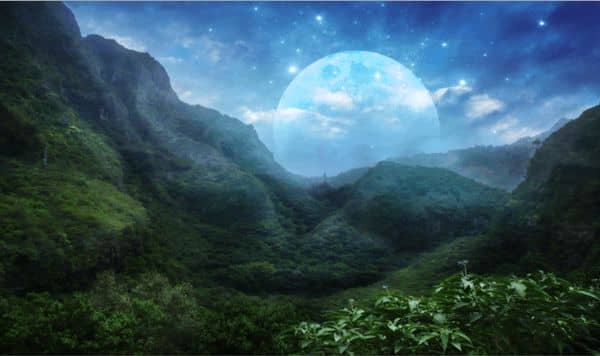 Step 22
Okay! Keep up good work! Now add Adjustment layer with Selective color. Choose Reds from menu.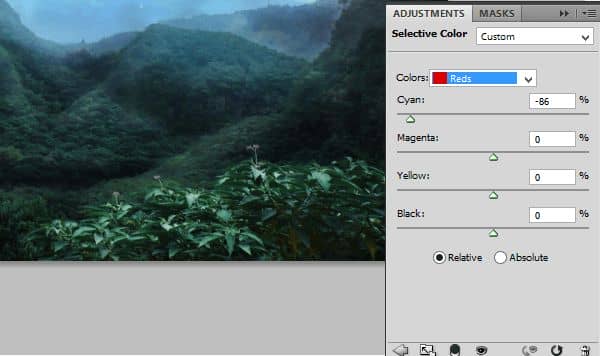 Step 23
Now choose Greens from the same menu.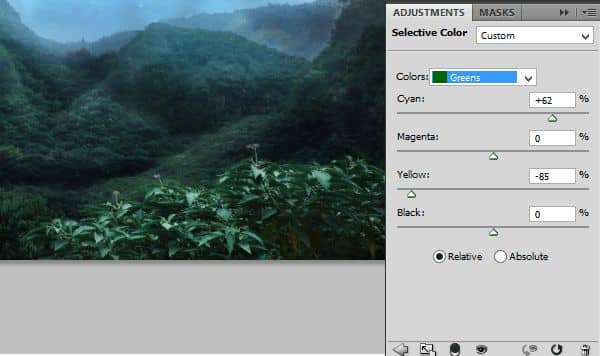 Step 24* - optional
Cool! Now select all and copy merged picture (Edit > Copy merged). Paste it as new layer.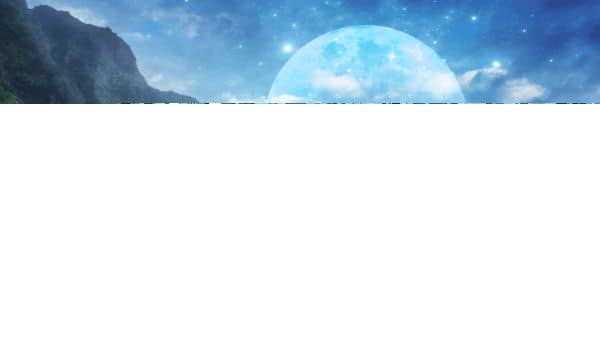 Choose Filter > Filter Gallery > Glowing edges.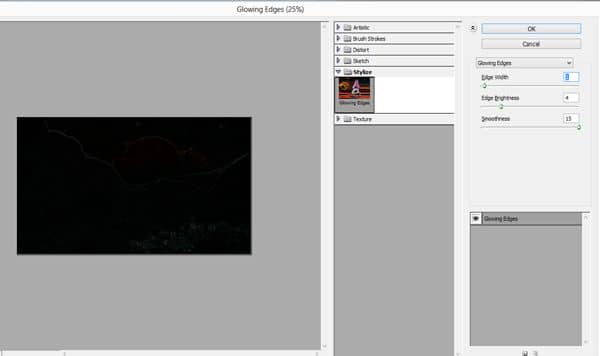 Then change blending mode to Color Dodge and opacity to 75%.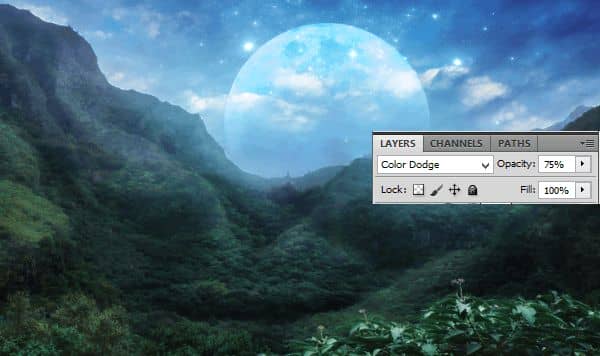 Step 25 - First Island
Create new folder (if you want). Add new layer. Set Hard Round Pressue Size brush, 42 px wide, black color. With strokes draw rocks shape on the bottom of island. You can, of course make your own shape. Play with it! :)