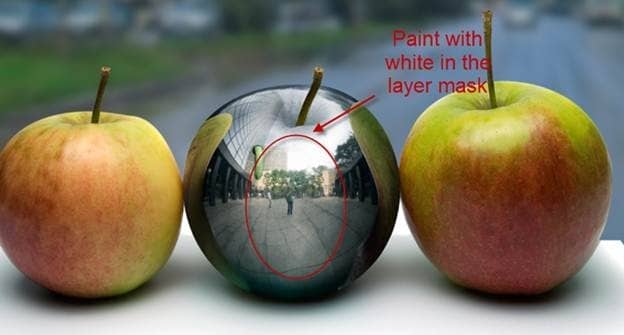 Step 42
Remember the depressed area from step 17? I think it looks too faded so let's increase its darkness. Add a Curves Adjustment layer and drag the curve downward to darken. Fill the layer mask with black and paint with white in the layer mask to reveal the effects of the Curves only in the area indicated below.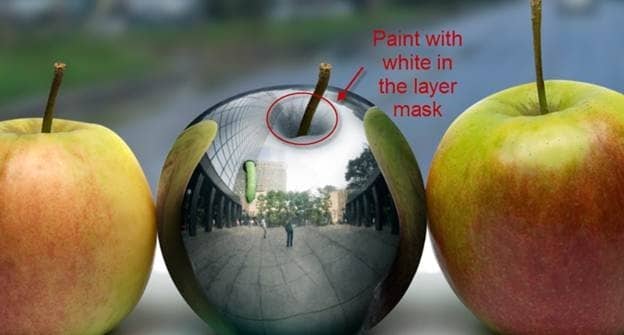 Step 43
Let's add a bit of sparkle to this metallic apple. Create a new layer and use the Preset Manager to import the "Sun Brushes". Create a white little sun somewhere on the upper part of the apple. After that select a round soft brush and paint with white just above the sun.
Step 44
Let's add some lens flare to make the scene even better. In order to do that create a new layer (Ctrl + Shift + Alt + N) and fill it with black (D to set default colors and Alt + Backspace to fill with foreground color. Now choose Filter > Render > Lens Flare. Select 105mm Prime and click ok.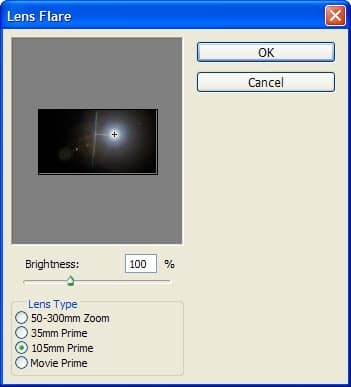 Step 45
Change the blend mode of the lens flare layer to screen to get rid of the black pixels and lower the opacity to 73%.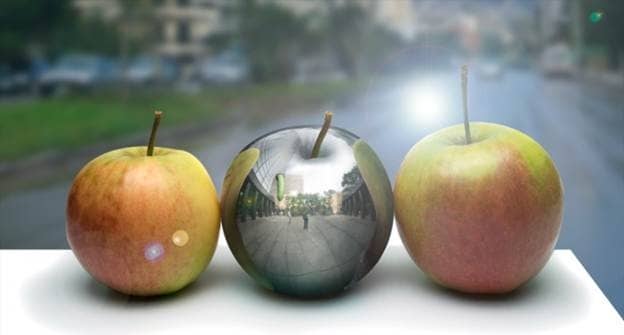 Step 46
Add a layer mask to the lens flare layer (Layer > Layer Mask > Reveal All) an select a round soft brush. In the layer mask paint with black to get rid of the sun.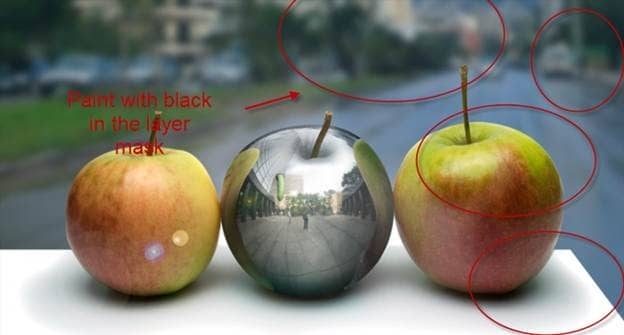 Step 47
As a final step let's apply a Vignette to make the middle of our scene the point of interest. Make a layer from all visible layers by pressing Ctrl + Shift + Alt + E and choose Filter > Lens Correction. Click on the Custom tab and drag the Vignette slider to -50. Now take a step back and admire your work. Looks pretty good, huh?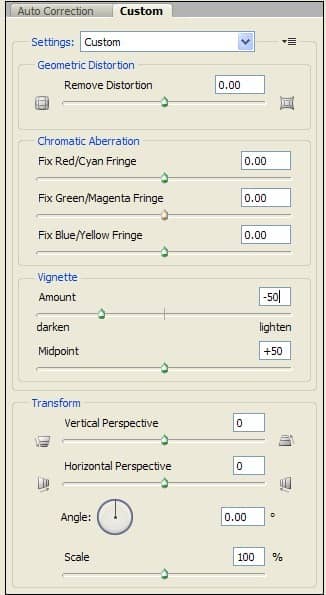 Final Results
Download the PSD
Tutorial by Adrian Scheff

Thank you for following this tutorial. As you can see it wasn't so hard and you can use these techniques to create other metallic fruits. I hope you learned some useful stuff and improved your Photoshop skills. You can visit my DeviantArt profile here . Have fun photoshoping!!