Step 20
Now add the twigs to the canvas. Scale the size and arrange its position to fit the composition of the image. Give some highlight to some parts of the twigs. Use dodge tool for this purpose.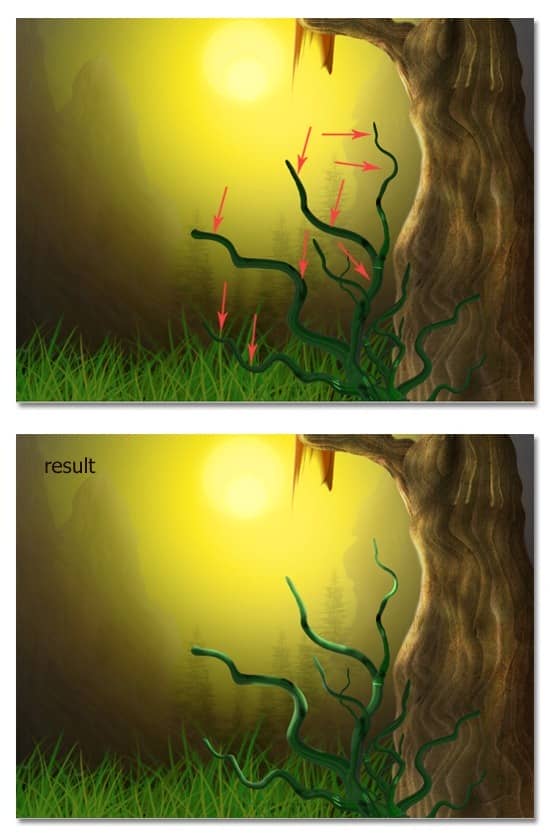 Step 21
Add more twigs. Do the same thing as in step 43 for this step.
Step 22
After the addition of the twigs, proceed to paint some leaves for them. Go to costume shape tool and choose the leaf shape. With dark green color paint the shape on a new layer. Then, use dodge and burn tool to define the shadow and highlight on the leaf.
Step 23
Add more leaves.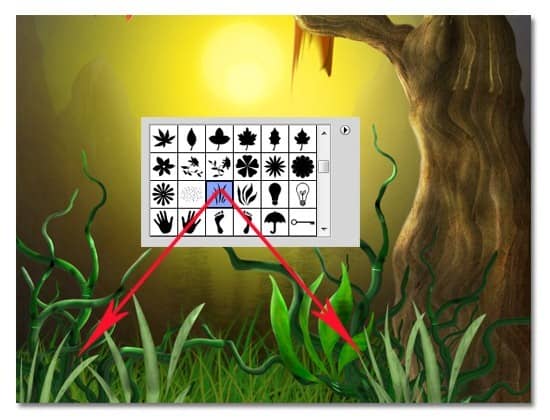 Step 24
Now add the flowers to the scene.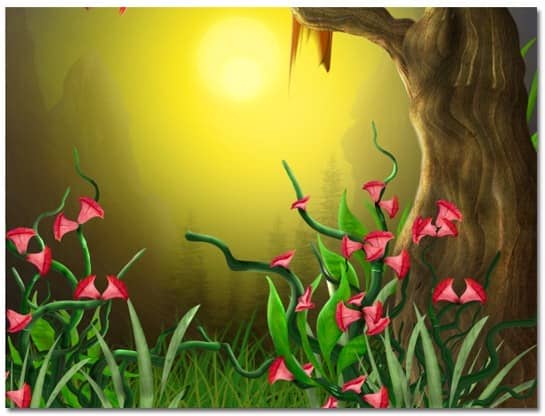 Step 25
To complete the composition, add butterflies and smaller birds. Try to alter the color of the butterflies and birds by applying hue/saturation. Choose any color you desire for them. For our inspiration, I created the result like the one illustrated below: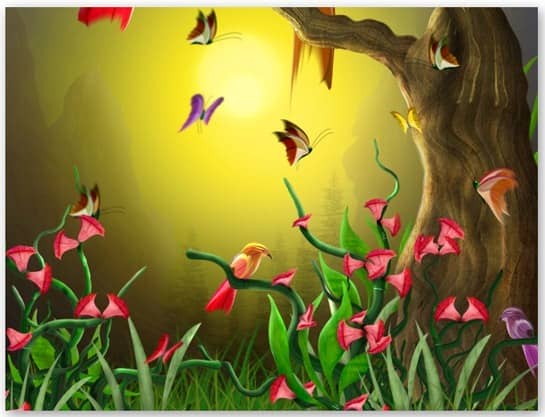 Step 26 (Color Adjustment)
I decided to give more adjustment layers to the scene: two hue/saturations. Please see the illustration picture for the setting of each:
More adjustment layers, firstly, we will give level. Mask some part of this level adjustment layer and set it to normal at 100% opacity. Duplicate the level layer and set it to 50% normal blending. Finally, I added photo filter and set normal at 100% opacity for this photo filter.
Again, we will add more adjustment layers as shown in the illustration picture below:
Step 27 (Adding Cloud)
Hit Shift+Ctrl+Alt+E to stamp all visible layers to create a new single layer. Then, go to filter > other > high pass. Set 2% for its radius. I named this layer high pass. Take brush tool, set it to low opacity about 10-12%. With white color, paint some cloud and lines on the hills. Finally, set this layer to overlay at 100% opacity.
Here is the final composition I created after I add more cloud in front of the moon: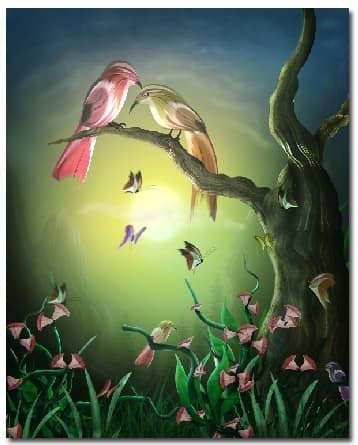 Step 28
Create a new layer. Paint soft black gradation color around the edge of the scene. Use soft brush to do this purpose. Erase some part of the black gradation on the twigs, grass and little bird on the right. Set it to normal and reduce its opacity to 40%.
Step 29 (Setting Overal mode)
Again, create another new layer. Paint some color on this new layer as shown in the illustration below. Set this layer to overlay at 100% opacity.
Now create again a new layer. Fill this layer (Shift+F5) with blue. Mask parts of this blue layer on the main birds and edge of the tree. Set this layer to overlay at 40% opacity.
Create one more new layer on which we will paint gradation color of #f87e02. Set this layer to overlay at low opacity (13%). Finally, to finish this work, go to layer > new adjustment layer > levels. Just simply click Auto for the levels.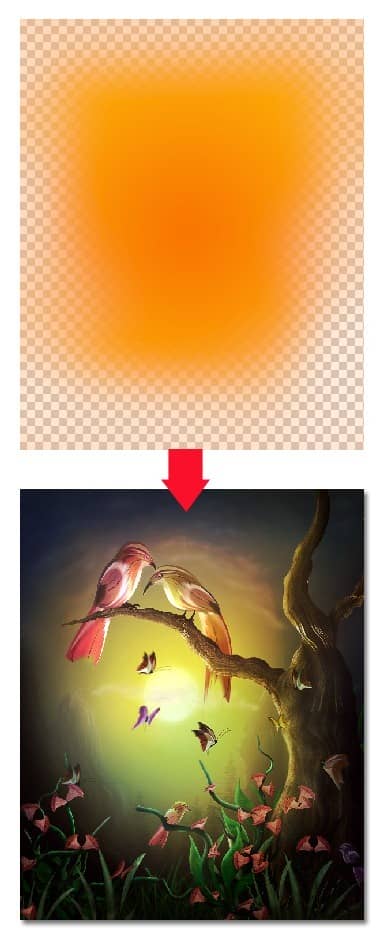 Final Results
Download the PSD
Tutorial by Dek Wid