Now when this box opens, do the following as shown on the image below:
After you've clicked OK, you will see that the image is now a Black and White image but that's not how it is supposed to look. We're going for an image which has high contrast and dramatic lighting of that of a sunset, and in order for us to achieve that, we will need to make it colored. To do that, simply change the Blending mode of the Gradient Map layer to Multiply.
That could be done by clicking on the word Normal on the Layer window for a set of modes to appear. Once it pops up click on Multiply.

The result will be: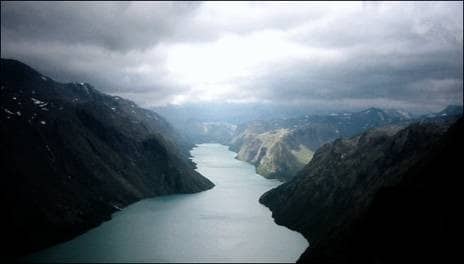 Next, let's lessen the contrast of the lake layer. To do that, click on the Create New Fill/Adjustment layer button again and click on Brightness/Contrast from the contextual menu.
When the box opens, input the following values:
Brightness: 0
Contrast: -15
The result should be similar to the image below: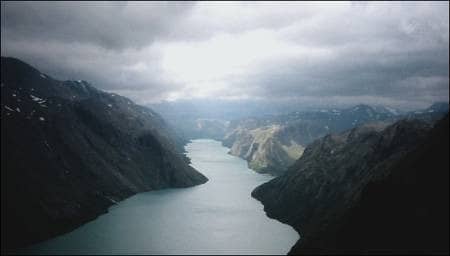 Now that we're done with the Lake, let's now start adding the sky. To start, let's open, "stockimage 10" by CSnyder. When you have that stock image opened, activate the Move tool (V) and drag it to our canvas, and make sure you put it above all the layers that we've created. Once on the canvas, rename this layer to "sky". Now let us resize this sky using the Transform tool (Ctrl/Cmd + T), take note that this is a huge image so you might try to fit it first in the canvas. See the image below: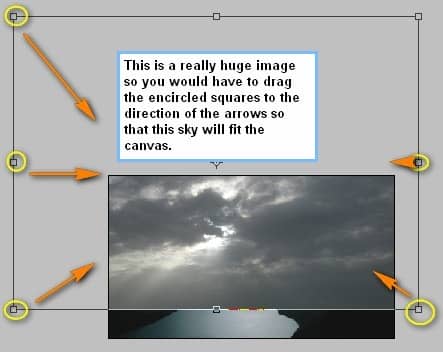 When you're done, activate the Eraser tool (E), because we would need to erase some parts of this sky to make it blend with our lake. After you've activated the Eraser tool (E), input the following values for this tool through the Options window.
Brush size: 400px
Hardness: 0%
Opacity: 100%
Flow: 100%
Now we're ready to erase. Use the Eraser Tool on the areas indicated on the image below: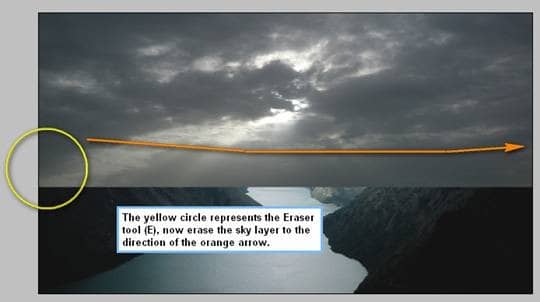 The result should be similar to this:
To make this sky look seamless, let us reduce its opacity to 70%.
The result:
After that, let us now enhance the light on the sky. To start, let's create a new layer by pressing Ctrl/Cmd + Shift + N on your keyboard. When this New Layer box opens, type: "Light 1" as its name. Next, activate the Brush tool (B) and input the following values on the Options window: