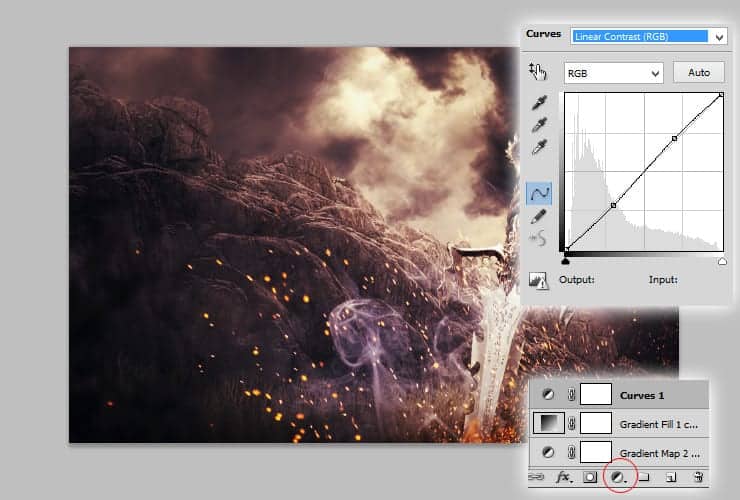 Step 49
We are done with color adjustments for this moment. Now, I'll show You, how you can use here "Topaz filter". Select whole image (Select > All). Then go to Edit > Copy Merged (Shitf+Ctrl+C). Then, paste copied image.
Step 50
Go to Filter > Topaz Labs > Topaz Clean 3. Set it as is shown. Choose Curly smooth preset and set Strenght to 1.
Step 51
You can leave picture as is now, or add some color changes, to make effect more smoother - if You want, in your color picker set colors: #fff and #46264b colors, add Gradient map adjustment layer (go to Layer > New adjustment layer > Gradient map or use marked shortcut).
Change blending mode to Lighter color and decrease opacity to 39%.
Fix yellows and reds, by using Selective color adjustment layer. Go to Layer > New adjustment layer > Selective Color or use shortcut.
Final Results
Download the PSD
[vc_column width="1/1" el_position="first last"] [vc_cta_button title="Download" href="https://downloads.photoshoptutorials.ws/Medieval Battlefield.zip" color="btn" size="btn-large" icon="none" target="_self" position="cta_align_right" call_text="Medieval Battlefield.zip | 107 MB" width="1/1" el_position="first last"] [/vc_column]
Tutorial by msRiotte