Is Photoshop's Photomerge too slow or not giving the results you need? Microsoft ICE (Image Composite Editor) may be your answer. It's one of the fastest panorama stitching tools and outperforms many commercial stitching software - yet it's free. It can even save your panorama as a layered PSD file. Should you use Microsoft ICE instead of Photoshop's PhotoMerge? Read this article and find out why Microsoft ICE may be a better choice.
How to Create Layered Panorama PSD with with Microsoft ICE
Step 1
Download and install Microsoft ICE. Microsoft ICE is only compatible with Microsoft Windows.
Step 2
Run Microsoft ICE then go to File > New Panorama. If your panorama is created using a robotic head like the GigaPan, then choose File > New Structured Panorama.
Step 3
If you are creating a structured panorama, Microsoft ICE will automatically detect the settings for you. If everything looks alright, click OK. If you have a GigaPan or other robotic panoramic heads, this Structured Panorama tool will be very useful for you. I found better and more consistent results with this tool than Gigapan Stitch.
Step 4
Microsoft ICE will now render your panorama. This may take a minute or more but it's a lot faster than Photoshop's Photomerge. Here's a screenshot of Microsoft ICE when it's done processing your panorama.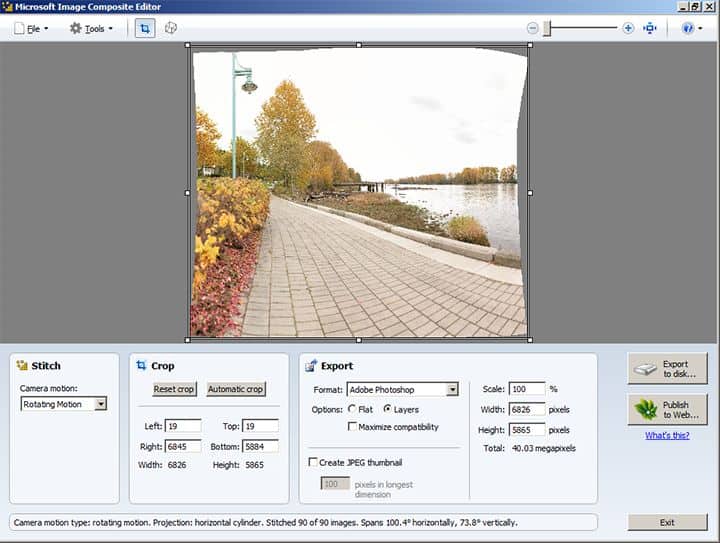 Step 5
Most of the time, ICE does a fine job detecting your images and creating the best panorama out of them. If the panorama doesn't look good, you can tweak the projection method by clicking on the

on the top. This will bring you the Projection menu where you can change the type of projection. For our panorama, we can fix this by changing the projection from Cylinder (Horizontal) to Perspective.
Already you can see that the image has been improved and we can improve it more by adjusting the centerpoint. Start by aligning the horizontal line to your horizon. To do this, click and drag on the middle-vertical line. If your horizon is tilted, drag anywhere outside the bounding box to rotate the horizon.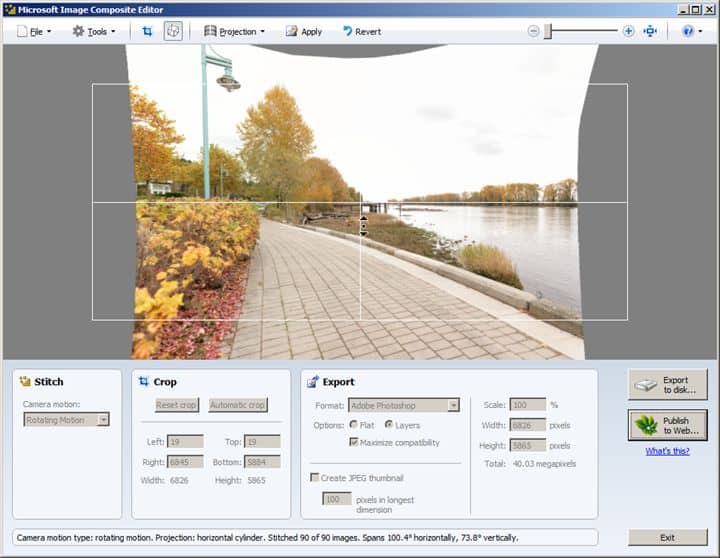 Next, drag the horizontal line to rotate your panorama. Because the sidewalk is the primary subject of this photo, I rotated it so that the vanishing point appears at the end of the path. This fixes the perspective of the lamp and bricks at the expense of cropping off the side of the landscape. When you're done, click Apply.