Be inspired with the work and personality of Michael Murdock, an Illustrator/Designer based in Los Angeles. His designs (and doodles) are stunning and the ingenuity and skill put into each work is just amazing. He has a collection of Moleskine drawings (my personal favorites) that illustrates just how talented he is. So without further ado, here is Michael Murdock's interview and his fresh take on design.
---
Can you tell us more about yourself? How did you get into illustration and design?
My name is Michael Murdock and I'm originally from Wisconsin… but currently live in Los Angeles.
The most consistent habit throughout my life is… doodling! If you look at any of my class notebooks, Biology, History, Literature, all of them are full of drawings. Any piece of paper you put in front of me will soon be covered in doodles.
I entered the Visual Communications program at Washington University in Saint Louis initially wanting to do advertising design, but my professors encouraged me to focus on illustration. I got into what I'm doing now through a series of friendly pushes in the right direction!
In the summer before my senior year of college, I did an internship at Momentum, an advertising agency that specializes in event marketing. I got my first taste of the speed and intensity of the professional world. That summer kick-started my career by helping me build up the connections and skills to enter the industry.
---
What were your artistic influences growing up?
My favorite artists growing up were David Macaulay and William Kentridge. These were artists who were experts at being specific and expressive at the same time. Not only could they both draw well, they could convey ideas and narratives.
Additionally, my Aunt had gone to RISD for painting, and due to seeing her amazing work when I was growing up, I've had the confidence to express myself through art. Her oil paintings still blow me away and I know I wouldn't be doing what I am now without her influence.
---
When did your love for illustration/drawings begin?
My love for drawing was started by my older brother's obsession with comics. When he wasn't around I would sneak into his room and look at the amazing artwork in his Marvel collection.
I discovered illustration as a profession when I entered art school… It really hadn't been on my radar until then. Being exposed to so many different illustrators and styles made me really love the field.
---
What is a day like for you? What usually keeps you busy?
I work full-time doing animation and visual effects for commercials. When I arrive at work I make a mad dash for the coffee, and then check in with my project manager to see what my schedule for the day is like.
If I have clients in, I will be working back and forth with them throughout the day on their commercials. Some days I'm not as busy and I focus on learning new techniques and keeping up with the industry blogs.
There is a rhythm to it, but no day is the same.
All of my illustrations have been freelance; I work on those projects after I get home from my day job. I really love illustration because it allows me to work with a pencil and paper… it's very organic and tactile. My animation work is all done in the computer, so I need this balance to my creative work.
I end my day with a nice cup of tea.
---
Your drawings in your Moleskine are really amazing. Where do you get the concept/inspiration for each drawing?
Thank you! My Moleskine work is the evolution of all the doodling I did in my classes in school. I usually don't have an idea of what a drawing is going to be until I'm about half-way through it. Most of the time I start drawing and think "This is going nowhere… what am I doing?!?!" But most of the illustrators I've talked to have the same thoughts. I just have to power through that until I start getting something I'm happy with.
The ideas for my drawings come from many places: I might see an image or hear a phrase that is the seed for an image, but I never know where it's going to go. Finding out what it's going to become is the best part of doodling!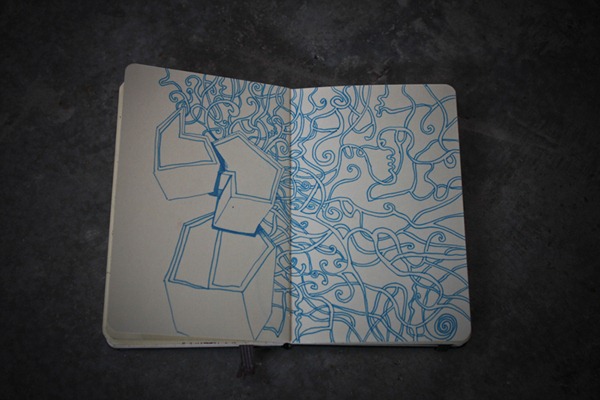 ---
How would you describe your style and how did you develop it?
I have several working styles: My design and animation style is very different from my illustration work. I do think they all share similar characteristics though:
Complexity: I love making visually complex images…it's a sedulous process, but I really like that type of work.
Composition: Some common themes are symmetry and asymmetry with figure ground relationships.
Humor: I love hearing from people that my work makes them smile or chuckle.
For my illustrations:
I really think "doodles" is the best way to describe it. I struggled finding a voice in school because I really admired artists like James Jean and Jason Chan and wanted to do work like them. I didn't enjoy producing work in those styles though. It took me a while to realize that my sketchbook was fun and my "formal illustrations" were not. It was hard embracing the "doodle" style, but I really love it now!
---
Can you tell us more about your project, Red Dead? What is the story behind this work?
Absolutely! Red Dead started as an experiment in 3d cloth simulation in Maya. I was just getting into the cloth system and figuring out how it worked. I experimented with draping the cloth over different objects to see how it reacted.
I became really fascinated with the forms that it made and how they started looking like bodies. It was really eerie and ominous and I wanted to push the concept but I knew it needed a theme first… I decided on the idea of "Frozen Violence" I used images of ink drops in water to give the feeling of explosions and composited the images together in photoshop.
---
What do you consider as your greatest achievement so far?
Although I've worked a bunch of national commercials…without a doubt I would choose the opening video to the Saint Louis Addy Awards. (http://mjmurdock.com/projects/prjct_addys.html)
90 Degrees West, the video production studio where I work, volunteered to produce the opening video for the Saint Louis Advertising Awards show. It was rewarding because I was involved in every step of the process. Most of the time, I work with clients who already have a script and storyboards or style frames; all I have to do is "make it".
The Addy project was fun because my studio did everything from scratch: writing, concept art, pre-viz, filming, and post-production. It was also the hardest I've ever worked on a project and I learned so much during production of it!
---
What can we look for from you in the future?
I'm glad you asked! I have a lot of exciting things coming up soon!
I'm starting a Master's program this fall in the film school at the University of Southern California. Specifically, I'm doing Interactive Media, a program that specializes in video game and interactive experience design. I love creating worlds and telling stories and I'm looking forward to doing that in the film and interactive formats.
I'm also putting the finishing touches on tutorial website for 3d design and animation… I've built up a lot of experience in After Effects, Cinema 4D, and Maya and I can't wait to start sharing my knowledge and hopefully inspiring new illustrators, designers, and animators.
Whew! So busy!
---
Any message for our readers?
Drop whatever it is you're doing and go sketch… NOW! You'll thank me!
Finally, special thanks to Photoshop Tutorials and especially Ivy for the opportunity to share my work and my quirky personality!
---
More About Michael Murdock
http://www.behance.net/mjmurdock
http://www.mjmurdock.com/