Create a stack of glossy photos. In this tutorial, you will learn how to place images into a document, add layer styles, and add a glossy shine to the photos.
Place the Images
---
Step 1
Create a new document. I created a 8×10 300dpi document.
---
Step 2
Place (File> Place) the photos you would like to include in the stack of photos.
---
Step 3
The image should be placed in the document with the transform controls activated. Adjust the image size. Hold the Shift key to maintain the aspect ratio while scaling the image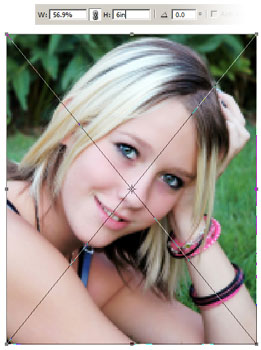 ---
Step 4
Repeat step 2 and 3 for all the photos you would like to include with the artwork.
---
Step 5
Use the Transform tool (Image> Transform> Rotate or Ctrl+T) to rotate the photos. You can arrange the photos by moving the layers to different positions in the layers pallet. I moved the photo of the cup to the top layer so that it's the top photo of the stack.