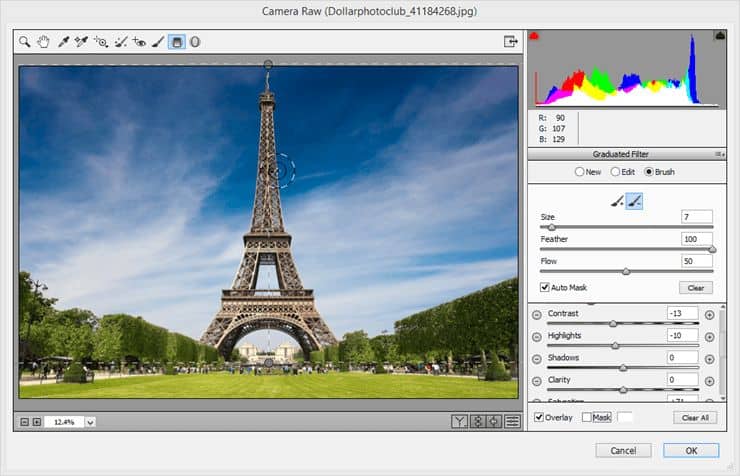 At the bottom of the panel, you'll find options to toggle the mask settings. These options make it easier for you to see where you painted.
The second update in Camera Raw 8.5 is the per-panel preview option. Clicking on this panel will reset the settings in your selected panel to the default and back. For example, if you want to reset the Split Toning effect but not any other settings, simply switch to the Split Toning tab then click on the per-panel preview button. This will reset the settings back to the default just for the panel that you're on. If you press the button again, it'll switch back to your previous setting.
Easier 3D Printing
Photoshop CC 2014 makes it easier to print 3D objects with the improved Print Preview dialog. You can easily select your 3D printer and material then print. Once you've selected your printer, a print preview window will open. With the improved Print Preview dialog, you now get a realistic preview of the model with realistic lighting and improved ray tracing. There's also a new remeshing algorithm that greatly reduces the triangle count in your 3D object files.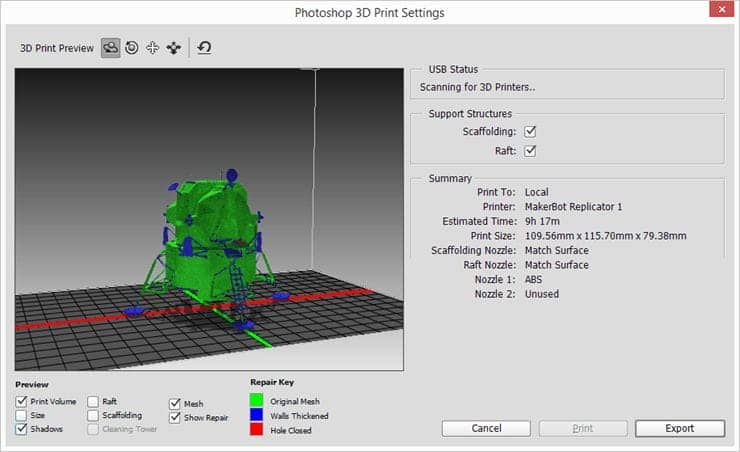 There's no need to worry about stability of your print. Photoshop will automatically fix water tightness issues and build a scaffolding model to hold your 3D model so that it doesn't collapse in the middle of the print.
If you don't have a 3D printer, you can use Shapeways.com and they'll send you your model in the mail. All you need to do is select Shapeways and the materials in the Properties panel then go to 3D > 3D Print. Photoshop will even estimate the cost for you. After everything looks okay, click the Export button to export your file then upload it shapeways.com.
Improved 3D Editing
Photoshop can open OBJ files with multiple meshes and groups but they used to be merged into a single group. In Photoshop CC 2014, your meshes and groups will be preserved.
There's also new enhancements to the Texture Properties dialog. You can now rename your texture and instead of modifying each texture one at a time, all you need to do is checkmark the "Apply to matching textures" option and Photoshop will do it for you automatically.