If you wanted to turn the Linked Smart Object into a regular embedded one that isn't linked, you can simply right-click on the layer and choose "Embed Link". But in previous versions of Photoshop CC, you couldn't do this vice-versa and turn an Embedded Smart Objected into a Linked Smart Object. Now you can do this in Photoshop CC 2014 by right-clicking any Embedded Smart Object and choosing Convert to Linked. When you do this, Photoshop will open a new window asking where you'd like to save the file. Save the file and your Embedded Smart Object is now a Linked Smart Object.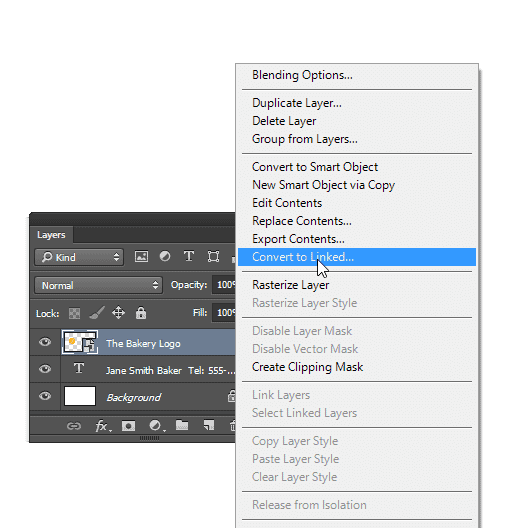 When you start using Linked Smart Objects, you'll often find yourself having to organize where those files are stored in your computer. And if you have a document with many Linked Smart Objects, it can be a lot of work to organize all your files and send it to your coworker. Instead, you can now use the Package tool which will save a copy of your Photoshop document with all the Linked Smart Objects into any folder. Simply go to File > Package, browse for a folder where you want to save the files, and Photoshop will automatically save your document with all the Linked Smart Objects organized into the Linked folder.
What happens when you open a Photoshop document with a missing Linked Smart Object? Photoshop will let you know about the error and you can find the file.
If If you can't find the file, Photoshop still has a raster version of the layer that you can use but you need to rasterize your layer. If you try to edit the layer, Photoshop will ask you if you want to rasterize the Smart Object. Click Yes and you can edit the layer.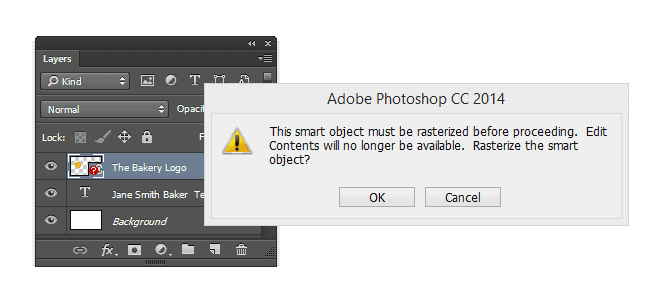 The last update for Smart Objects are selectable layer comps. Sometimes you need to create multiple variations or compositions of the same artwork. For this, you can use the Layer Comps panel by going to Window > Layer Comps. You can create multiple layer comps and change the layer visibility, position, and appearance. In Photoshop CC 2014, you can easily switch between different layer comps on your Smart Object. To do this, select a Smart Object then go to Window > Properties. You'll find a dropdown menu for you to pick the layer comps.