Adjust the "In-Focus Range" setting or checkmark the Auto box to have Photoshop guess it for you. The selection isn't always perfect but you can use the add and subtract tools to fix it. When you're done, you can further enhance the selection by clicking on the Refine Edge button. This will bring up the Refine Edge tool to improve your selection.
And just like that, we created a quick selection of the in-focus areas that we can use with any adjustment or fill layers.
Color Blending Algorithm for Content-Aware Tools
All the content-aware tools now create better results with a new color blending algorithm. For example, we're going to remove the boat from the image. First, we'll make a selection of the area we want to remove then go to Edit > Fill and switch the mode to Content-Aware. There is a new option that lets you enable Color Adaptation. Checkmark this then click OK.
As you can see in this image, there is a significant quality improvement when color adaptation is enabled.
The color adaptation algorithm is also available in the Content-Aware Move/Extend tool and the Patch tool on Content-Aware mode. To enable color adaptation, click on the Adaptation configuration button then set the color strength setting to any number from 0 to 10 – the higher the number, the stronger the color adaptation. You can also adjust the structure setting with a value from 1 to 5 which will determine how strong the patches should adhere to the patterns in your image. If you are getting hard edges, then you might want to lower your structure value.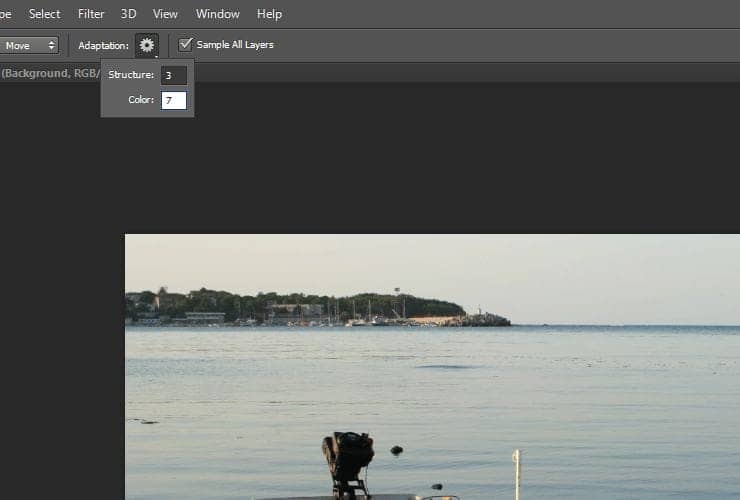 Create Your Own Color Lookup Tables
The color lookup adjustment layer was introduced in Photoshop CS6 and it lets you apply color profiles to your image so that you can match the colors between multiple videos and images. Unfortunately, it wasn't used much because you could only use the presets or import one created using another software. Few color lookup tables were available and most people didn't know how to create their own. Now you can create your own color lookup tables inside Photoshop and it is very easy. Simply create your color effect using any adjustment layer then go to File > Export > Color Lookup Tables. Give your lookup table a name then select the format you'd like to save the file as – for most instances, a 3DL file is fine. You can also adjust the quality. Adding more grid points will increase the accuracy of your color effect at the expense of a large file size. Click OK then save your file.