Step 23
Continue to add more branches to the cave using different parts of the stock, transform, warp it...if needed. I used 12 layers and here is my result: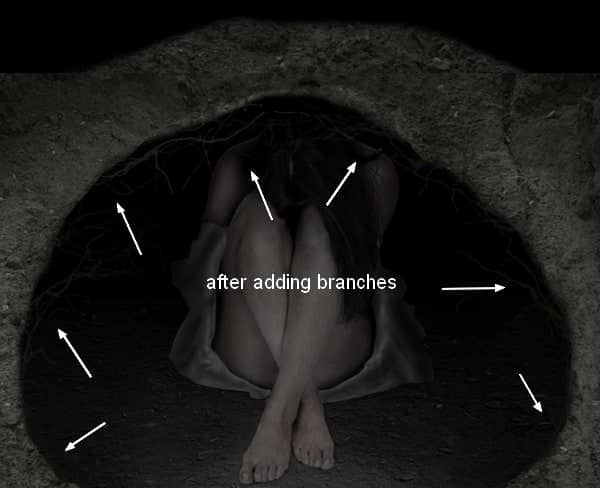 Some branches are hard to see as they're dark but we'll brighten them to make them more visible.
Step 24
Make group for these branches as done with the cave. I named this group "branches 1" and I applied Hue/Saturation for them: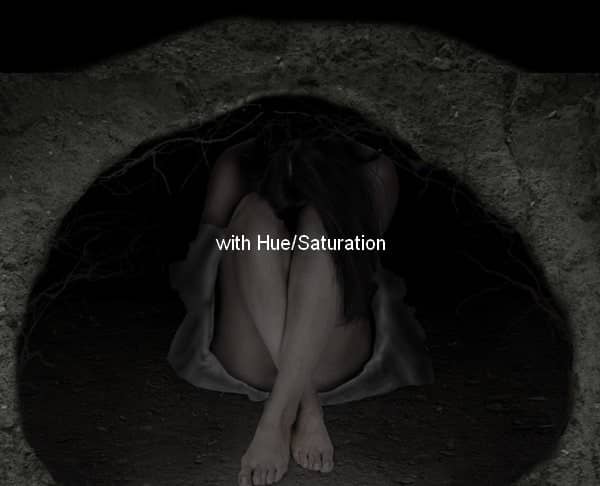 Step 25
Use Curves to brighten the branches:
On Curves layer mask use brush to reduce the lightness on some branches below: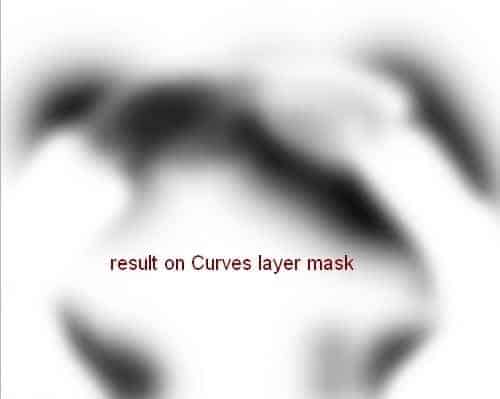 Step 26
Open branches 2 stock. Take a part from the trunk and locate it on the top of the cave, set this layer above the cave group. I used Warp Tool to bend it a little: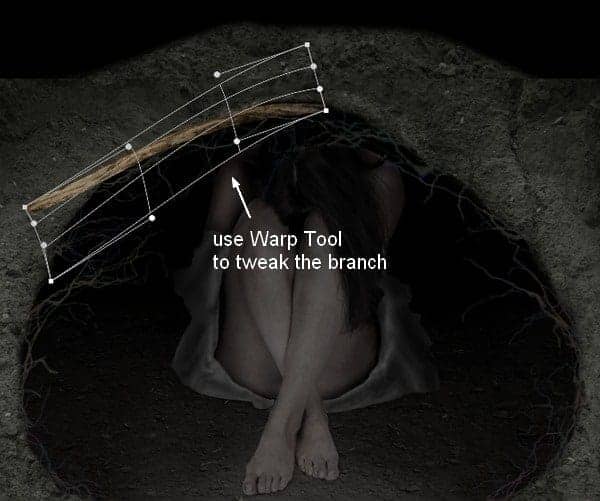 Go to Edit-Puppet Warp to tweak this branch more: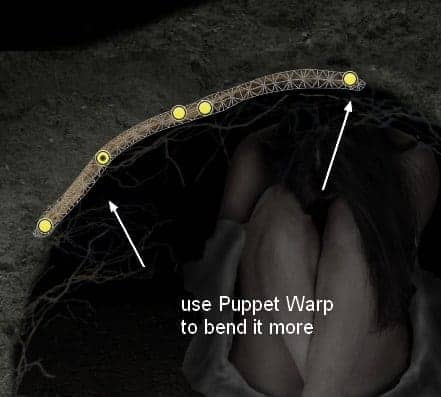 Step 27
Add layer mask to blend this branch with the cave a bit: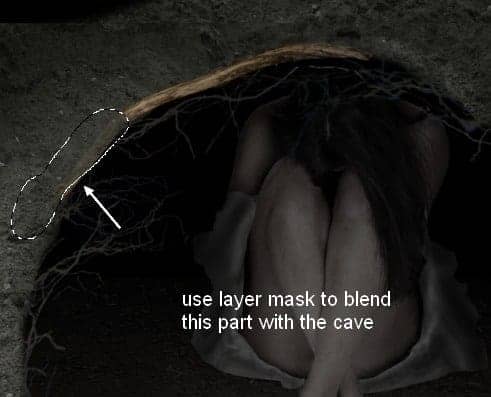 Step 28
Duplicate this layer five times and arrange them around the cave. Double click the Puppet Warp filter of each layer to edit their curve. Here is my result:
Step 29
Group these layers and name it "branches 2". Use a Curves layer within this group to darken these branches: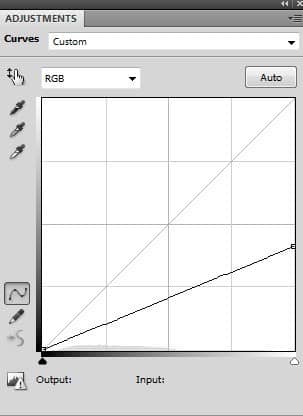 Apply erasing job on Curves layer mask:
Step 30
Add a Hue/Saturation layer for the branches 2: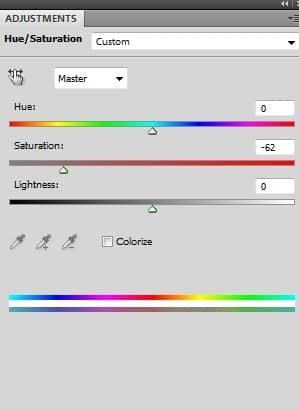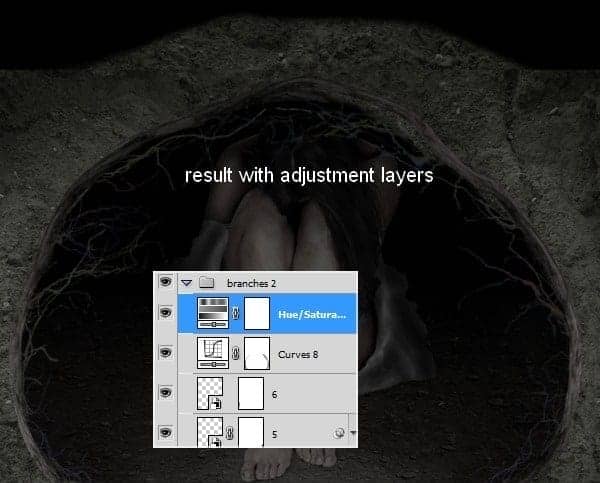 Step 31
Open grass stock. I took grass part and put it above the cave after tweaking it a little with Warp Tool: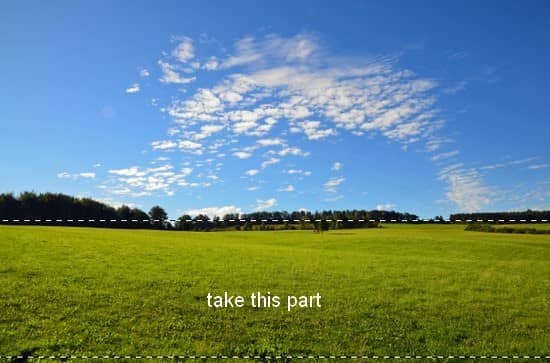 Apply Puppet Warp to create a hill from the grass part: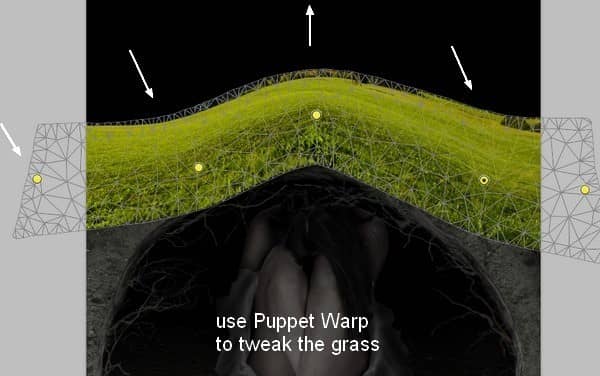 I named this layer "hill".
Step 32
Add layer mask to this one and use brush with hardness about 10-15% to remove hard edges and create a soft, smooth look for the hill:
Step 33
Make a new layer under the hill one. Use soft black brush with opacity about 70% to paint under the hill to make shadow for it on the cave: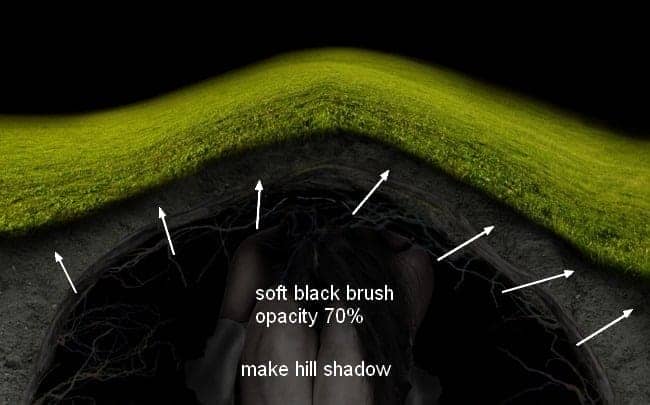 Step 34
To fix some parts on the hill I used Clone Tool on a new layer with Clipping Mask: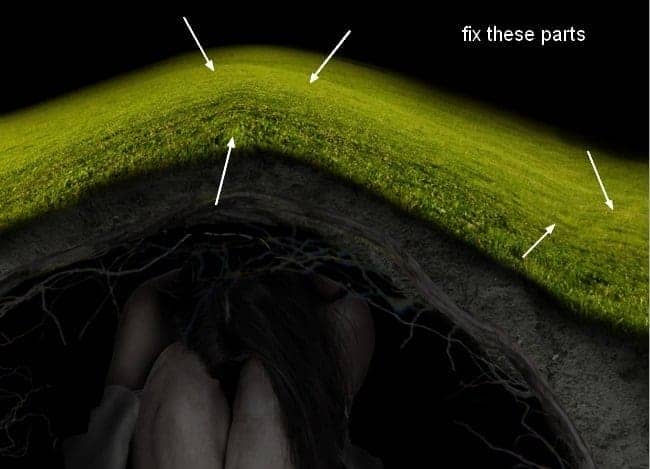 After cloning I found them a bit blurred. To correct it, go to Filter-Sharpen-Unsharp Mask and fill the following values: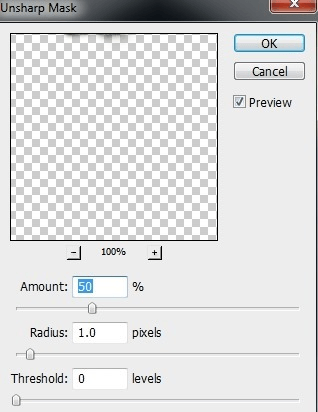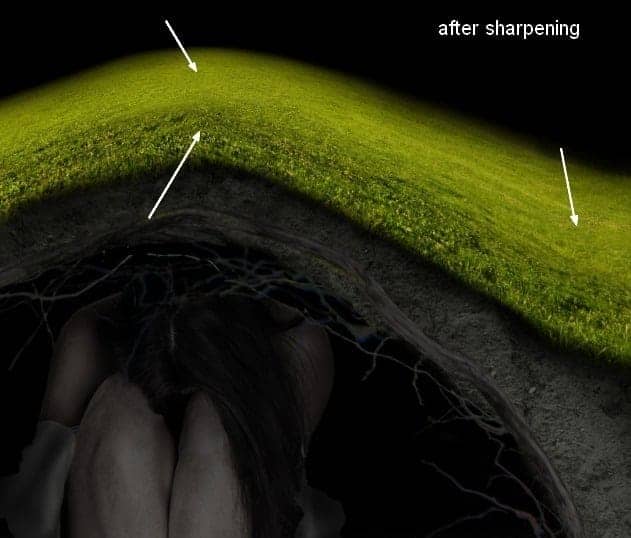 Step 35
Use Curves to darken the hill:
As you see on the final result preview, the main light comes from top center . So on Curves layer mask I erased the higher part of the hill that's nearer the sky (to keep it brighter) and keep the lower part darker (don't erase or just erase with lower brush opacity ).