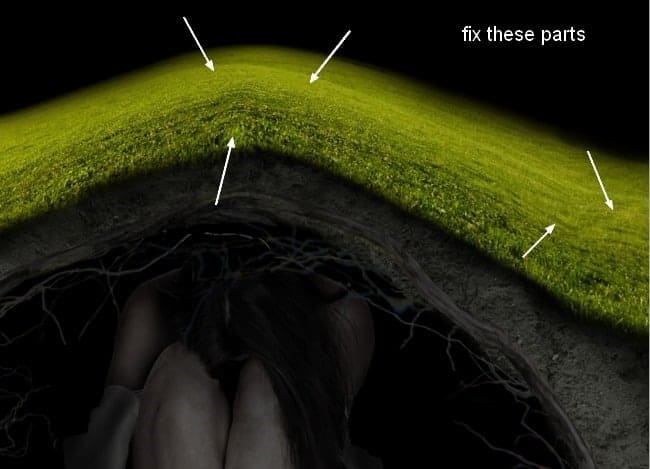 After cloning I found them a bit blurred. To correct it, go to Filter-Sharpen-Unsharp Mask and fill the following values: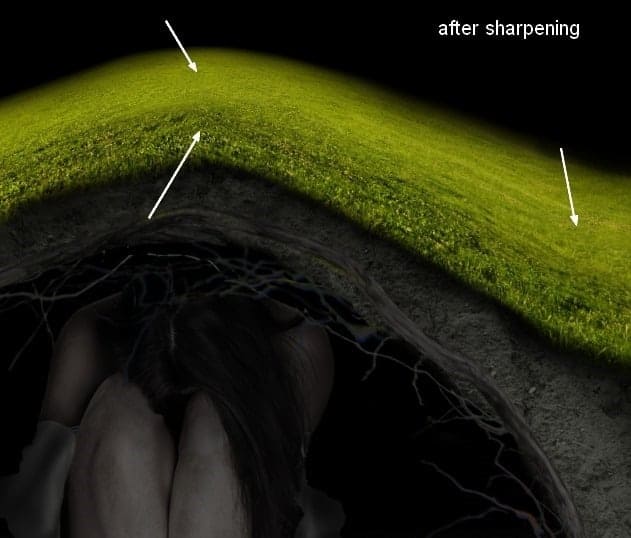 Step 35
Use Curves to darken the hill:
As you see on the final result preview, the main light comes from top center . So on Curves layer mask I erased the higher part of the hill that's nearer the sky (to keep it brighter) and keep the lower part darker (don't erase or just erase with lower brush opacity ).
Step 36
Apply Photo Filter to change color of the hill a little: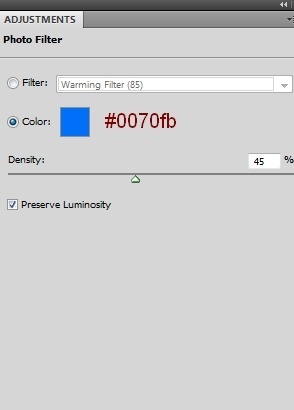 Step 37
Open sky 1 stock. Choose sky part and place it on the top (the black part), set this layer above the background and under underground group. I rotated it and tweaked it a little:
Use layer mask to remove unnecessary edges:
Step 38
To make sky look smoother, go to Filter-Noise-Dust & Scratches:
I named this layer "main part".
Step 39
Copy a part from sky stock and put it at the left side of the main part, resize to be smaller:
Remove hard edges of this part with layer mask:
I called this layer "part 2".
Step 40
Add another part from sky stock to our picture. I placed it at the top right, used layer mask, applied Dust & Scratches filter with same settings in step 38:
Step 41
Continue adding another sky part. Move it to the right corner of the sky, apply Dust & Scratches filter and layer mask: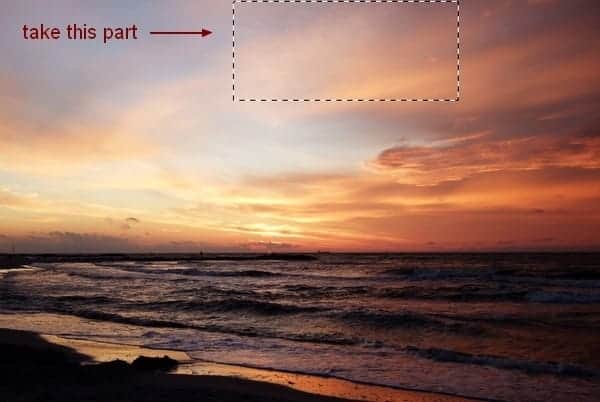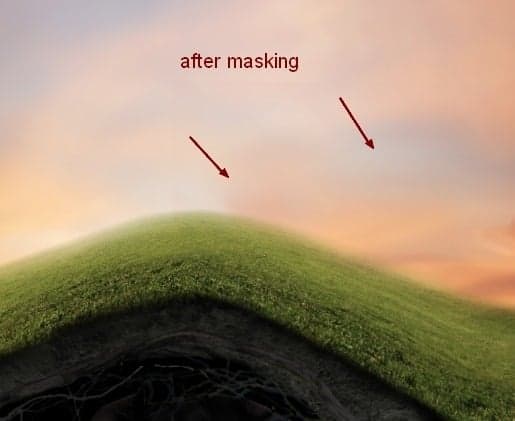 Step 42
Make group for these sky parts, name it "sky 1" or whatever you want. Use Curves to change color of sky 1:
Apply erasing job on Curves layer mask:
Step 43
Make a Color Balance layer within this group:
Erase on Color Balance layer mask again with brush with opacity about 45%: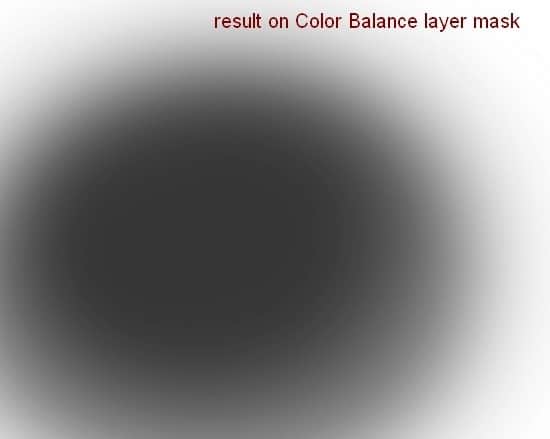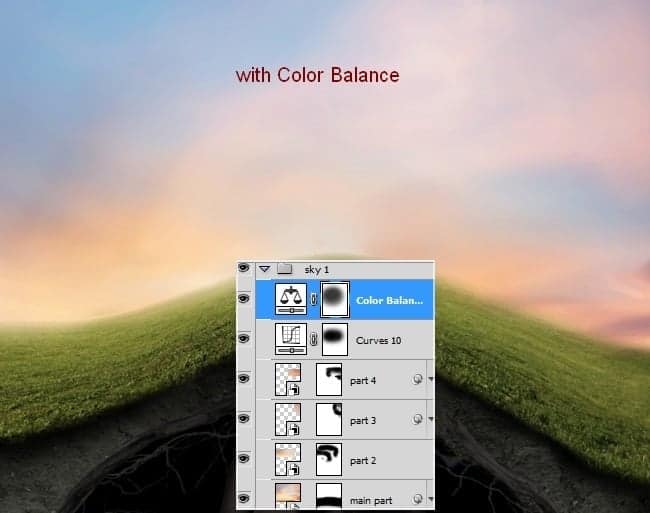 Step 44
To add more details to the sky, I used sky 2 stock. Place it over sky 1 and change the mode to Soft Light 100%:
Name this layer "sky 2". Use layer mask to reduce some details of the sky 2: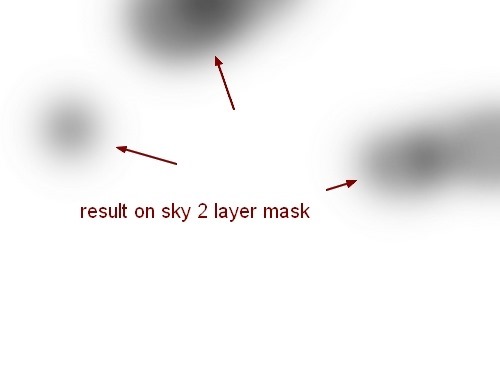 Step 45
Apply Dust & Scratches filter with radius 2 px:
Step 46
I used a Color Balance layer for sky 2:
Step 47
Continue with a Selective Color layer:
Step 48
Darken the sky a little with Curves:
Step 49
I used a Levels layer to darken the sky 2 again. Then I erased the top center of the sky to keep it brighter than the sides: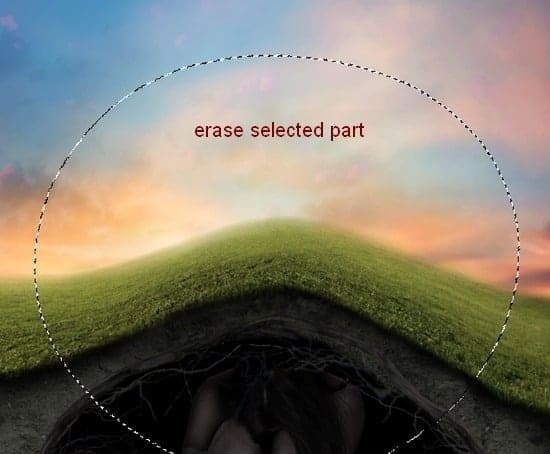 Step 50
Make a new layer on the top of layers. Use soft white brush with 50% opacity to paint on the top center of the sky. Change the mode of this layer to Soft Light 100%: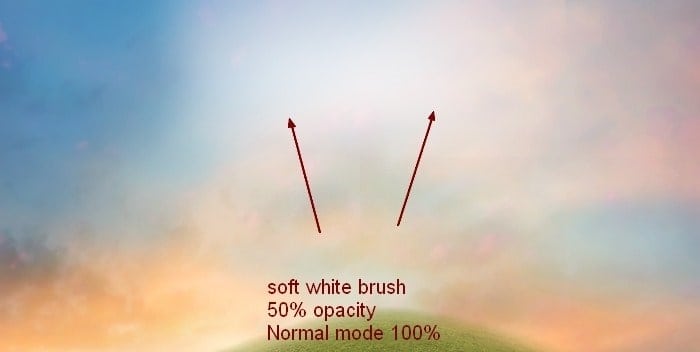 Step 51
New layer and use soft brush with color #f7d17f to paint on the top center of sky again. Lower opacity of this layer to 30%: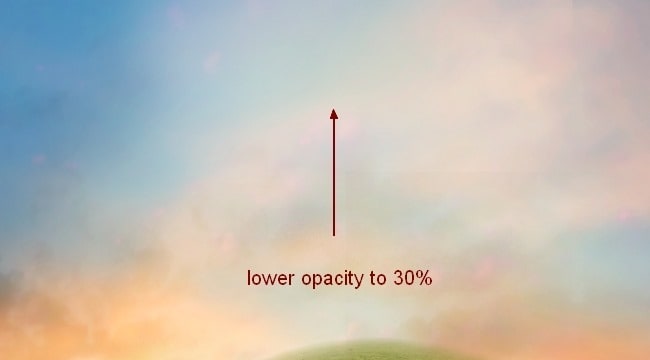 Step 52
Open tree stock. Take its trunk and put it on the top of the hill after scaling:
Use layer mask to blend the tree with the grass: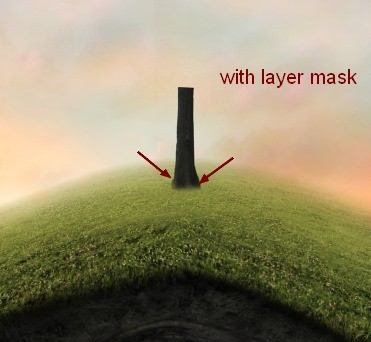 Step 53
To make shadow for the tree on the hill, I created a layer under the tree one. Hold Cmd/Ctrl while clicking tree thumbnail layer to load its selection: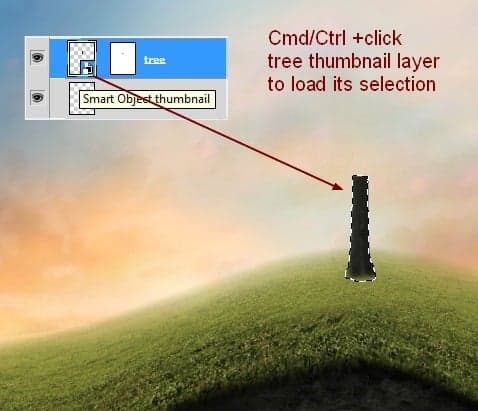 Fill this selection with black (Shift+F5). Then choose Edit-Transform-Flip Vertical and move this shadow under the tree bottom.
Step 54
Lower opacity to 60% then apply Gaussian Blur with 3 px (Filter-Blur-Gaussian Blur):