Learn how to create this fantasy photo manipulation of a pirate house scene set in a warm scenic dreamscape with Photoshop. In this tutorial, you'll learn how to create rocky mountains using photos of rock and stones, combine ruin of castle to create a dramatic pirate house in the dreamscape with warm vivid lighting. Throughout the tutorial, you'll learn techniques that are very essential to create better photo manipulations.
What you'll be creating
In this tutorial, we will create a fantasy scene of a pirate house dreamscape with dramatic warm, and vivid lightning. We will use some essential techniques for doing photo manipulation. We will use masking, brush tool, some filter, color adjustments all through the steps in this tutorial. Use Adobe Photoshop CS3 or higher, don't forget a glass of coffee and optionally a pack of cigarette for your companion. Ready..?
Tutorial Resources
Step 1
On these early steps, we will create some ruined castles standing on a rocky mountain. We need this image to begin with. We will use this image as the rocky mountain.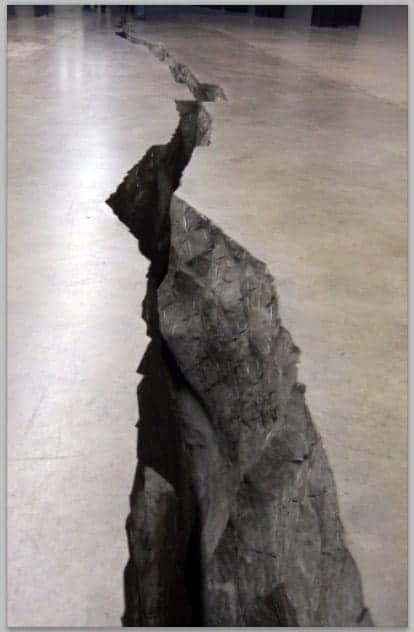 We have to cut out the crack of the image. To do this purpose, take the pen tool (P) in the panel tool. With the tool, cut out the crack lined out in red as shown in the screenshot.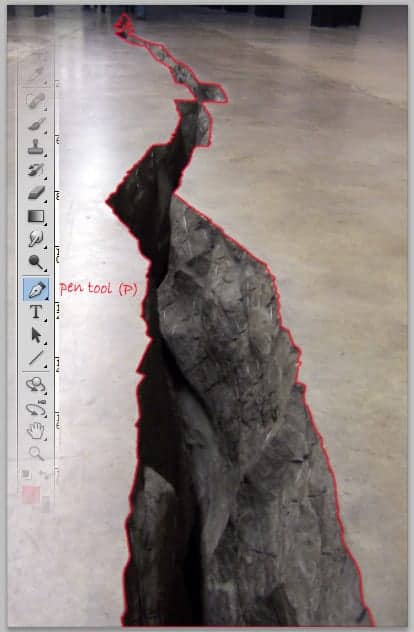 For your inspiration, this is the cut out we have now.
Step 2
After cutting out the crack, we will start to create a rocky mountain with some ruins standing on it. We do this on a new canvas. Hit Ctrl+N to create a new canvas. Set the size of the canvas like the one sampled in the screenshot.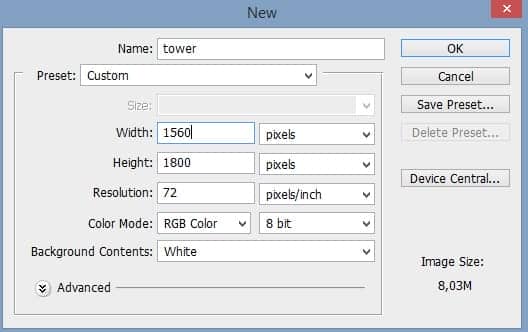 Next, select and copy (Ctrl+C) the cut out and then paste (Ctrl+V) it on the new canvas. We need to flip the cut out horizontally or resize it as needed. To do this, go to edit > transform > flip horizontal/scale.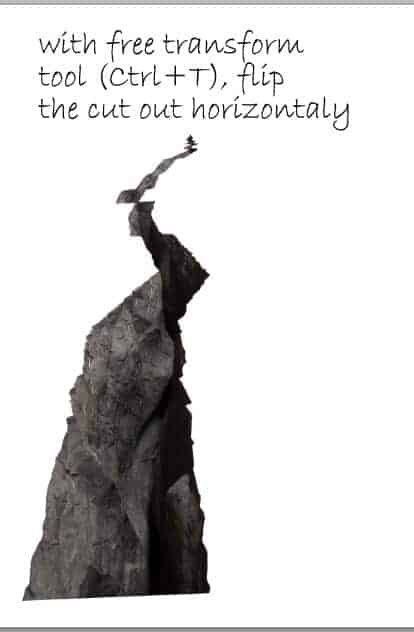 Duplicate (Ctrl+J) the first crack to create the second one. Go again to edit > transform > flip horizontal to flip back the second crack as its original direction. Take the move tool (V) and move it to the upper position behind the first one.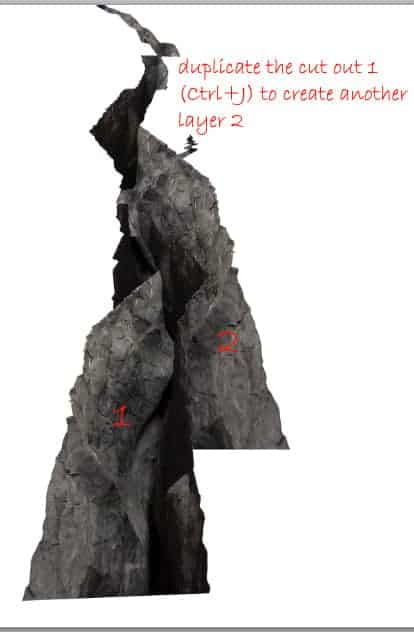 Repeat this step in a similar way to add the third crack behind the second one.