Learn how to create this beautiful, Christmas night and fairytale photo manipulation in Photoshop. This tutorial shows how to develop a amazing and magical landscape of the mysterious expanse of stars! Using photo manipulation techniques coupled with some interesting color discoveries and a variety of tools. Read this tutorial and immerse yourself to atmosphere of a magical fairy tale. I conceived this work as fairy card. I really wanted to convey the mood of magic and tranquility. In this tutorial we will begin with the creation of the landscape and adding the basic details. The next step will be to work on the main characters and turning day into night. In the final steps, we will work on the starry sky and the final effects. So, you need a belief in magic, good humor, a little diligence and you can use any version Photoshop from CS onwards will be fine as well.
Tutorial Resources
Step 1
Opening Photoshop and get started! Create a new document at 3840 pixels wide and 2400 pixels height, resolution 300 Pixels/Inch. Place first image "Cloudy Alps" in working document (Go to File > Place (Place Embedded)). This is the first plan and the basis for the construction and location of mountains.
Resize (Cmd/Ctrl + T or go to Edit > Free Transform) image so that image covered all the working area. Not to raise much forefront not to get deviated perspective. After all, we look from the hill.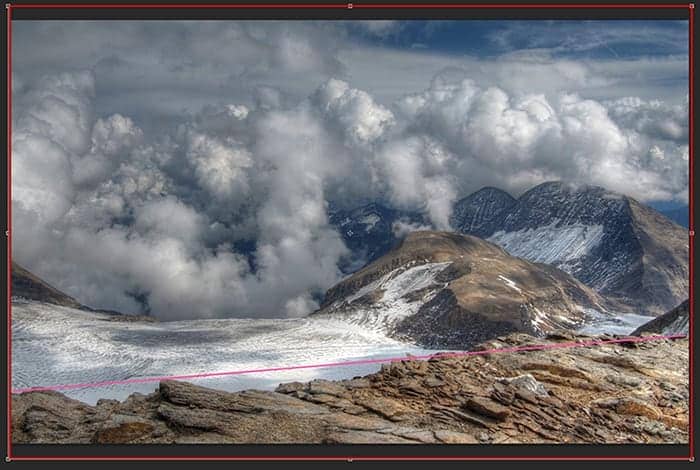 Step 2
Go to Quick Mask mode (Q), set default Foreground and Background colors (D) and switch them (X). Take Brush Tool (B) on toolbar and set following settings to it - Size: 400px, Opacity: 100%, Hardness: 60%. Select all (you will draw a red color and it is normal, that work quick mask) to the white field and the first plan. Also leave grounds the mountains. This is useful for us to create a transition from one of the mountains to the other. If you draw on in the wrong place, just switch color (X) to white and remove it.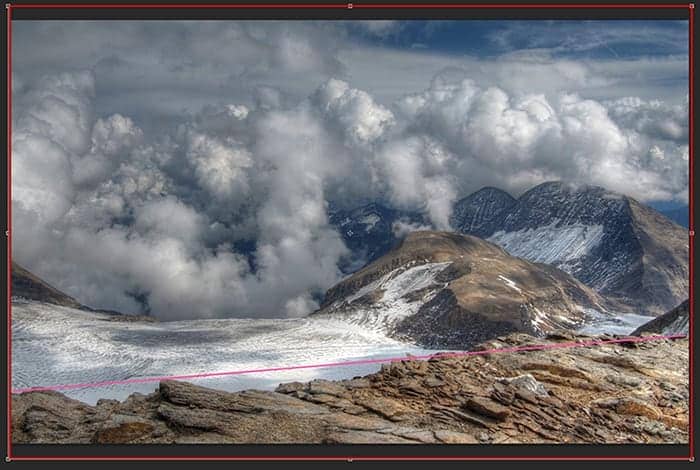 Again press Q or click on Quick Mask mode icon to make selection from red area and add a layer mask (clicking on the "Add Layer Mask" button in the layers panel or by going to Layer > Layer Mask > Hide Selection) to hide unwanted landscape.
Step 3
Add image of Everest mount into working document under layer with foreground landscape. Resize it to leave only fragment with big mount and move down image a bit. If necessary, go back to the previous layer mask and make a smooth transition between images (Brush Opacity: 60%, Hardness: 0%).
Now fill in the lack of the sky. To do this, I used Gradient Tool (G) with Linear form and preset "Foreground to Transparent", foreground color - black. Create a new layer above Everest mount image (use "Create new layer icon" on layer panel or hot keys Cmd/Ctrl + Opt/Alt + N) Draw a gradient from top to middle of working area. Create a new layer under gradient layer (Cmd/Ctrl + Opt/Alt + N) and use soft round brush (Opacity: 100%, and color #0c1939) to draw on free space between image and gradient. Merge there two layers into one by using Cmd/Ctrl+ E or right click on selected layers > Merge Layers.